This week, The Race Across America (RAAM), "world's toughest bike race," leaves from Oceanside, Calif. Teams supporting one, two, four or eight riders will travel on a pre-determined 3,000 mile route from Oceanside to Annapolis, Md. Solo riders must finish in 12 days, teams must finish in eight. The clock never stops. For the past four years, at this time of year, my heart rate picks up a bit as I think of all the teams who have been preparing, some for years, for the day to come.
When I began to assemble a four-man team for RAAM, I had very little knowledge about what I was getting us into. However, somehow I had a notion that it was possible even for a four-man team of which two of us have Friedreich's ataxia (FA) -- the energy deprivation disease that is supposed to keep us from doing things like this -- and I knew that we had to do it for the FA community. I have FA, and over the past 15 years, I have made the transition to full-time use of a wheelchair because FA relentlessly degrades my physical abilities. I am 33 and consider myself fortunate because many kids are hit with FA at a much younger age and are affected much more severely than I have been. This was our reason to race. We were doing it for the thousands of individuals and families affected by this disease. We knew it would be an insane physical feat, but we had no idea that it would require a crew of 13 people traveling in four vehicles, and working around the clock to serve our four-man team to keep us fueled, on course, and continuously moving forward toward the finish line.
When our team of riders was assembled and we had part of a crew, I put together a blog post to explain what we were planning to do and request the assistance of any willing volunteers to fill out our crew. I was overwhelmed with the response I received. We had volunteers from Boston, Connecticut, Portland, Ore., Bakersfield, Calif., and of course our home base, Sacramento, Calif. These crew members consisted of mothers, fathers, siblings and friends of people affected by FA who were willing to do whatever it takes to bring awareness to this disease and raise funds for research. Driving a minivan behind a bike rider a 3 a.m. on only a few hours of sleep after not having showered for several days is a trivial task when it means increased awareness for a little known disease that currently has no treatment or cure.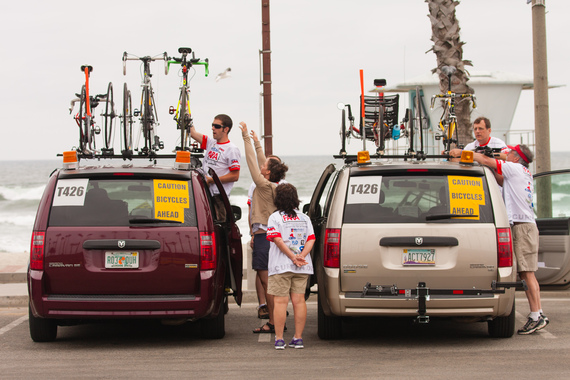 Team FARA Crew Final Preparations Just Before the Start -- Photo credit: Blake Andrews, SLOtography.com
Coincidentally, I had the honor of watching this journey of ours on the big screen in Hollywood, California, almost five years to the day from when we started our adventure in Oceanside, CA. Filmmakers Kevin Schlanser and Zack Bennett captured our 2010 ride, and it is now the subject of the documentary, "The Ataxian."
RAAM requires a strong, fully committed team with a common goal, and I am excited for the teams that are taking it on this year. Good luck to all -- onward to the finish line!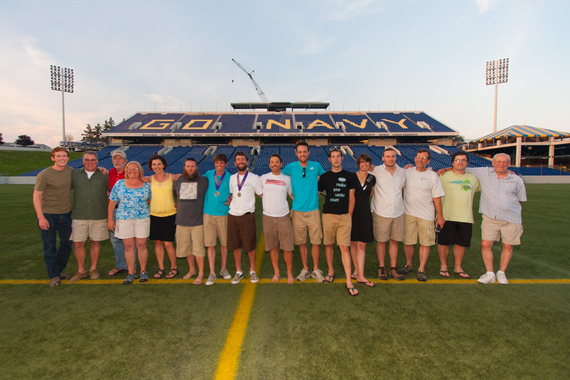 Team FARA and Crew One Day After Finish -- Photo Credit: Blake Andrews, SLOtography.com
Calling all HuffPost superfans!
Sign up for membership to become a founding member and help shape HuffPost's next chapter