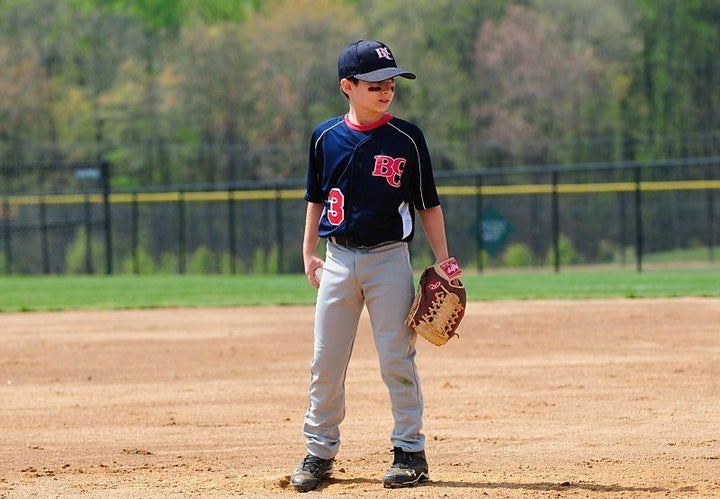 My son has had energy to burn since he was in the womb. Literally. Many months pregnant, I would walk on the treadmill and feel him swishing around as if he was running frantically in place like the tanned leader of a water aerobics class at some tropical resort."Move it, ladies!"
He crawled early and fast. I'd try to wear him out by urging him to chase a clickety wooden alligator I pulled around on a string. When he could walk, I'd challenge him to race me up and down a hill at the nearby middle school.
Thankfully, I caught a break at around age 5, when organized sports became an option. I quickly signed my son up for T-ball, swimming, tennis and basketball.
I viewed sports strictly as a tool to help him get out his wiggles. Never, ever, did I think my son would join a travel sports team. I'd heard grumblings about these ultra-competitive teams, sometimes also called "elite" or "select," where kids go through try-outs and are promised a higher level of play. There's also multiple weekly practices, dozens and dozens of games, driving, traffic, more driving and weekend tournaments far enough away to require lodging. This seemed way too intense, kind of like encouraging your preschooler to read Harry Potter. What's the rush? Can't this wait for high school? Plus, it's expensive, costing thousands of dollars once you've covered coaching fees, tournament fees, field permits, uniforms, gas, hotels for away tournaments, additional off-season lessons and camps as well as team dinners and other extras.
Some people think it's an investment for the future, a way for their child to earn an athletic scholarship to college. But that's unlikely. Maryland sports psychologist Caroline Silby recently told me that around 75 percent of kids quit sports by age 13 or 14 due to increased performance expectations. If a kid manages to continue, only about two percent of high school athletes are awarded athletic scholarships to compete in college, according to the National Collegiate Athletic Association.
And yet here I am with a 10-year-old son who is starting his second year on a travel baseball team. I must be nuts. Why do this? Well, it turns out that in addition to getting out excess energy, there are a number of really good reasons to have a child experience this level of competitive sports -- they just may not be the reasons you'd expect.
It's difficult to appreciate what it takes to succeed if you get a trophy simply for showing up on occasion. In more competitive leagues, like my son's, the stakes are higher. Everyone doesn't win. If you perform poorly, you may get less playing time or you may not make the team the following year. My son has struck out, made the wrong play or failed to find the strike zone while pitching. He was devastated. But when he kept working, he saw improvement. He climbed the batting order, made crucial outs and closed out games. He still has off days, but the setbacks make the accomplishments that much sweeter. He's learning that working hard really does help you improve, but regardless, you can't always be perfect and that's OK too.
2. They'll face bad manners, bad language and bad behavior.
It seems that the increase in competition can bring out the nasty in some people. My son has witnessed rude behavior from other players, including put-downs from a couple of his own teammates when he was struggling at the plate. Adults were worse. Another team's coach, upset that he couldn't bring his portable pitching mound onto a field with no mound, yelled to my son's team that they were playing "kindergarten ball." My son is learning to brush off trash talk and has realized that some people are simply jerks. It's also a reminder to treat people how he wants to be treated, to be a leader in good behavior, to be kind. He's now often the first to console a teammate after a bad outing.
My son has approximately four to five hours of practice and two to six games a week, depending on whether or not there's a tournament. This schedule, a bit overwhelming at first, has helped my son's organizational skills. If he wants to maintain good grades at school and keep playing ball, he has no choice but to manage his time. Also, you need to be dedicated to become really good at something. Malcolm Gladwell noted in his book, Outliers, that is takes about 10,000 hours of practice to master a skill. That's a lot of baseball. Why not aim to be an expert at a sport you enjoy versus average at a dozen different activities? And there's another benefit. My son doesn't have time to get too wrapped up in activities that can lead to trouble, like goofing off on social networking sites such as Instagram (which I like to call YOLO or "you only live once," so I might as well post a picture of my butt) and worse.
4. Their siblings will be impacted.
My 7-year-old daughter has reluctantly spent many weekends at games and many hours in the car driving her brother to different fields. It made me make a concentrated effort to find an activity that she truly enjoys, something that she could focus on and make special. She joined a swim team and glowed when she reached the wall at her first competition. It's also forced me to schedule some special one-on-one time with her. We skipped an out-of-town baseball tournament, for example, and spent the weekend enjoying a schedule she dictated. We baked a vanilla cake, ate some before dinner, then became too full to eat dinner and ended up painting each others nails hot pink. "The best day ever," she said.
5. They'll get a big head.
These days, when my son wears his uniform with his name embroidered on the back, he struts around like King Shit of the Caca Tribe. And I think that's a good thing. A reserve of confidence -- "I'm not braggin, just swaggin," read an Under Armour shirt I saw the other day -- can help a kid manage a bad day and come back and have a better day, a great day. It can help a kid dream big. My son often says he wants to attend Stanford and play on their baseball team. He wants to play professionally for the Phillies or the Red Sox. He wants to be an architect and build the tallest building in the world. Go for it. Once you battle hard and win, you know you can do it again.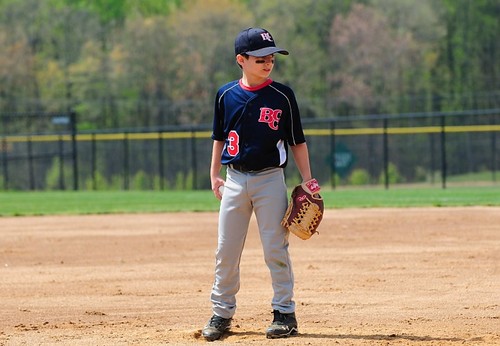 A little kid with a big glove and big dreams.
Related