Butterscotch dip cupcakes are adorable and delectable in one shot. Perfect for Halloween or Thanksgiving -- they're true show stoppers!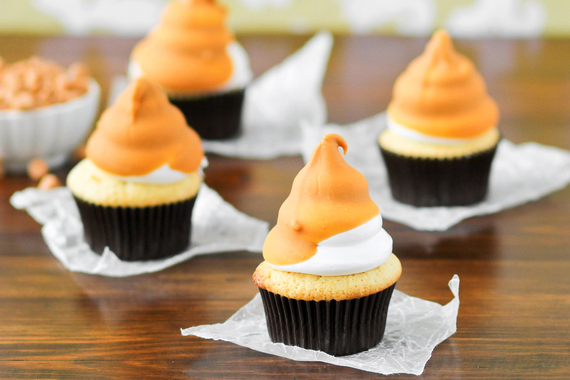 I have recently been dieting for the five-hundred-and-eighty-seven zillionth time. I know that experts are always saying that diets don't work, only lifestyle changes work, but I actually mostly like my life. Except for the fact that sometimes my pants won't button, I have no desire to change it. The only thing I am really willing to do is be temporarily miserable in order to be temporarily skinny.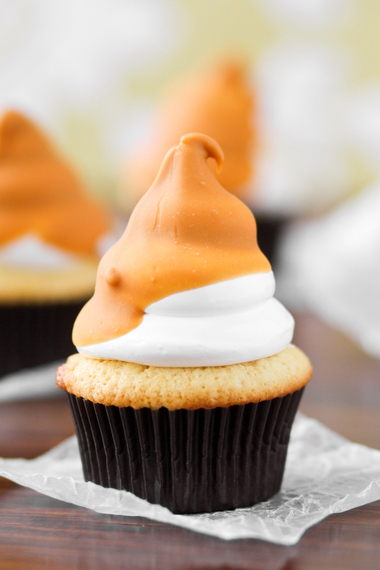 What I have discovered about diets is that they are all lies. Diet food doesn't taste good. You always feel like you're depriving yourself. And when a meal replacement shake promises that you'll be full for four hours, you can bet that you'll actually never be full. Drinks aren't meant to be whole meals of food. They just aren't.
People don't sit around the dinner table with smoothies or protein shakes FOR A REASON. The reason being it's ridiculous. And also, all the hunger. Human beings need food that you can chew and tastes like lots of carbs. Glorious, glorious carbs.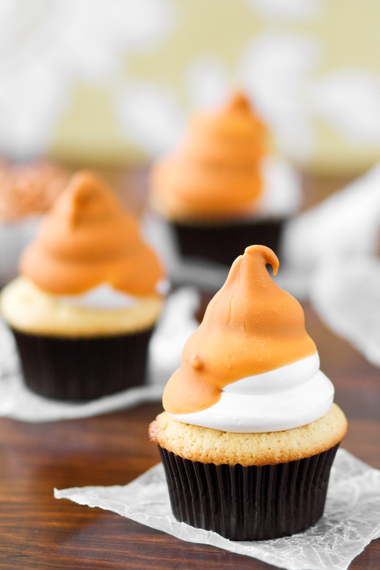 I have been thinking about inventing a diet where you get to eat donuts and cupcakes, but the trick is that you have to run in place while you eat them. I feel like they should cancel each other out. So while you won't necessarily lose weight, you won't gain any either. Plus you'll get lots of practice eating while running. Which will come in handy if you ever decide to run a marathon and happen by a Krispy Kreme on your route.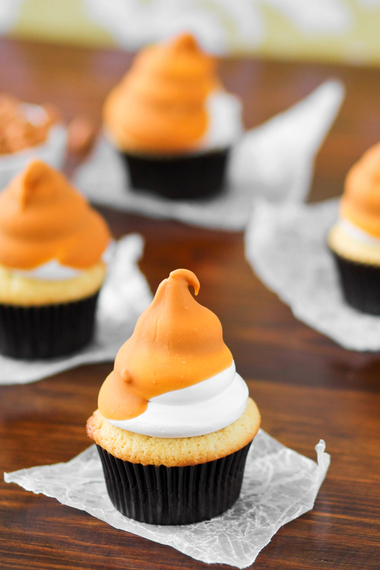 It is with delicious, carb filled sweets on my mind that I created these cupcakes. Butterscotch is one of my all-time favorites, and the butterscotch shell coating this fluffy marshmallow frosting is seriously fabulous. Not only the marshmallow/butterscotch combo completely delicious, but it's gorgeous to boot! This is most definitely a crowd-pleasing cupcake.
Kristan is known for her candy creations and hilarity on
. We know where her true genius is, though: fanciful fanatical
and
creations!