 New data from the Woodstock Institute show that completed foreclosure auctions in the Chicago area jumped to the highest level since the foreclosure crisis began in 2006.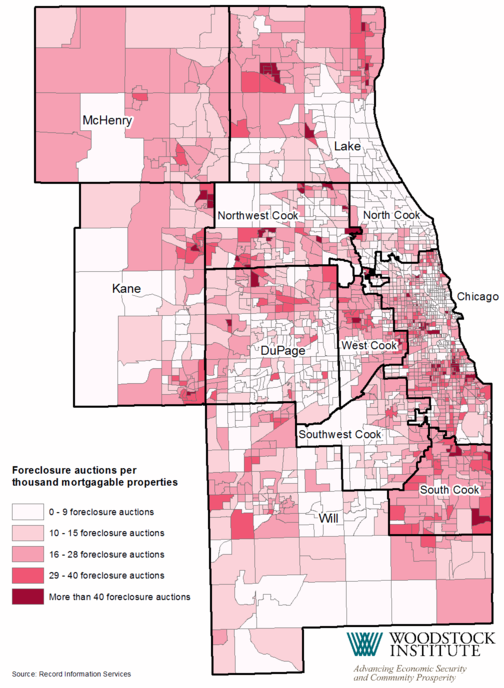 The vast majority of foreclosed properties that reach auction do not sell and therefore become lender-owned, or real estate owned (REO). REO properties cause several problems for the neighborhoods and cities in which they are located.
Because of the cost of maintaining the property, the difficulty in securing it and, in some cases, plain negligence, REO properties often fall into disrepair. This can result in a discounted sale price, devaluing surrounding properties and prolonging the time in which the property sits vacant.
Making matters worse, these foreclosures are disproportionately located in areas that had already been hit hardest -- low-wealth communities and communities of color.
Some of the more alarming statistics found in the Woodstock fact sheet:
In 20 Chicago community areas, more than one in 10 properties eligible for single-family mortgages completed the foreclosure process between 2008 and 2012.
Notably high concentrations of foreclosure auctions were found in the Grand Boulevard (21.4 percent of properties with mortgages), Woodlawn (18.5 percent), and Englewood (18.2 percent) neighborhoods.
While the rate of new foreclosure filings remained relatively stable across the region, the trend of growing foreclosures in low-wealth communities identified in a previous Woodstock report continued.
The extensive data released today further detail the great challenge we face in addressing the foreclosure crisis and vacant homes in the Chicago area. The best way to limit the negative impact of vacant properties is to prevent them from becoming vacant in the first place. Struggling homeowners should have every opportunity to save their homes, and that means that lenders should be able to write down principal on Fannie Mae and Freddie Mac loans.
In cases where homeownership cannot be preserved, we need bold and creative solutions, such as well-managed single-family rental housing and the newly established Cook County Land Bank, a promising initiative to collaboratively redevelop neighborhoods with concentrated foreclosures and vacant properties.
This post was coauthored by Dan Fair.
Popular in the Community