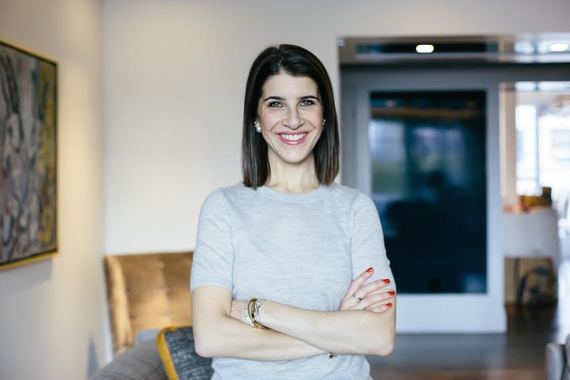 In 2006, I founded goods for good with the committed to giving all children the chance to thrive. Since then, goods for good has helped nearly 80,000 vulnerable children in Malawi get the care they need. My goods for good journey has taught me a lot about entrepreneurship, social enterprise, and with it all, the challenges of being a working mother. With this in mind, it was been my pleasure to sit down with a longtime supporter of goods for good and inspiring entrepreneur Rachel Blumenthal, the CEO and Founder of Cricket's Circle, an amazing online resource for modern moms who want the best for their children.

MK: Female entrepreneurs are still outnumbered by male entrepreneurs. I know this and feel this every day because, like you, I've been in the space for over ten years now. What do you think the challenges and benefits are to being a female entrepreneur?
RB: It's less about gender, and more that every entrepreneur has his or her own style, strengths, and weaknesses. Being an entrepreneur means taking risk, believing in your vision, being comfortable with the unknown and working harder than you can ever imagine possible. What I've gained though, far outweighs any challenges. I truly love what I do and believe I'm solving a problem that new moms encounter everyday.
MK: You've had four years to adjust to life with one child, and now you have another one on the way. What are your experiences being a working mom thus far, and how do you think things are going to change with Baby Number Two?
RB: As a mom, it's certainly true that trying to balance career and family can be a daunting challenge, and there's no right way - it's incredibly personal. For me, being an entrepreneur, I live by a work/life integration verses thinking I'll ever find balance. When I'm at work, I tend to be entirely focused on work and when I'm home, my phone is away and it's all about my son. Being a working mom also forces you to not obsess over the small things because you just don't have the time. I allocate my time to the important things that will impact my son's life - undivided attention (even if only for 30 minutes), sharing stories about my day, and knowing when he needs space and when he needs an extra hug. I go through ups and downs of feeling like I'm not succeeding at either but likely (hopefully!) that's mostly my own guilt and not representative of reality. I have no idea what #2 is going to mean for me other than added complication and another person to love. As of now, I plan to approach life with two kids similarly as I approach life now and hope for the best.
MK: Cricket's Circle is an amazing resource for new moms who are trying to learn what's best for their children. At goods for good, we share this commitment to providing children with the best possible start. Whether in New York or Malawi, what would you say are the top three things that are essential for all children in their first few years?
RB: Aside from the basic necessities like a safe home, food, and access to healthcare, more than anything children need love.
MK: You and Cricket's Circle have established yourself as the advice-giving gurus. One of my favorite parts of Cricket's Circle's blog are your no-nonsense lists. As a New York mom trying to balance my family and my work at goods for good, I'd love to hear your top three ways that parents can expose their children to philanthropy.

RB: It's most important to lead through example and getting your children involved in the philanthropies that you are most passionate about. I have been involved with Baby Buggy for about 5 years now. We host an incredible family carnival event every June called the Bedtime Bash at Victoria Gardens in Central Park. My son looks forward to the event every year and for the weeks leading up, we talk about the work the team at Baby Buggy does, who they help and how and why they help them. We then take it one step further in which Griffin asks his friends to purchase diapers (the greatest need of the families Baby Buggy supports) in lieu of birthday presents. We also have a chore chart at home in which Griffin has to accumulate enough stickers to fill his chart and earn a new toy. We alternate so for every other chore chart Griffin completes, he selects a toy to donate to a child that is not as fortunate as he is.

MK: You've mentioned plans for a Corporate Social Responsibility program at Cricket's Circle. Why do you think this is such a growing trend, and how do you plan on incorporating this philanthropic focus in Cricket's Circle?
RB: Doing good is certainly part of our family's DNA. It's also extremely important to us at Cricket's Circle, and though we currently don't have a philanthropic partner in place, we are actively working on this part of our business. While I want to believe that everyone values giving back, it's essential that it's authentic to who you are as a brand. We don't want to stick a give back component onto Cricket's Circle for the hell of it. We want any partnership that we pursue to come from a very natural and organic place. Building those relationships takes time.
MK: Absolutely. goods for good's programs in Malawi similarly rely on these kinds of strong partnerships in order to effect the most change. Both you and your husband Neil have been longtime supporters of our mission of empowering communities to transform orphan care. Why did you get involved with goods for good?
RB: I believe giving communities the dignity to learn and become self-sufficient is imperative. Organizations that are able to identify specific needs in a community and build repeatable and self-sustaining operations to support those needs are the future of non-profits. goods for good is doing just that and their focus on children, the future of our world's growth, is both thoughtful and highly strategic.
MK: Rachel, thank you so much for taking the time to chat with me. Your entrepreneurial spirit has always been an inspiration to me, and I can't wait to present you and your husband Neil with the Greater Good Award at this year's Gala for Good on April 27th.

About goods for good
goods for good is a 501(c)(3) nonprofit organization that empowers communities in Southern Africa to transform orphan care. Together with local partners, goods for good builds small businesses that finance orphan care programs, create jobs, and boost the local economy. Since its founding, goods for good has supported nearly 80,000 children and built ten small businesses. Learn more at www.goodsforgood.org.

About Gala for Good

goods for good will host the 6th annual Gala for Good honoring Neil Blumenthal, co-founder and co-CEO of Warby Parker, and Rachel Blumenthal, founder of Cricket's Circle. The cocktail event will be hosted by Gala Chairs Joey Levin, CEO of IAC Search & Applications, Marissa Sackler, founder of Beespace, and Andrea Tese, a New York City-based photographer and artist, and will be held on Monday, April 27th, 2015 at IAC HQ, located at 555 West 18th Street in New York City. For tickets and sponsorship information, visit www.galaforgood.org.

Calling all HuffPost superfans!
Sign up for membership to become a founding member and help shape HuffPost's next chapter