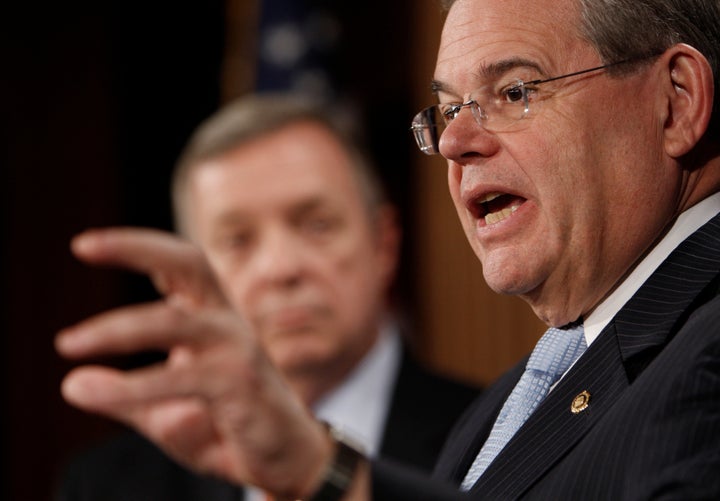 WASHINGTON -- Senate Democrats launched on Wednesday a new effort for comprehensive immigration reform, even though they so far have no Republican support for a bill that would allow some undocumented immigrants to gain legal status.
"Right now going down, figuratively, this long corridor of doors of the offices of Republican senators, and I'm trying every door to see if one door will open, and one senator will step forward and join us," said Sen. Dick Durbin (D-Ill.).
Although Durbin, along with bill author Robert Menendez (D-N.J.) and co-sponsor Patrick Leahy (D-Vt.), acknowledged the tough odds of getting immigration reform through the Senate -- much less a Republican-controlled House -- they said it was important to offer a vehicle.
"We will never move forward if we do not have something to lay a foundation to have a debate," Menendez said. "The administration has highlighted the importance of this, but it needs a vehicle at the end of the day ... to galvanize around and have a debate on."
The bill combines border security and work-site enforcement with what Republicans have decried as "amnesty" -- paths to citizenship and legal status for some of the estimated 11 million undocumented men and women living in the United States.
Part of the bill will be the DREAM Act, which would allow some undocumented men and women who came to the United States as children to gain legal status with the aim of attending college or serving in the military.
The DREAM Act passed the House last year and gained a majority in the Senate, but fell just a few votes short of bypassing a Republican filibuster. Five Democrats also voted against the bill.
"Sounds like the last big one, which had bipartisan opposition as I recall," a GOP leadership aide said of the new legislation in an email. "Hard to tell what level of support this will have with Rs -- or Ds."
"I want the DREAM Act to be the catalyst for comprehensive immigration reform," said Durbin, the key legislator behind that bill. "Let's deal with the whole issue of immigration reform."
The comprehensive bill requires a mandatory employment verification that is meant as an alternative to E-Verify, a system already used by the government and federal contractors to screen for illegal workers. E-Verify, which would be made mandatory by a bill introduced last week by Rep. Lamar Smith (R-Texas), has been criticized for producing inaccurate results.
The Senate Democrats' proposed legislation would also create a standing commission to determine the number of employer-based visas, to help ensure employers can bring the people they want to the United States.
Menendez said the bill would help the economy by allowing more people to contribute taxes, earn good wages and support other workers.
"When I listen to my Republican colleagues, everything they talk about, they should be with us," Menendez said. "I don't want to prevent a set of circumstances in which millions of people who could more fully pay taxes and participate in helping to grow this economy."
In the meantime, though, Senate Democrats plan to continue to push for administrative relief for some undocumented people, particularly family members of citizens and DREAM Act-eligible young people. A number of Senate Democrats sent a letter to the White House in April asking him to stop deporting so-called DREAMers.
Menendez said they will continue to push for administrative action until comprehensive immigration reform is passed.
"As we are waiting to pass immigration reform ... there needs to be some administrative relief," he said. "It would certainly not solve our problem, but it would provide some relief that we believe the president has the power to do."
Popular in the Community