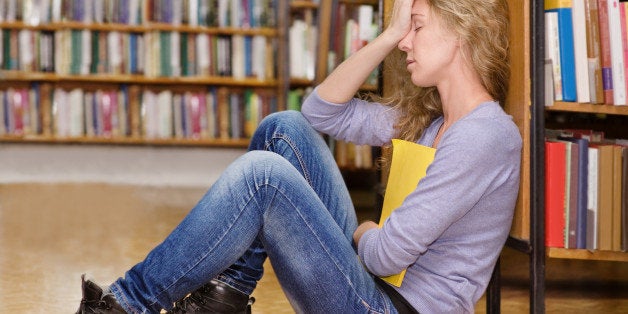 Peter P., 17, spent two months sleeping on his school's roof after becoming homeless in April. When administrators at Dominguez High School learned of his situation, they didn't help with essential services or support. They suspended him and turned him over to the police for trespassing, according to a lawsuit filed Monday in U.S. District Court in Los Angeles.
Peter is one of four students and three teachers who sued California's Compton Unified School District, contending the district violates federal laws by failing to help students and teachers deal with so-called complex trauma, which involves severe, pervasive and repeated events like long-term abuse or neglect. The lawsuit, which seeks certification as a class action, accuses the district of violating the federal Rehabilitation Act and the Americans with Disabilities Act.
Complex trauma stymies students' ability to focus on learning and increases their risk for academic failure, behavioral issues and truancy, according to research. Compton, just south of Los Angeles, has pervasive crime that can inflict complex trauma on students. Lawyers said they hope the lawsuit will force Compton and other school districts to train teachers on how to help students deal with trauma instead of punishing them for it.
"The kids are treated as if they're bad kids, as opposed to kids to whom bad things happen," Mark Rosenbaum, an attorney with pro bono law firm Public Counsel, told HuffPost.
The students Rosenbaum represents have experienced unthinkable tragedy. They have seen friends and close family members shot, been victims of physical and sexual abuse, and have jumped from foster home to foster home with little stability. Instead of being provided with counseling by the school district, the students have been suspended and pushed out of school, the lawsuit alleges.
The teachers who sued say they should be given training on how to help students deal with the intense anxiety associated with trauma.
"It's kind of nuts -- one of the teachers I talked with, she's been there 10 years," said Rosenbaum. "She was talking about the number of students' funerals she attended. During all her years, she never heard the word 'trauma' mentioned.
"There is not awareness of the relationship between trauma and learning," said Rosenbaum. "There's not that awareness, nor is there any awareness of the sorts of programs and protocols that actually work in terms of dealing with trauma." He said other school districts have the same faults. "You can throw a dart at a map and hit a community, whether it's Ferguson or Baltimore or Oakland," he said.
The school district hadn't seen the lawsuit, but said in a statement that "any allegation that the District does not work hard to deal with consequences of childhood trauma on a daily basis is completely unfounded."
"The District remains eager to work with any organizations or individuals who share our mission to provide our students with a 21st century education, one that especially addresses some of the severe disadvantages faced by our community's youth," the school district said. "But like school districts across this state, especially those who serve working class families, we are constantly challenged to find the resources to meet every identifiable need … We want to point out that until we were notified of this lawsuit, no one had come to us to discuss this issue or to express interest in working with us on it."
Peter said he just wants to see his school "as my peaceful place, where I could feel safe." And he eventually wants his own children to attend the same school, he said in a video shared with reporters Monday.
REAL LIFE. REAL NEWS. REAL VOICES.
Help us tell more of the stories that matter from voices that too often remain unheard.
BEFORE YOU GO
PHOTO GALLERY
U.S. State Capitol Buildings