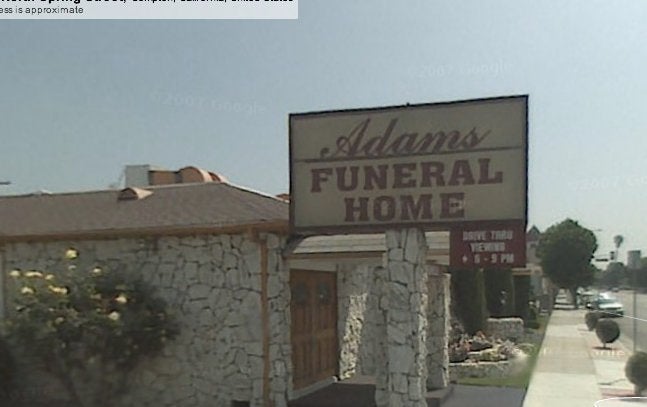 "It's a unique feature that sets us aside from other funeral parlors," said Scott Adams. She married into the business in 1988 when she became wife to businessman Robert Lee Adams Sr., a former Compton politician. He died in 2005. She continued his legacy. A suit-clad bust made in his image stands near the entrance.

"You can come by after work, you don't need to deal with parking, you can sign the book outside and the family knows that you paid your respects," said Scott Adams. "It's a convenience thing."

The venue provides a speedy way for well-known community folk to be viewed en masse. Seniors don't have to leave their cars. Those who can't stomach stepping inside a funeral home don't have to. Families can avoid the complications of hosting a formal indoor viewing. And the disabled can roll through in their own wheelchairs -- as one woman recently did.
Watch the LA Times video feature below: