Ever wanted to be trained by a professional athlete, but at your own time and for virtually no cost?
Brothers Eric and Marc Forkosh had the same dream. As basketball fanatics growing up, Eric and Marc learnt the frustrations of training solo at a young age.
"We used to watch YouTube videos online showing drills and at-home workouts and then try to replicate it outside," said Eric, "but it was slow, boring and straight up ineffective."
For basketball enthusiasts like the Forkosh brothers, the process of performing the same basketball handling movies over and over again with no clear indication of improvements could be tedious to say the least. Relying on his engineering degree, experience inventing a cellular module and consulting for technology startups, Eric partnered up with younger brother Marc to build a solution. The duo then spent a year developing technology that tracks a basketball's movement using nothing but a smartphone camera, which eventually became DribbleUp.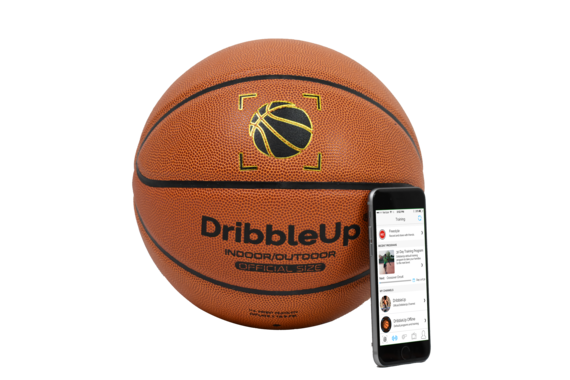 DribbleUp's proposition is simple: to help its users become better players. The company attempts to do so by offering a mobile app that tracks the exact movements of its custom basketball through a smartphone camera. Besides tracking the player's improvements and providing quantified feedback in terms of dribble speed, cross-over speed, and ball control, the mobile app also comes equipped with a virtual coach that instructs in real time while taking note of how the player is performing.
Think of it as facial recognition on any smartphone camera, but for basketballs. In other words, all users have to do is prop up their smartphones, stand before the front-facing camera, and start dribbling. The mobile app will recognize the custom basketball, monitor every movement, and break it down into actionable feedback.
"Basically, you get a basketball coach that can follow you anytime, anywhere," Eric explained. "With the app, you can also compete with friends online and compare results. We're working with some very well known athletes and trainers to produce interactive content on our app - so imagine training with your favorite player, he's telling you what to do, he's shouting at you when you're not doing something right. You really get into it and feel like you're there with this person."
Retailing for $79.99 on its online store, DribbleUp's basketball is an affordable replacement for smart basketballs developed by industry incumbents like the Wilson X Connected ($199.99). What sets DribbleUp aside from similar smart ball technologies, however, is the fact that there are no electronics or batteries inside the ball.
"Typically, basketballs that provide quantified feedback to users contain motion sensors, which send users data via Bluetooth to a mobile smartphone," said Eric, "however, that means these balls have to be periodically charged, which limits the portability of the basketballs. On the other hand, our ball is specially designed to be tracked by your smartphone camera. This means our ball is official size & weight, super durable, and can be used in regular games."
Moreover, expensive sensors embedded within basketballs can only measure data from within the ball. Metrics such as dribble height, relative location of the ball, crossover width, and other information that could be critical to any serious player's improvements cannot be measured. With its image tracking system, which does not rely on any type of internal sensors, DribbleUp might be a more accessible and flexible option for some. And it's not just dribbling - the Forkosh brothers are also working on adding shooting capabilities to their product.
Companies like DribbleUp may very well disrupt the by-and-large unchanged landscape of sports by replacing "dumb" balls with low-cost "smart alternatives".
"The magic with DribbleUp is that it's software defined basketball," said Eric. "You literally wake up one day, update your app, and all of a sudden your application does new tricks. That's the future of sports, that's the future we're building.
This piece was originally published on Breaking Hoops, a blog about innovators making a positive impact in the world. Like our Facebook page to stay up to date with the latest stories!

Calling all HuffPost superfans!
Sign up for membership to become a founding member and help shape HuffPost's next chapter