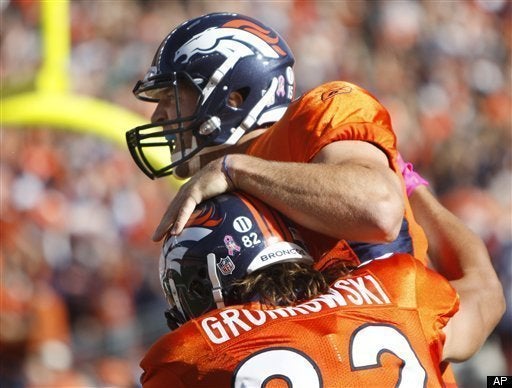 If you are a true sports fan -- and you know who you are -- then you know that now and again a game between your favorites comes along that will expose your true colors.
In my case, as a transplanted New Yorker in Colorado -- and a true sports fan -- I have tried to bleed Denver Broncos blue from the start of my arrival here. It has not been easy, given the almost completely unlikeable attitude of the franchise post-Elway, and the constant mentions of Elway in the Denver sports pages. Nonetheless, I've persevered in my Rocky Mountain loyalties -- until the New York Jets came to town.
I once cashed a Jets paycheck -- $30 per week -- so there's that to consider. And I started working as a ballboy for the Jets when Buddy Ryan, the father of Jets head coach Rex Ryan, was breaking in as a defensive line coach the year they last won the Super Bowl. But that was over 40 years ago, and I awaited the kickoff Sunday to see how I really felt.
It was no contest. Once the ball was in the air my heart was in my throat and I was bleeding J-E-T-S green. Whatever feeling I once had for the Broncos was out the window. When the Jets finally won -- thanks to a goal line pass intereference call against Denver -- I could barely remember why I had ever liked the no-run, no-account Donkeys, who plunged to 2-4. The Broncos have gone 4-12 in the last sixteen games of head coach and boy genius Josh McDaniels. I'm not sure if I can even like the Broncos any more.
The Jets? They're on a five-game winning streak heading into their bye week and it doesn't get any better than that. They're happy and confident. The defense is a work of art and second-year QB Mark Sanchez is coming along. Even LaDainian Tomlinson has recaptured Chargers lightning in a bottle.
Could they win a second Super Bowl as soon as this season? You never know. I remember the one time it happened like it was yesterday.
Calling all HuffPost superfans!
Sign up for membership to become a founding member and help shape HuffPost's next chapter