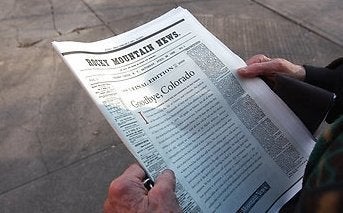 If you don't think the folding of the Rocky Mountain News is a tragedy, a big one, let me recount what happened to my father, Frank Conniff, the editor of the World Journal Tribune, the largest afternoon daily in the country, when it folded in 1967.
He had a stroke. The day the paper folded.
My father never recovered: multiple strokes and a few years later he was dead. I was 17. I told anyone who asked: "He died of the newspaper business."
It was no joke. My dad took it personally, and not even a staff that included Jimmy Breslin, Tom Wolfe, and Dick Schaap could save the day. The Rocky, the best tabloid I ever read, had a terrific staff and I particularly loved the newspaper on Saturdays when it spread its wings into a weekend broadsheet like a Cinderella at the ball. The Rocky didn't fold because it wasn't good enough or even because of the horrible economy.
It folded because newspapers as we know them are dead.
Don't get me wrong. I love newspapers, love them dearly. I worked for newspapers as hard as I could in San Francisco, Baltimore, Boston and right here in Aspen. Newspapers, on paper, are a noble thing and a living breathing being. They will survive in some diminished form, but as a dominant, monopolistic, agenda-setting cash cow the great American newspaper is a goner. Put a fork in it. I left the Boston Herald American in 1979 because I thought newspapers were dying. I was thirty years early to the wake. The day has come.
Newspapers in St. Louis and Seattle are likely to be next -- but what about Aspen, one of the last of the two-newspaper towns in America?
I worked on the Aspen Daily News for eighteen months, long enough to know that the owner, Dave Danforth, who fancies himself a crusading journalist, would not spend his millions to keep a money-losing paper alive. He's cheap and flinty in a New England sort of way (you've seen the Red Sox cap he never takes off). My guess is that his tolerance for red ink is non-existent. Still, he may be tempted to outlast the Aspen Times and thus become the only paper in town.
As for the Aspen Times, the more corporate Swift company has folded five newspapers in Colorado in the last few months, including the Spanish-language La Tribuna and the Valley Journal in Carbondale. I would be shocked if the Post-Independent in Glenwood is able to survive. A corporate owner is even less likely to keep a corpse alive.
The local papers have cut staff and cut their rates but their survival is still in question. Without the fool's gold of real estate advertising they have become desperate, slashing rates and making deals to keep hope alive. Will they survive? As a competitor with Aspen Post, I hope they go out of business tomorrow, in part because of their tendency to print outright falsehoods about yours truly. But as a man who loves newspapers and all they represent, it makes me want to cry.
Every time a newspaper folds, something inside of me dies.
REAL LIFE. REAL NEWS. REAL VOICES.
Help us tell more of the stories that matter from voices that too often remain unheard.