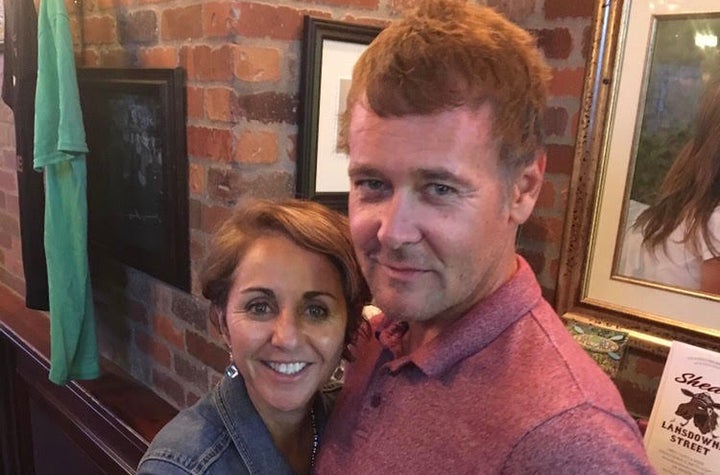 Join HuffPost for a Twitter Spaces conversation about this story on Monday, April 25, at 1:30 p.m. ET. Author Catalina Rosas will discuss more about what it's like to date a con artist. Sign up to be notified when the Twitter Spaces begins here.
I met Eric Benson in 2015 during a chance encounter at a trendy restaurant in Boca Raton, Florida. He introduced himself to me as an art dealer and a stocks and commodities trader for a select group of wealthy clients. He claimed he had recently moved back to the United States after an eight-year stint in Hong Kong and I was immediately captivated by him.
He was charming, witty, intelligent and it seemed like he could confidently talk about almost any subject. But what appeared to be a very lucky break in the arid landscape of dating when you're a 50-something woman turned out to be a devastating financial and emotional blow that knocked me to my knees.
After almost two years of dating, I learned that Eric wasn't who he said he was. Not only was our relationship a complete sham, he only saw me as a pawn in an elaborate plan to scam me out of over $50,000 and my 24-year-old son out of $12,000. His scheme ― which involved another girlfriend, fake gold, stolen paintings, forged checks and a false identity ― sounds like something that you'd only encounter in the movies. If I hadn't found myself at the center of it, I never would have believed it was true.
Eric went to great lengths to convincingly play his role as a successful entrepreneur. Since he didn't have a house in Boca Raton due to his supposed recent return to the U.S., he usually stayed at the beautiful and exclusive Boca Resort. I would join him there for a relaxed Sunday by the pool or a gourmet dinner after which we would often go up to his room, open a fine bottle of red and dance until our feet were sore. We had so much fun together, but we also frequently had what I believed to be deep and honest conversations about social, political and religious issues. I felt I had finally found someone worth spending my time with. This bliss never lasted long, however, as Eric's busy travel schedule kept him away from Florida for weeks at a time.
One day, upon allegedly returning from a trip abroad, Eric invited me to a house where he was staying. It was an elegant Spanish-style home that boasted a putting green by a beautiful pool in the backyard. He opened a chilled bottle of Veuve Cliquot and we settled in for the evening together.
He told me the house belonged to friends of his parents whom he'd known for 30 years and who were also his clients. I know it sounds too good to be true, but Eric was such a talented actor that I honestly never believed anything was amiss. A few weeks later, he once again asked me to meet him at his clients' house. When I got there, he was standing in the driveway, proudly admiring a brand new white convertible Ferrari. His plan was working ― I was truly impressed by the charmed lifestyle he led, which, as far as I could tell, consisted primarily of golfing, traveling to exotic locations and dining at the best restaurants in town.
"His plan was working ― I was truly impressed by the charmed lifestyle he led, which, as far as I could tell, consisted primarily of golfing, traveling to exotic locations and dining at the best restaurants in town."
Eric talked a lot about gold ― it was by far his favorite investment both for himself and for his clients. After we had been dating for about eight months, he asked me to sell some gold coins for him and offered me a 20 percent commission for my trouble. He explained that his time was too valuable to spend running errands like this one and he knew I could use the extra income. So I did. Twice.
Then, four months later, when the U.K. voted to approve Brexit, Eric urged me to cash in half of my IRA and give him the money to invest in gold coins. He claimed the markets were going to collapse and that people would be unable to withdraw their money, much like what had happened in Greece a few years prior, and gold would be a much wiser investment. Given that wealth management was supposedly his field of expertise ― not to mention that he was my boyfriend ― and since I had already done some similar transactions with him with no issues, I trusted him and followed his advice. I made a few withdrawals from my bank account and handed him $35,100 in cash. In exchange, he gave me 27 gold coins. Per his instructions, I stored them in a safe deposit box. My son also gave him $12,000 from his savings account and received 10 gold coins for him in return.
Eleven months later, after handing over what was left of my IRA for Eric to manage on E-Trade, I became concerned because the funds in my account were quickly dwindling. I called my former financial adviser who urged me to immediately have the gold Eric had given me authenticated.
The next morning, June 14, 2017, I took the gold I received from Eric to an expert down the road from me, where it took them five seconds to tell me it was fake. I immediately went to the Boca Raton Police Department and unsuccessfully pleaded with them to help me. They said there wasn't enough evidence and that Eric would argue that he didn't know the gold was fake, meaning he didn't knowingly do anything criminal.
I realized I would have to build the case on my own. So, I pretended I didn't know about the fake gold and met with Eric at a cafe under the pretense of wanting to buy gold for my daughter. I recorded our conversation with my iPhone's voice memo app in order to gather whatever evidence I could during our meeting. I recorded Eric talking about the price and origin of the gold he had sold me and my son, as well as the gold he supposedly was going to sell to my daughter. He also showed up with two paintings, which he asked me to send to Sotheby's in New York for auction.
I hired a private investigator and contacted the FBI who referred me to the Secret Service, which handles cases involving counterfeiting. Unlike the Boca Raton police, the Secret Service agent who answered my call took my case very seriously and began an investigation into Eric and his scams.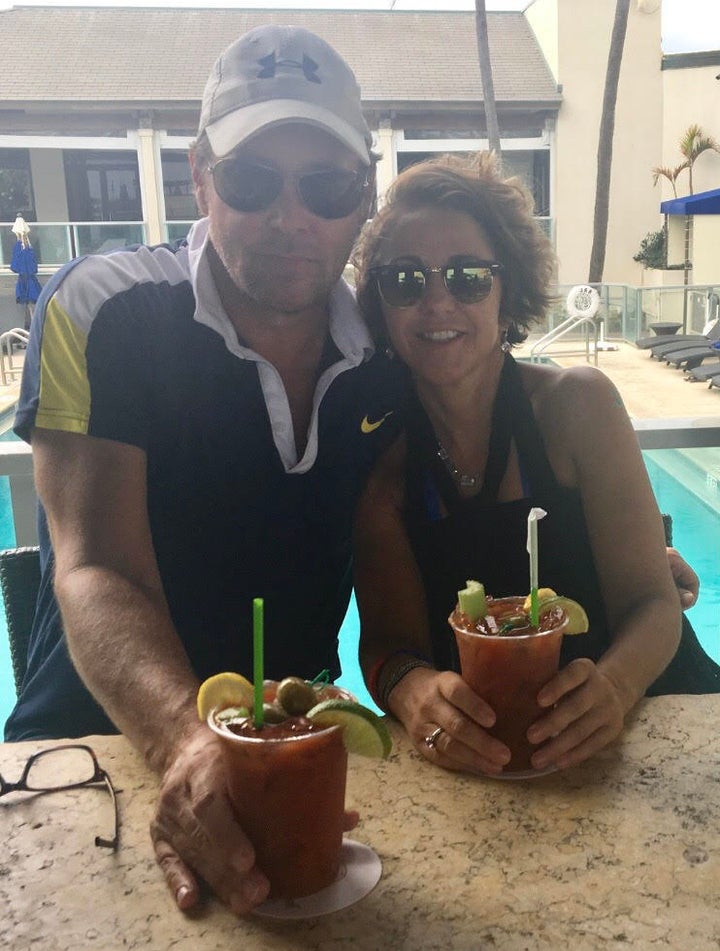 From there, I started to connect the dots with what little information I had. First, I searched for the beautiful house with the putting green using Google Earth and public records and learned that it belonged to a woman named Jennifer (not her real name). I then googled her name and a picture of her with Eric immediately surfaced.
A few days later, I called Jennifer and told her that I had slept in her house, ridden in what I was now almost certain was her Ferrari, and that I was in possession of what I suspected were two of her paintings. I begged her not to confront Eric for fear that he would disappear before we could have him arrested. However, she was so enraged that she told him everything she had learned from me and left him stranded in Naples, Florida, where they had been spending the weekend. Neither of us ever saw him again after that: Eric was gone and my money was gone with him.
The following day, Jennifer and I met and I learned that she had been in a relationship with Eric for three years, two of which overlapped with my relationship with him. When I showed her photos of the two paintings that Eric had asked me to send to Sotheby's, she identified them as paintings he had stolen them from her studio.
Eric had also taken two checks from her ― one of which was made out to a fictitious company he had opened in my name (allegedly so I could manage his clients' affairs when he was abroad) in the amount of $1.2 million ― complete with her forged signatures. All of this was to bolster his claim that he was an art dealer and a businessman. Eric used these checks to further convince me that he truly was as wealthy and successful as he claimed he was. By that point, I already knew he was a con man and was just biding my time while coming up with my plan of action.
Jennifer also told me that she had discovered Eric's real name during a trip to Art Basel in December 2016, when she introduced him at a party as Eric Benson. To her astonishment, a man immediately responded, "You're not Eric, you're the golf guy from California ― Blayne Frederick." When she confronted Eric about the strange exchange, he told her that he was forced to use a fake name because some of his trade deals had gone bad and people were out to get him. Blayne Frederick was, in fact, a fugitive who was wanted in California since 2013 on charges that he defrauded two individuals out of $3.3 million dollars through phony trade deals.
I informed both the Secret Service agent involved with my case and the private investigator of Eric's usual hangouts, his favorite country clubs, and the restaurants and hotels he frequented most often. They made flyers with his photo and information about him and posted them at all of the locations I noted. The PI even traveled to other states to follow potential leads in order to track him down, but Eric was nowhere to be found.
Then, on March 31, 2018, after nine months on the run, Eric was arrested at a golf club in Jupiter, Florida, just 30 miles north of Boca Raton, when a bartender recognized him from the flyer and called the Secret Service agent who'd left his business card there months earlier. When Eric spotted two police officers walking toward him, he fled out the bar's back door. After a short pursuit on foot, he was apprehended and later charged with grand theft, scheme to defraud and being a fugitive from justice. He is currently incarcerated at the Palm Beach County Main Detention Center where he awaits prosecution in Florida as well as extradition to California to be tried for his crimes there. I am seeking restitution in criminal court, but apparently he's now penniless.
When I met Eric, I truly believed I might have finally found someone I could fall for. Whether we were out to dinner, dancing, playing tennis or just chatting, we always had a good time. I can't say there weren't any alarm bells ringing along the way, but my wishful thinking was just too strong. I really wanted him to be "the one." Eric knew just how to manipulate that ― and me.
I still feel physically ill when I think of his callousness. He was fully aware of my financial situation ― and the fact that he could leave me destitute ― and he still didn't hesitate to make me the victim of his con.
"A year after learning the truth about who Eric really is and what he's done, I'm just now finally beginning to wake up without a feeling of absolute devastation in my gut."
Just a few weeks ago, I received a call from the white-collar crime detective who was initially assigned to my case. She informed me that another woman, this one in Palm Springs, Florida, had recently come forward as one of Eric's victims. I can't say I was surprised. It's now clear that he had been scamming innocent women to fund his lavish lifestyle for at least the last five years. Who knows how many others might eventually come forward?
A year after learning the truth about who Eric really is and what he's done, I'm just now finally beginning to wake up without a feeling of absolute devastation in my gut. I try not to judge myself too harshly or obsess over how easily I was fooled. Most days I can forgive myself for ignoring the warning signs ― the fact that I never met anyone he knew, that he always paid with cash or used pre-paid cards, that he didn't have his own home, that I never saw his driver's license ― but it's still hard. I just keep telling myself that blaming myself for what happened won't bring back my money or my son's money. Besides, I already gave him two years of my life, so why waste any more time on him?
I just hope that my story might serve as a warning to others, and if I can save even one person from going through the agony that I went through ― and I'm still going through ― I'll be thankful. If somebody seems to be too good to be true, they just might be. If they want you to give them your life's savings, they are almost certainly up to no good. And always trust your gut. It might be the one thing that saves you from losing virtually everything.
Do you have a compelling personal story you'd like to see published on HuffPost? Find out what we're looking for here and send us a pitch!
Popular in the Community