A California man claimed earlier this year that a nightmare customer-service experience with Comcast caused him to lose his job. Now, he is suing the cable and Internet giant for $1 million.
The lawsuit follows a yearlong dispute between O'Rourke and Comcast over bad service. Earlier this year, O'Rourke alleged that Comcast complained about him to his then-employer, leading him to be terminated from his job. Comcast has publicly apologized for the terrible service, but denies that it asked for O'Rourke to be fired.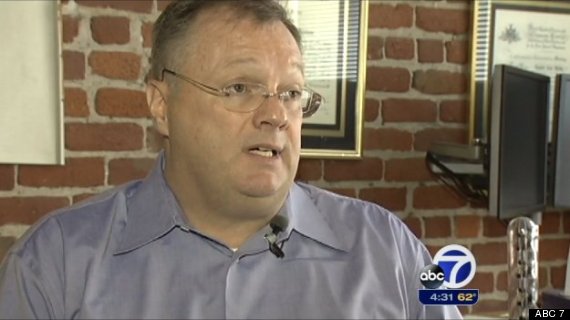 Conal O'Rourke says complaining to Comcast cost him his job. (photo by ABC 7 News).
The problems with his service began almost immediately, according to O'Rourke's lawsuit. The suit alleges that Comcast overcharged O'Rourke and spelled his last name as "O'Kourke," causing his bills to arrive late. After a few months of this, O'Rourke claims he discussed the issues with an assistant manager at a local Comcast store. Yet after his meeting, he continued to be overbilled, the lawsuit says.
Things got worse for O'Rourke in late 2013. "When Mr. O'Rourke was out of town, Comcast shipped him 12 random pieces of Comcast equipment," according to the suit. The company then "proceeded to charge Mr. O'Rourke almost $2,000 in fees for equipment that he had neither requested nor wanted."
The suit says that O'Rourke returned the equipment and received a refund. A Comcast agent and a Comcast manager said at the time that his billing issues would be resolved, the suit claims, yet the overcharging continued.
In February 2014, O'Rourke decided to step things up after receiving a phone call from Comcast's collections department saying he was two months late on a payment, a charge O'Rourke denies. At this point, the suit says, "O'Rourke had been a Comcast customer for a year and had not once received a bill in which he was correctly charged." Fearing that his credit would be damaged, O'Rourke contacted the office of Comcast's controller, its chief accounting executive.
What happened during and after O'Rourke's call to the controller's office is disputed: According to O'Rourke's lawsuit, he described the problems he'd had with his bills and complained that no one from Comcast customer service seemed to be able to help him. Less than an hour later, the suit alleges, Comcast Controller Lawrence Salva called a partner at PwC and said that O'Rourke had tried to use his employment with the firm as a negotiating tactic in the dispute with Comcast, which is a client of PwC.
O'Rourke denies mentioning his employer on the call with Comcast.
Comcast, for its part, admits only that it contacted PwC about one of the accounting firm's employees. According to an August 2014 letter that Comcast sent to Maureen Pettibone Ryan, O'Rourke's lawyer, "Comcast communicated to PWC that a person claiming to be a PWC employee had called our chief accounting executive's office with complaints ... and yelled at our employees who tried to assist him."
O'Rourke's suit claims that immediately after the alleged phone call to PwC from Salva -- who is himself a former PwC partner -- PwC called O'Rourke and forbade him to talk to Comcast, saying Comcast was "very angry" and a "very valuable" client. The cable and Internet provider pays PwC $30 million a year for consulting services, according to the lawsuit.
The following day, the suit claims that PwC launched an ethics investigation into O'Rourke, based on O'Rourke's alleged attempt to use his job with the company as leverage in his fight with Comcast. About ten days later, PwC fired O'Rourke for an ethics violation.
"Mr. O'Rourke's claims are without merit," said Comcast spokesperson Jennifer Khoury in a statement to The Huffington Post. Khoury's statement acknowledged that there were "clear deficiencies" in the customer service that Comcast provided O'Rourke, but said the company "had nothing to do with PricewaterhouseCoopers' decision" to fire him.

"As part of this investigation, we have listened to recorded calls between Mr. O'Rourke and our customer service representatives and his treatment of them and language is totally unspeakable," the statement said.
Theodore Barna, a spokesperson for PwC, said in a Friday statement to HuffPost that his firm "terminated [O'Rourke's] employment after an internal investigation concluded that Mr. O'Rourke violated PwC's ethical standards and practices, applicable to all of our people."
"Mr. O'Rourke's violation of these policies was the sole reason for his termination," the statement added.
According to Ryan, O'Rourke has asked that the recordings of his calls with Comcast be made public, but Comcast has not acquiesced. Presumably, the recordings would settle the question of whether or not O'Rourke name-dropped PwC in conversations with Comcast agents.
Comcast has a notoriously poor reputation for its customer service. In a survey of 70,000 consumers earlier this year, Internet service providers and cable companies were found to be the two most hated industry sectors in the United States. Comcast ranked as the second most-loathed company in both categories.
O'Rourke's lawsuit charges Comcast and Salva (who's also named as a defendant, but whom Khoury said was declining to comment) with violating the Cable Communications Policy Act, a federal law that prohibits cable companies from disclosing personal information about their customers without the customers' permission. The suit says that Comcast violated the law by telling PwC about O'Rourke's complaints.
In addition, the suit accuses Comcast of defamation based on the allegation that the company told PwC that O'Rourke had tried to use his position as leverage. According to the lawsuit, Comcast either knew that was false or didn't bother to ascertain whether or not it was true.
Comcast is also charged in the lawsuit with violating the California Business and Professions Code by, among other things, "unfairly and persistently overcharging [O'Rourke], and retaliating against him."
Ryan, O'Rourke's lawyer, told HuffPost that her client is still unemployed. Harmeet Dhillon, another lawyer for O'Rourke, told HuffPost that O'Rourke now uses DirecTV as his cable provider.
CORRECTION: This story has been corrected to reflect that Comcast's collections department contacted O'Rourke in February 2014 through a phone call, not a letter.

Support HuffPost
The Stakes Have Never Been Higher
Related
Popular in the Community