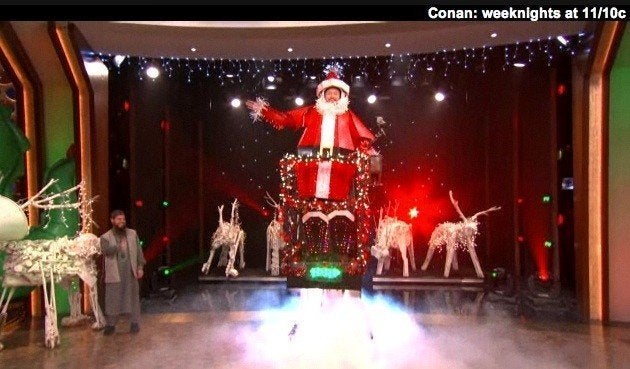 If you missed last night's "Conan," you should probably stop reading this right now and watch the video below to see the most elaborate Christmas decorations that have ever adorned a talk show set.
Conan O'Brien enlisted the services of Kenny Irwin Jr., a Palm Springs-based artist who specializes in futuristic, off-the-wall Christmas light displays. As Conan described to Irwin how he wants his set decorated, it became evident that Irwin is simpatico with Conan's bizarre sense of humor when he first brings up one of his past Christmas set pieces, Mr. and Mrs. SanMagnatron Claus.
At one point, when Conan asks Irwin how he would go above and beyond in decorating the "Conan" set, he tells the host he would construct "a giant Godzilla holding a candy cane, battling it out with a King Kong holding Santa's sleigh over his head."
Irwin delivers on that promise, and much, much more. Talk shows typically decorate their sets during the holidays, but TV has truly seen nothing like the insanely large-scale decor on "Conan" that includes mythical creatures, religious imagery, neon lights, robots, hydraulics, Larry King, and a whole lot more.
WATCH: Conan unveils the decorations
WATCH: Conan talks to Kenny Irwin Jr.
REAL LIFE. REAL NEWS. REAL VOICES.
Help us tell more of the stories that matter from voices that too often remain unheard.