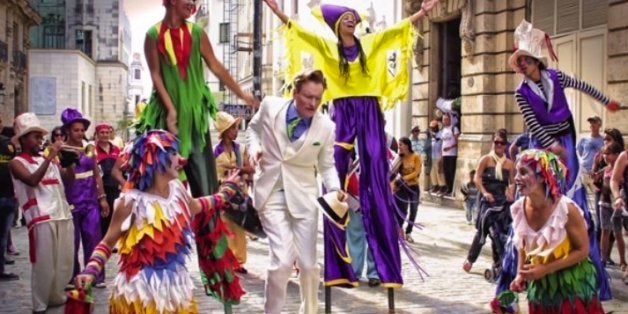 Those familiar with O'Brien's popular remote segments know that his "fish out of water" approach to new cultural phenomena can be hilarious. After President Barack Obama's announcement that the U.S. was working toward ending the embargo with Cuba, head writer Mike Sweeney casually suggested that they go there. O'Brien took the idea seriously because he remembered when then-"Tonight Show" host Jack Paar shot an episode from Havana after the revolution ended but before the U.S embargo in 1962.
"So the minute I heard [Sweeney suggest] that I was like, 'We gotta go, and we gotta go right away, because we don't know what's going to happen,'" O'Brien said.
And with that, O'Brien and executive producer Jeff Ross began planning a completely under-the-radar trip to Cuba for four days over President's Day Weekend to shoot a 1-hour special completely from Havana.
"I wanted the whole thing to be from Cuba, not a cutaway [from California]," O'Brien said. "We asked a cafe if we could borrow their cafe table, then we put an old microphone on it. There was a band of three or four Cuban women playing and I asked if they would be my house band. Then we found a guy to be Cuban Andy -- who I actually have better chemistry with -- and we shot the wraparounds there, just to give it that sense."
Here's a breakdown of what happened during the trip, which O'Brien explained over lunch.
1. Getting there was an adventure of its own, so much so that O'Brien sought comfort in "The Gilmore Girls."
First of all, the trip had to be covert. O'Brien and his team didn't announce it publicly because they feared the Cuban government might shut it down -- nor did they tell anyone at TBS or Time Warner for the same reason. Ten people traveled in total, six of them being the camera crew who flew out of Toronto, a more accepted way for U.S. citizens to get there. O'Brien, his assistant, Ross and Sweeney flew directly from Miami on a charter flight. They had contacted a Canadian production company in Havana who told them to "just come," saying that they would seek a formal invite from the Cuban Ministry Of Culture and get their Visas upon arrival. What they didn't know, as their charter left them without any way to reach their contact on the other side of customs, was that the Visas were on the plane.
"We see the charter plane start to pull away," O'Brien explained. "We walk up and we're greeted by this very genial man who asks for our papers, so we hand him this form that we were told takes care of everything, and he looks at us and goes 'No, Visa!' and then he folded up the paper and threw it away. Jeff and I are standing there. We don't know if he's coming back, we have no phones, we 're in Cuba. We had this idea that we thought would be pretty cool and now we might just be completely fucked."
Luckily there was a bit of American comfort waiting for them at the airport.
"So we go into this very small, not impressive building where airport workers are sitting around looking so bored because there's nothing to do, and in the corner there's an old television and it's showing 'Gilmore Girls' in Spanish. And I had this feeling of comfort for a second [...] It's the episode where Rory has decided to leave Yale and Edward Herrmann's upset ... I'm just getting lost in it and looking around at these people who couldn't give a shit if Rory leaves Yale or doesn't leave Yale."
Ross explained that after waiting around for quite some time, "the guy who runs the airport" came to them and worked everything out (luckily the charter plane hadn't yet left the airport with their Visas).
2. O'Brien found out he was bad at making cigars, among other things.
The trip was a short one but they planned to visit various sites, such as a cigar and rum factories, and pick up lessons in Salsa dancing, authentic Cuban music and more. "We were winging it, but it was planned winging it," O'Brien said, explaining that much of the trip was spent walking around and talking to people. But it was the cigar factory experience that he spoke about the most.
"They let me into a cigar factory, which is fascinating. It's 400 people in a room where they make them by hand and they're works of art, each one. It takes nine months of study to get to the point where you're even allowed in the factory," O'Brien said. "I actually started improvising with this great woman who tried to teach me how to make a cigar, and obviously I'm terrible at it."
O'Brien wanted to be sure that his special was not a "snarky, American comedy take," instead relying on his ability to be a comedian who makes fun of himself. "I'm not in my own land and I'm not good at things," O'Brien said of the special's ethos.
He said he further proved that intention when he got a traditional Cuban singing lesson and started supplementing the lyrics for 8th-grade Spanish phrases like, "The cat is in the sky" and "The dog has no milk."
3. O'Brien was brought back down to Earth when he saw a familiar face at a paladar.
Restaurants in Cuba are mostly state-run, but years ago it became legal to operate paladars (a.k.a privately owned restaurants run out of people's homes) which has led to some unique dining opportunities in Havana. When O'Brien decided to pay one a visit, he was taken aback by how beautiful and unsuspecting the building was. For a moment, he thought he was the first person to stumble upon this incredible find. But all it took was one photo to give him a wake-up call.
"Imagine a really nice, Upper West Side, beautiful 1900s apartment, and two of the three floors are in ruins, meaning crumbling. But you get to the top and there's a beautiful restaurant. There's no signage. And I'm thinking I'm the first guy here. Then I look up and on the wall there's a picture of Rob Schneider!" O'Brien said with a laugh. "Amongst others ... but Rob Schneider? The guy I shared an office with at 'SNL' like 20 years ago."
4. O'Brien had a great rapport with the Cuban people (even though he was only recognized by Canadian tourists).
Due to the lack of Internet and no access to American television, O'Brien wasn't recognized much in Havana except by Canadians who were there on vacation. But that didn't stop him from trying to convince Cubans that he can make them laugh.
"Everywhere I went, people were very open. When I would improv with them, they were really funny and really quick," he explained. "It's a form of humility to make yourself the butt of the joke in another culture and I think they respond to that."
Using an iPad to show clips of his TBS show, O'Brien did a lot of talking to Cubans about being from the U.S. ("Sometimes I would say I'm the greatest star in America," he joked) and found that many of them seemed relieved to hear that Americans do not harbor ill feelings toward the Cuban people.
"The one thing that was a constant is they were very interested in how Americans feel about [Cubans]. I did not get into how people feel about the Castro regime the last 53 years -- I don't think they wanted me to get into that either -- but I explained that America's a very divided country. We disagree on everything, 50/50, pretty much, and recently they did polls about normalizing relations with Cuba and they were overwhelmingly in favor," O'Brien said. "They were very happy to hear that. They want things to change, very much so."
5. O'Brien realized he might want to do more of this in the future.
O'Brien made a deliberate choice with this special to seek out more than just the funny parts and, now that he's returned, he's thinking outside the late-night show box.
"We're used to only thinking about comedy. For this one we thought: we want there to be funny moments, we want there to be really sweet moments and moments of connection, but we really just want to get the palate of Cuba," O'Brien said. "That was the big difference to me. I've only, for 22 years, been aggressively pursuing what's funny, and this was a different agenda."
O'Brien's career as a late-night host could morph into something closer to what Anthony Bourdain does, but with a comedic bent rather than a foodie one. He explained that in a world where there are more and more talk shows every year, he feels more of an impetus to keep changing and "do something radically different than what [he] did 10 years ago."
"I love travel and I love exploring things and I love trying to see if I can make someone laugh in a different culture," O'Brien said. "That was the most satisfying part of this project, just getting people to laugh who might not speak much English, don't know much about our culture, but they understand this guy not being able to make a cigar."
O'Brien hopes to somehow get a copy of the finished special down to Cuba after it airs so people can watch it, in hopes that his portrayal of the Cuban people helps to heal relations between the two countries, even if the special was done in the name of comedy.
"And maybe it's not a bad form of diplomacy," O'Brien said. "It is a universal language, if you can get it right."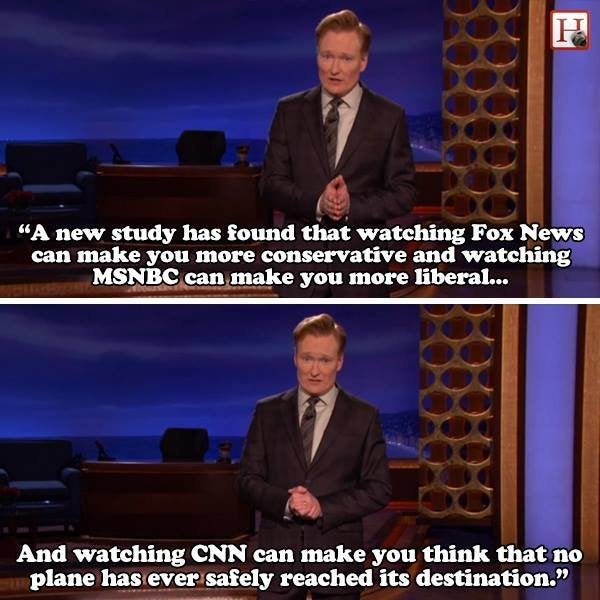 Late Night Jokes
Popular in the Community