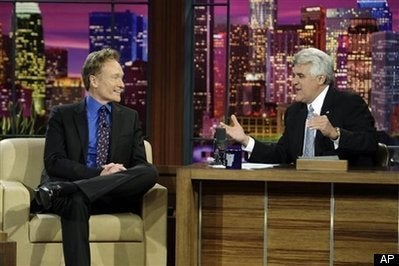 UPDATE: The Wrap reports that NBC will pay Conan $30 million to in a deal that could be announced "as early as Friday." Conan's agent Leslee Dart denies that figure.
The Daily Beast's Kim Masters reports that Conan O'Brien will exit NBC with a large payout and no noncompete clause in a deal negotiated by Universal President Ron Meyer:
According to the outlines of a settlement, Conan O'Brien will leave NBC and the network will make an as-yet unspecified payment. The comedian will be free to appear elsewhere on television well before his contract expires, despite earlier threats from NBC that it would prevent him from working anywhere else.
Masters' report follows Nikki Finke's report Thursday afternoon that Meyer had been negotiating a deal with Team Conan for days:
Universal Studios President/COO Ron Meyer was secretly drafted during this NBC late night crisis to negotiate a settlement between the network and Team Conan after O'Brien and his reps were threatened by NBC Universal chief Jeff Zucker (see below). "Ron is a former agent, one of the biggest in Hollywood. He could get this done, so NBC used him," a source just told me. "No one would talk to each other, and they talked to Ron. He got everybody to talk to everybody." The deal as sketched puts Jay Leno back hosting The Tonight Show, and Conan O'Brien exiting with a lot of money. But there are still some terms to be worked out -- which is why there hasn't been any announcement yet. But I'm warned that "anything can happen" now that Meyer did his duty, and NBC is back in charge. I can tell you there are definitely people around NBC Universal boss Jeff Zucker who want to keep Conan in place at The Tonight Show. "But Zucker is digging in his heels because of the bad press. He's being stubborn," a Team Conan insider just told me.
Previously, Zucker had reportedly threatened to enforce O'Brien's contract and keep him off the air for 3.5 years until his contract ran out.
People.com reported Thursday that Conan would likely not host any new "Tonight Show" episodes after January 22.
TMZ reported Thursday that Leno and NBC had struck a deal for him to return as host of the "Tonight Show."
Related
Popular in the Community