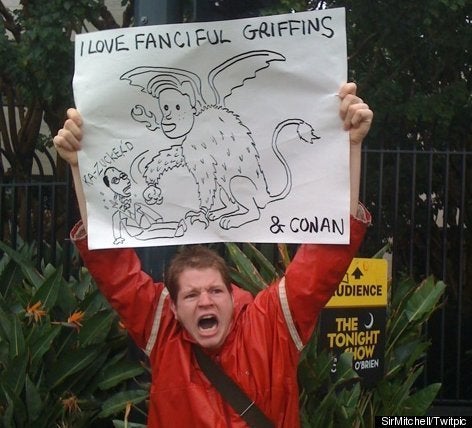 The feud between NBC and Conan O'Brien reached new levels Monday, with fans of the late night host protesting the network outside NBC studios in Hollywood, Chicago, and New York.
TMZ streamed the protest live from outside Universal Studios. According to the Web site, characters like the masturbating bear and la bamba joined the group to support Conan. The crowd could be heard chanting "Leno sucks."
The protests were organized by the Conan fan group I'm With Coco, which already boasts more than 330,000 fans on Facebook.
I'm With Coco founder Mike Mitchell told the Chicago Tribune that he's doubtful the protest will prompt NBC to change course, "NBC, I think, has already made their mind up. Maybe (the protest) is more of a thing to show that there's a lot of Conan fans."
O'Brien and NBC are reportedly still negotiating the terms of his exit from the network. Multiple news outlets have reported that he will receive upwards of $30 million from NBC. The network has decided to rearrange their prime time and late night schedules by essentially demoting O'Brien and moving Jay Leno back to his 11:35 p.m. time slot.
Calling all HuffPost superfans!
Sign up for membership to become a founding member and help shape HuffPost's next chapter