UPDATE: Conan has confirmed the name and premiere date of his new TBS show on New York Magazine's pop culture blog Vulture as well as his Team CoCo web site. And the name? "Conan." Just "Conan." It will premiere on TBS this November 8, 2010.
In a video shot inside Conan's strikingly bare office (which he calls "crappy") he explains how he's been bombarded with questions about the show. Then, after the obligatory drumroll, he held up a white piece of paper on which he had scrawled "Conan."
"Conan. Simple. Pure, like the man himself," Conan said
Vulture's show insiders say that "O'Brien and team pretty much settled on the name weeks ago." While the name is certainly not a surprise, it does conflict with previous information from The Hollywood Reporter that "Conan" wasn't available. Vulture addressed this misconception, saying "One stumbling block could have been the Conan the Barbarian franchise, which has included comics, books, films and, in 1997, a short-lived TV series called Conan. But now, it's clear that all issues have been worked out."
PREVIOUSLY: Yesterday on Twitter, Conan O'Brien hinted that today, Wednesday Sept. 1, will be the day he announces the name of his new series on TBS. The tweet, shown below, jokes that he would have named the show yesterday had it not been for the fact that "The Return Of Nanny McPhee" was already taken.
The Hollywood Reporter reports that one name won't likely be in play: "Conan." It turns out, "A company called Conan Properties International owns the trademark. It has been using the title in connection with promoting the Conan the Barbarian films for decades."
Conan reportedly negotiated with NBC to use his name in the title of another show, so we're curious to see what he comes up with. Whether it's something as simple as "The Conan Show," or an elaborate joke, like many we're just happy to see him getting back on the air.
Check back later today for an update if Conan follows through with his plans to announce the name, which will likely happen again via Twitter.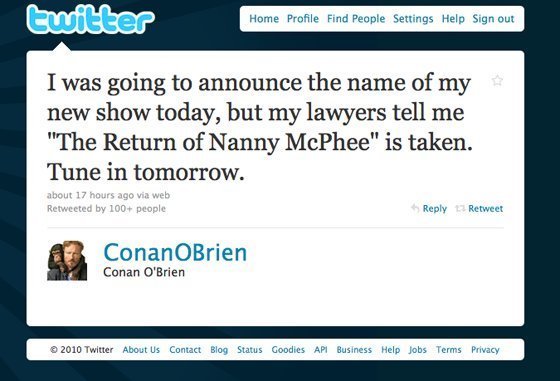 Popular in the Community