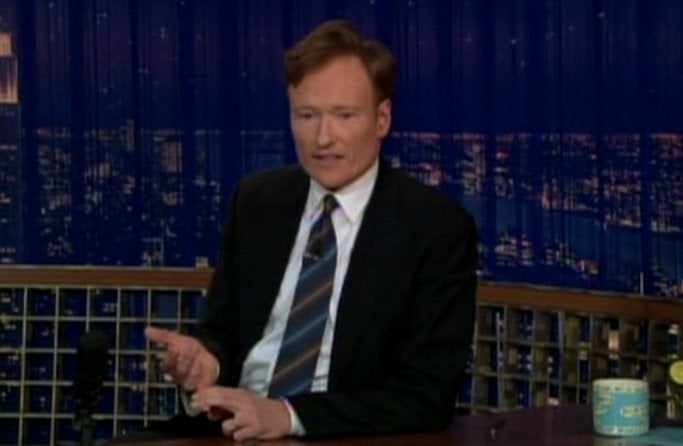 "Late Night" with Conan O'Brien aired its final episode Friday night, ending its run in New York after 2,725 shows. Conan will be moving to Los Anges to over Leno's "Tonight Show" slot, starting in June.
Conan had been counting down to the moment all week by taking apart his stage piece by piece and giving it to fans, as well as airing many of the show's best moments.
The final episode said goodbye with an appearance from Will Ferrell as George Bush, a satirical song from John Mayer, a visit from former sidekick Andy Richter and music from the White Stripes. But perhaps the best moment was the end, when a clearly emotional O'Brien put aside all pretense to humor and offered thanks to all those who worked with him, and inspired him, over the years. Speaking of TV producer Lorne Micheals, who gave him his job, Conan said: "Lorne Michaels single-handedly made my career in television. I don't know what I did. I think I must have saved his life at one time. He certainly saved mine."
Watch highlights from the episode below. Read more details about the final show from the AP. Watch more classic moments here.
HIGHLIGHTS: Will Ferrell, Conan's favorite skit, classic Andy Richter skit, Conan's promise for his new show, his tribute to his staff.
Will Ferrell appears (and strips)
Conan introduced this as his favorite "Late Night" segment
A classic skit in which Conan takes Andy to a 'NBC Turkish spa'
Conan promises he won't grow up when he moves to his new time slot.
Conan's moving tribute to his staff, as well as to Leno and Letterman.
REAL LIFE. REAL NEWS. REAL VOICES.
Help us tell more of the stories that matter from voices that too often remain unheard.