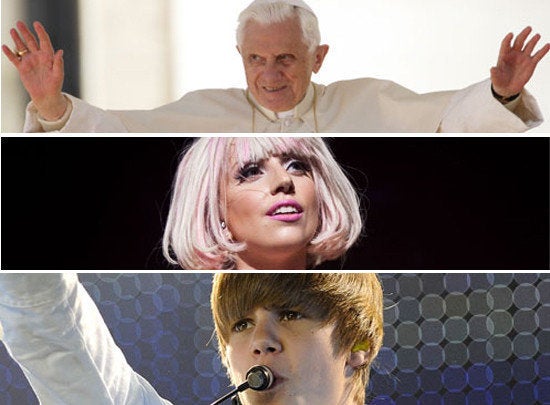 UPDATE II: After closer inspection it seems that whoever wins the online poll WILL be appearing on the first episode of "Conan" in addition to Seth Rogen and Jack White. As of right now the poll shows Jack Nicholson in the lead with nearly 3,000 votes and Lady Gaga coming in second with over 1,000. Both would make excellent guests, but who knows? An underdog with fewer votes (like the Pope) could still take the lead.
UPDATE: The Hollywood Reporter had an update about Conan O'Brien's first guests, but it looks like Coco's online poll had little to do with the decision. According to their site, "the premiere episode of 'Conan' will feature Seth Rogen and a musical performance from Jack White."
And bonus! They've got the rest of Coco's schedule for his first week back on television. Tom Hanks, Jon Hamm, Michael Cera and more are slated to appear, plus some exciting musical guests like Soundgarden and Fistful Of Mercy. TBS has also promised some surprise guests and performances.
Who knows? Maybe some of the people from the online poll will make surprise appearances, although we're not exactly holding our breath for the Pope.
"Conan" premieres Nov. 8 at 11 p.m. EST.
PREVIOUSLY: It's not too much longer until "Conan" premieres on TBS on Nov. 8, and we couldn't be more excited to see what a revamped Conan O'Brien show will look like. Coco's been providing us with plenty of promos, YouTube videos, and a swanky new logo, but now we're really getting an idea of what the first episode will be like. Conan is letting the Internetchoose his first guest!
Just go to TeamCoco.com to vote from a list of pretty amazing (and unlikely) candidates. Unfortunately, you can't vote for just anyone, but the good news is that the list of potential guests is both exciting and highly ridiculous. TeamCoCo.com writes:
"If you could pick ANYONE to be the first guest, who would it be? Actually, no, scratch that. If you could pick any one of these TWELVE CAREFULLY PRE-SELECTED POTENTIAL GUESTS, who would it be?"
So, will it be Lady Gaga? The Pope? How about the entire cast of the 2004 live action "Fat Albert" movie (except Keenan Thompson)? Vote once a day on the site for your choice. You can also tweet your favorites with the hashtag #ConansFirstGuest. Just make sure to see all the other choices before making your pick. Who knows? They might actually show up (Probably not the Pope though).
Calling all HuffPost superfans!
Sign up for membership to become a founding member and help shape HuffPost's next chapter