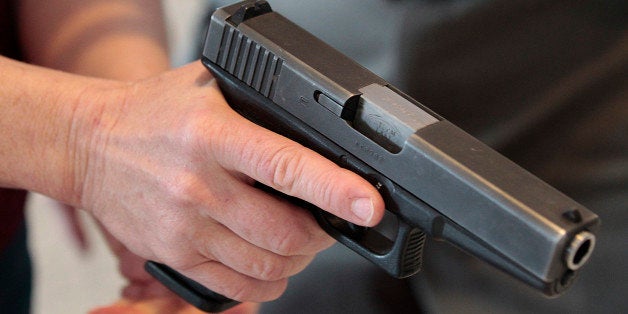 The city if Lowell, MA, is known as the cradle of the Industrial Revolution, although its red-brick factories stopped turning out textiles eons ago. The city is also where Mickey Ward lives, the boxer whose improbable career was captured in a great movie made by another Massachusetts native, Mark Wahlberg. But what Lowell is now making headlines for is an effort by the town's police chief, Bill Taylor, to inject some sanity into the national debate over gun safety by requiring CCW applicants to state in writing why they want to own and carry a gun, and then to take extensive, live-fire training to prove that they know how to use a gun.
Currently the Massachusetts law grants both gun ownership and concealed-carry privileges to any state resident who passes the standard background check and sits through a course on gun safety which does not require any live-fire training at all. Massachusetts still allows the police to restrict CCW even if an individual's background check comes back clean, but the restriction is rarely invoked, if invoked at all. The bottom line in the Bay State is that most gun owners can walk into a gun shop, purchase a handgun, load it up and stick it in their pocket without ever having shot a gun prior to becoming an armed citizen, or what the NRA calls America's first line of defense.
The moment that this story broke, the far-right noise machine swung in to full gear. There were the usual rants from Breitbart and Fox, but the looniest of all was posted on The Blaze (where else?), the gist of which was that since all 'rights' come from God, and since this new regulation interferes with the right to self-defense, it's obviously unconstitutional and therefore won't pass muster in any court. The fact that the new licensing procedure was a response to a lawsuit challenging the ability of Massachusetts police to restrict CCW evidently escaped notice when the writer for The Blaze, Cheryl Chumley, sat down to have her conversation about gun laws with God.
Massachusetts is not the only state that gives police discretion regarding who can, and cannot walk around with a gun. But the idea of an unfettered right to play 'armed citizen' has been a central strategy of the NRA since the SCOTUS decided DC vs. Heller in 2008. And even though Scalia specifically stated that keeping a gun for self-defense was limited to inside the home, Gun Nation has been trying to legalize armed, self-defense outside the home as well. Thanks to a well-orchestrated and organized campaign, a majority of states now grant CCW without discretionary review by the police, and six states allow residents to carry a handgun in public without any licensing requirement at all.
The reason I believe the new Lowell licensing policy is rational and correct has nothing to do with whether someone has to write a sentence or two explaining why they want to walk around with a gun. Rather, it is the other, new requirement (which received much less attention) that stipulates a five-day, live-fire training course which needs to be completed before the licensing procedure is done.
As far as I know, Chief Taylor appears to be the only lawman in the entire United States who really believes that guns in the hands of untrained individuals are a risk, not a benefit for public safety. And to show you how dumb it can get, a pro-gun legislator in MA has just introduced a bill that would ban municipalities from passing gun ordnances at variance with any state gun laws. Which means that Chief Taylor's new training requirement for CCW-holders in Lowell would be disallowed because under current state law, you can buy a gun, load it up and carry it around having never shot it even once. And if that's what pro-gun folks believe will make us all more safe, then we've reached a point in the gun debate where a rational exchange of ideas simply can't take place.
Calling all HuffPost superfans!
Sign up for membership to become a founding member and help shape HuffPost's next chapter