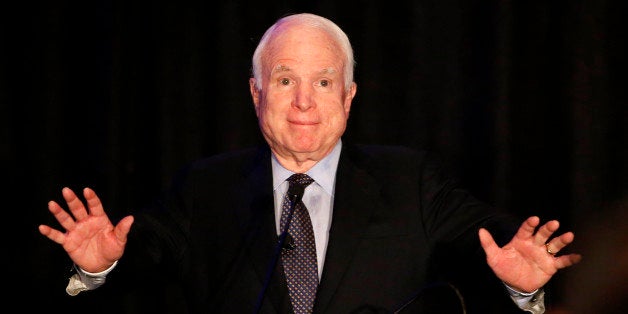 WASHINGTON -- Senate Armed Services Committee Chairman John McCain (R-Ariz.) on Monday denied reports that Sen. Ted Cruz (R-Texas) is pushing him to hold hearings exploring whether soldiers should be able to carry concealed guns on military bases.
"I was fascinated to hear that, since I haven't heard a thing about it from him, nor has my staff heard from his staff," McCain told reporters.
Responding to a question about a Politico report that Cruz said he is "pressing" for a hearing on easing the gun ban for soldiers, McCain said, "I have not a clue."
Cruz, a 2016 presidential contender seeking to distance himself from the rest of the Republican field, said Sunday he is pressuring McCain directly to hold the hearing. "It's very important to have a public discussion about why we're denying our soldiers the ability to exercise their Second Amendment rights," Cruz said.
McCain said he'd "be glad" to talk about the issue and decide "if we need a hearing. But it came as a complete surprise to me that he had been pressing me."
Asked where it came from, McCain pondered the different methods of communication Cruz could have used to relay the message.
"Maybe it was through some medium that I'm not familiar with. Maybe bouncing it off the ozone layer for all I know. But there's a lot of holes in the ozone layer, so maybe it wasn't the ozone layer," McCain said.
"Maybe it was through hand telegraph? Maybe through sign language? I don't know," McCain continued.
UPDATE: April 21 -- Cruz spokeswoman Amanda Carpenter pushed back at McCain's comments, saying Cruz has been vocal for some time on the issue.
 
"Senator Cruz has been discussing this issue for a long time and he looks forward to continuing to raise it in the Senate Armed Services Committee where he serves with Chairman McCain," Carpenter said in an email.
 
Last year, Cruz urged then-Chairman Carl Levin (D-Mich.) in a letter to hold a hearing on concealed carry restrictions for soldiers on military bases.
Later Tuesday morning, Cruz told Fox News he misspoke over the weekend when talking to voters in New Hampshire about soldiers' ability to carry concealed weapons on bases, and did not in fact press McCain directly.
"Ted Cruz issued a statement saying he had not contacted me and I consider it over," McCain told reporters Tuesday. "He corrected his mistake. He is a friend of mine and I value his membership on the Armed Services Committee."
Cruz formally sent a letter to McCain Tuesday, asking for a hearing on the issue.
"I ask that the Senate Armed Services Committee convene a hearing on current military policies to determine whether the restrictions on personal firearms actually accomplish their objective of protecting our service members, or whether the policies instead prevent a rapid response to active shooter instances," Cruz wrote to McCain.
Calling all HuffPost superfans!
Sign up for membership to become a founding member and help shape HuffPost's next chapter
BEFORE YOU GO
PHOTO GALLERY
John McCain