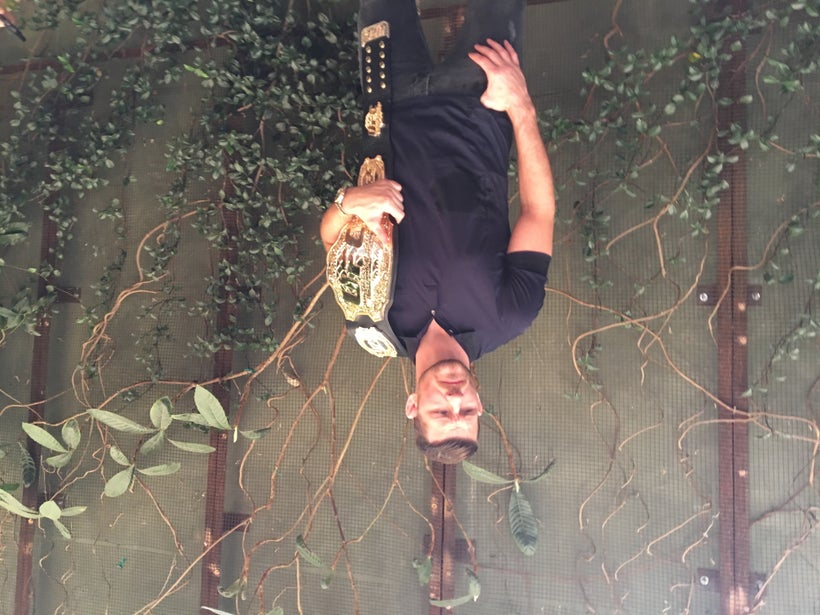 UFC middleweight champion Michael Bisping has never been one to mince his words.
A decorated mixed martial artist who has fought top competition for over a decade, Bisping has never shied away from controversy and outlandish behavior, famously accusing opponents of steroid use, constantly firing off quick-witted verbal taunts and insults. Bisping even went so far as to spit on an opposing cornerman back in 2011, which is why his newfound, mature approach to fight promotion comes with a remarkable amount of honesty, rarely found in combat sports.
"I've just matured at 38 years old I guess. It had to happen some time," offered Bisping, just a week prior to UFC 217.
Set to face UFC legend Georges St-Pierre, in what is expected to be the most financially profitable fight of Bisping's 13-year MMA career, "The Count" was completely candid in his assessment of his opponent. Unlike his peers, who often puff up their chests to invoke a false sense of invincibility, Bisping evaluated St-Pierre, who returns to action for the first time in four years, commenting that the Canadian has "got a big advantage in the wrestling department."
Bisping, who claimed the middleweight title at UFC 199 in June 2016 has long fancied himself a standup fighter. Relying heavily on his kickboxing game, Bisping has greatly and consistently improved his takedown defense during ten years inside the Octagon, defeating legends like Anderson Silva and Dan Henderson during his current five-fight win streak.
However, critics of the fight game are pointing to St-Pierre's wrestling acumen as a clear path to victory for the former welterweight champion, and Bisping won't deny the assessment. Although he does want those very same critics to consider St-Pierre's diminutive stature.
"They say I'm fighting a blown up welterweight. I guess I am fighting a blown up welterweight, but that's not my choice," stated Bisping, who is now just days away from his thirteenth headlining bout in the UFC, his first at Madison Square Garden.
But then Bisping's evaluation takes an abrupt and unexpected turn.
"He'll probably be stronger than me in this fight," commented Bisping. "I don't doubt it."
Perhaps a tactic to fill St-Pierre's head with false confidence, Bisping's statement showcases another element of the maturity that he's found later in his career. Already adept at the physical rigors of mixed martial arts, Bisping has summoned an emotional stability that has propelled him to the top of the UFC middleweight division. And for that, he credits boxing coach Jason Parillo, who has helped the champ tap into an elevated state of mental preparation.
"I used to try and get angry before fights. Now I try to stay as calm as possible. And I am. I do a good job of that. I'm an emotional wreck at times, but ... the last couple of years we've worked with Jason Parillo, our best work is done after the training when we're sat down and I'm dying, and I'm covered in a pool of sweat, and we talk, and he gets into my mind, and we talk about the emotions of fighting," explained Bisping. "See it's one thing to do it in the gym, and then it's another thing to cross that over into sparring, and then from the sparring into the fight. It takes time. It's a very physical sport but the mind controls everything."
And with his newfound mental edge, Bisping has yet to flinch as St-Pierre has unveiled an all-star cast of cornermen and trainers who will supposedly elevate "Rush," a longtime welterweight champion who makes his middleweight debut on November 4, back to championship status after four years away from competition.
Returning to work with reputable jiu jitsu ace John Danaher in New York, St-Pierre has been adding leglock techniques to his grappling game. He's also spent significant time with legendary boxing trainer Freddie Roach, Manny Pacquiao's longtime cornerman.
"A lot of people have been talking about him training with John Danaher, the Danaher deathsquad and they're all about leglocks. He's been in his corner forever okay," stated Bisping. "Freddie Roach is an amazing boxing coach and I have a ton of respect for what he's done … but, for one, I hope he turns Georges into a boxer where he feels confident enough to stand, cause that's what I want. I want to fight him on the feet. I don't want to wrestle him."
The champion is also unconvinced that St-Pierre has really reinvented himself during 48 months away from MMA. Bisping, who has gone 6-2 inside the Octagon during the same timespan, believes he can rattle St-Pierre and force the challenger to revert to the skills that helped him to nine consecutive title defenses.
"He says that he's reinvented himself. Okay. I disagree. Has he gone out there and maybe learned some new techniques? Yeah, of course. Why not? Sure. But under pressure, you go back to what you know. You go back to what your skillset is suited to. So when he gets jabbed, when he gets kicked in the head, when he's wobbling around … he's gonna go for a double leg. Of course he is. That's the way he fights. You look at the way he fights, he takes people down because that's what his skillset attributed to," added Bisping. "He doesn't like to get hit. Now nobody likes to get hit, but some people are more accustomed to it than others. And he marks up, and when I punch him and he gets red and he starts bleeding, he's gonna start panicking and he's gonna for that double leg."
REAL LIFE. REAL NEWS. REAL VOICES.
Help us tell more of the stories that matter from voices that too often remain unheard.
This post was published on the now-closed HuffPost Contributor platform. Contributors control their own work and posted freely to our site. If you need to flag this entry as abusive,
send us an email
.