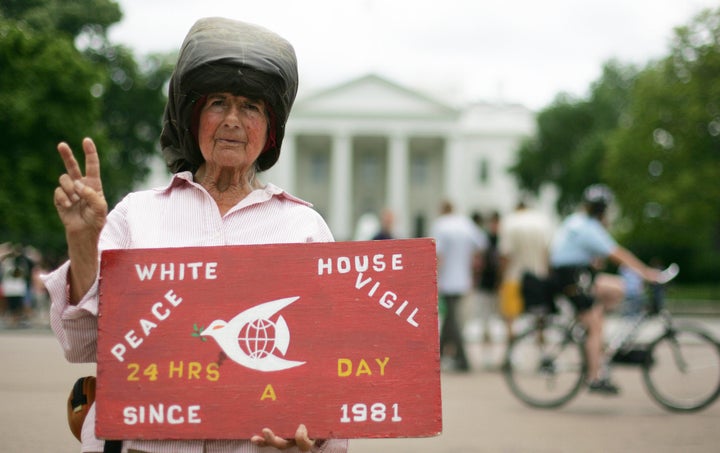 WASHINGTON -- Concepcion Picciotto died Monday. You might not recognize her name, but if you've spent any time in Washington, D.C., you know who she was.
Picciotto was that peace protester camped out in front of the White House since 1981 -- the face of what's been called the longest-running political protest in U.S. history. When the weather was nice, she often stood outside her makeshift tent handing out flyers to the tourists who, after taking their obligatory photos of the president's house, drifted over to see what exactly was going on with those massive signs decrying nuclear bombs.
She wore a headscarf constantly, and if you looked closer, you'd see a helmet underneath it. That was for protection, she'd tell you, because she'd been attacked over the years by random people -- even pushed around by the Secret Service, she said. When she wasn't at her tent, she lived at The Peace House with other activists who took turns manning the encampment. Someone has to be at the tent all the time, or the U.S. Park Police can come along and dismantle it.
That happened in September 2013, when the activist on duty one night walked away.
The Huffington Post talked to Picciotto the next morning as she stood at the site, waiting for the police to bring back her tent. They eventually did.
"This is the time, more than ever, we need people to mobilize, to stop killing and the wars all over the world," she said. "It's frustrating, because it's hard to be there. I am in the heat, in the cold and the snow."
Picciotto sat in that tent during blizzards and heat waves. She was there through presidents Ronald Reagan, George H.W. Bush, Bill Clinton, George W. Bush and Barack Obama. Whenever any of them looked out the front windows of the White House, the peace vigil was in plain sight. There's no evidence that any of them ever went out to talk to her, though.
White House press secretary Josh Earnest said Wednesday that he didn't know if Obama was aware that Picciotto had died. But he praised her commitment to the cause of peace.
"We've certainly got to pay our respects, not just to the life that she lived but her passion for making the world a safer and more peaceful place," said Earnest.
The peace vigil was started by another activist, William Thomas. Picciotto joined up with him some months after it began, and they camped out there together for 25 years. When he died in 2009, she kept it going with help from other activists she lived with. It wasn't always pleasant. Some saw her as a hero, others as a fool, per The Washington Post. There were also concerns about her mental health.
"Connie may not have been the easiest person to live or work with but the peace vigil was never about Connie and even throughout the biggest struggles we all knew that," reads a Tuesday post on The Peace House's Facebook page. "That was the reason why we suffered through sub-zero temperatures, hurricanes and dealing with impolite people."
On Wednesday morning, people left bouquets of flowers for her at the protest site. Someone wrote a note and clipped it to the top of the tent: "Concepcion R.I.P."
The vigil will go on. Craig, who was manning the tent on Wednesday, said Picciotto had been taking turns with four other people staying at the tent. After she died, 17 more people signed up to take shifts.
"That's 21 now," he said. "A lot."
Picciotto died at N Street Village, a D.C. nonprofit that supports homeless women. She was 80 years old.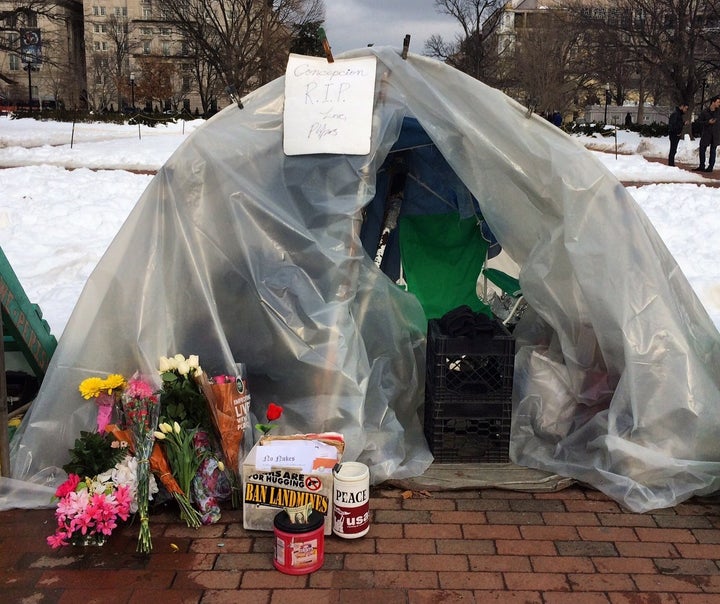 Popular in the Community