An early sunrise cast a warm hue over Conception Island this morning, setting the stage for what was to be our final day exploring the warm waters of the Bahamas. With only hours remaining, we set off early to sneak-in a dive before our impending departure. We rolled off the boats, kicking hard to avoid being swept away by the current. As we descended to 95 feet, we were greeted by a single Caribbean Reef Shark and a small school of goatfish. Everyone was at ease this morning as we slowly drifted toward the edge of the wall. Along the way we took images of sponges, sea fans and each other as we contemplated our last moments underwater together. Soon our computers were reminding us that it was time to go and we started to make our ascent to the surface, where we would be plucked from the clear blue water by our skiffs.
At 15 feet while we paused for a safety stop, I looked up to find Mavis McRae twirling about with a new friend she acquired during our dive. After snapping off a few images, I watched in astonishment as a curious Bottlenose Dolphin zipped about looking us over as if we were aliens from a different planet. As the minutes passed I felt so blessed to spend time with this divine creature, watching it engage our guests with it's marvelous agility, but also saddened to see deep scars around the base of its tail, probably caused by entanglement in a net or line. Where this dolphin had been and how it was injured will remain a mystery, but it's love for human kind still seems to be intact somehow. [Text continues after images.]
Images courtesy of Kip Evans and Christine Guinness.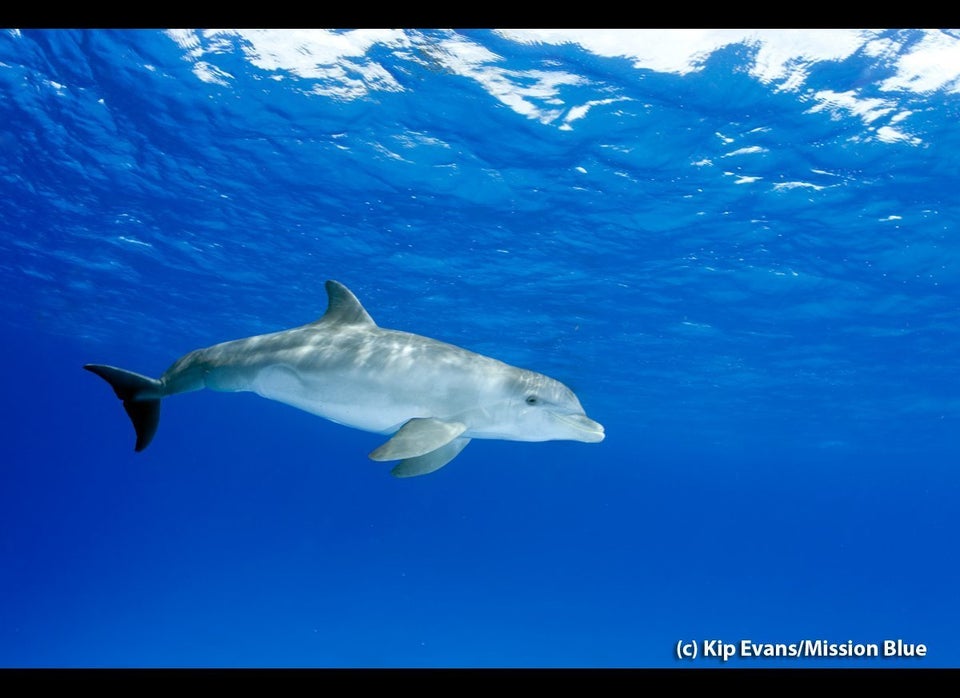 Mission Blue: Goodbye To Conception Island
With only two-hours remaining at Conception Island, we made our way to a beautiful mangrove channel not far from our dive site. As we cruised through the reef-protected entrance, I was immediately taken by the stunning colors and found myself relishing every click of the shutter. As we ventured farther into the channel, Eleanor pointed out 3 unique species of mangroves that make their home in the Bahamas as juvenile turtles moved about under our skiff. Soon we came to rest on a shallow sand bar and jumped into the knee-high water to explore.
Sylvia, Eleanor, Mavis, and I made our way up the sandy channel looking for deep pools lined with red mangroves. As we submerged our heads and cameras we spied groups of school masters and snappers hidden between the mangrove's brilliant red roots and an occasional barracuda darting about looking for it's next meal. As I took image after image, I couldn't help but feel a deep connection to this special area. Having traveled throughout the Caribbean, I've seen the best and worst of mangrove habitats and Conception Island National Park is a true gem.
Soon, Christine and Sean joined us, as we continued meandering around in the warm water looking for hidden treasures. Eleanor came across an area full of juvenile queen conch, a species known to live for up to 40 years. Conch are an import fishery in many parts of the Caribbean including the Bahamas, but their populations are declining. When we were in Nassau last Monday, we drove past areas decorated with hundreds of thousands of conch shells, evidence that these animals have been under intense pressure for many decades.
As the sun made it's way to the west, we knew it was time to say goodbye to Conception Island and make our way back to civilization. As we motored back to M/Y Sirenuse, I thought-back on the weeks events, including the visit from tropical storm Beryl, our guests, the dolphin, and the special places we had been. Each stop provided a new opportunity to connect with groups making a difference for the marine environment and to assess how we as individuals can also make a difference. While the fate of the ocean may not be crystal clear today, it is clear that we still have an opportunity to influence the outcome.
Related
Popular in the Community