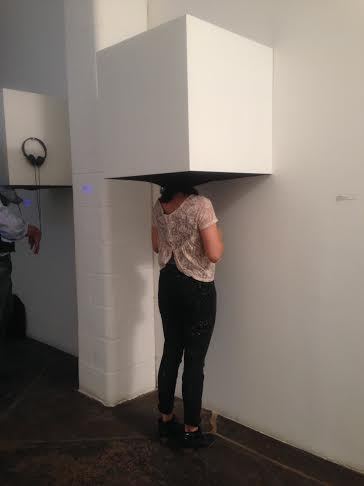 At the beginning of the summer, I went to Bushwick Open Studios to view ever-evolving creations by emerging artists. After an exhausting day of walking and looking, ready to return to the other side of Brooklyn without much inspiration, I trundled over to one more building appropriated for art for this occasion, where I saw a new installation by Pia Coronel and G. Romero called "Palaces." It consisted of two well-constructed white wooden boxes mounted on the wall at eye level. My partner and I were invited to strategically insert our heads into the open underside of each box. I crouched and leaned upwards successfully.
To my delight my tired feet seemed to become weightless as my attention turned to the scene all around me. A little suburban world that was enlarged by its smallness, close and intimate, lit for a dark sultry evening. I was a peeping Tom among the shrubbery. The view took me far away from the noise and chatter of the people milling about, and like Gulliver I became a voyeur of a tiny world, where a small stranger, identity-less, in her own little world came in and out of her living room. There I was, a giant spy on a world where images had shrunk to miniscule proportions. I felt as though I was waiting for something unseemly to happen, but to my satisfaction there was no surprise murder or sexual escapades. The act of viewing in the peaceful quiet was alluring in itself, taking me out of exhaustion to serenity and wonderment.
Slowly I dislodged my head from the box while my partner was emerging from his with a sardonic chuckle. I had been inside Coronel's box while he had been in Romero's. I was eager to switch places and engage in the next sensation. In the process I bumped my head: a small kink perhaps to work out in the next phase of their project.
Once inside I wasn't prepared for the Mylar that reflected distortions to my face and experienced a bit of a jolt with the introduction of a pair of ear phones it was hard to tell between the noise outside and the noise inside, which was, ironically, that of people milling about at an art exhibition. Intermittently the voice of Mr. Romero commented with "great, good, ya, ya." Small responses to onlookers' remarks seemed to represent an "outer" voice, while a periodic stream of self-critical questioning "What am I doing here?" seemed to represent an "inner" voice. These discrepancies, Romero suggests, are what we all experience between the faces we present to the world and what is happening inside ourselves. As he explains, "It's all about the many voices we have in our head when dealing with the world."
"We are interested in the concepts of experience and memories by engaging the audience in participatory and introspective sensory "games." These games ask our participants to be a leader and follower at the same time; a follower of our creation and a leader of their own experience. We create work that pushes a viewer to react and question by using our own personal experiences and textural materials (e.g., fabrics, light, reflective surfaces and natural elements) to create environments that are both active and passive.
"Within these environments we want people to confront themselves as though looking in a mirror and to have an encounter; not just by viewing our work but by being enveloped within it. We hope our work serves as a healing and transformative process by allowing people to be more aware of their surroundings and of their own individual perspectives. Our works are like the people that participate with it, no one experience is the same.
"We are inspired by the works of the Dada, Fluxus and other pioneers of the artistic happening. Our collaborative work is based on our shared outlook and perspectives but we have different ways of putting ideas into action. We respect each other's visions, hence we are able to challenge each other and pass ideas back and forth in such a way that we create greater ideas and concepts from the starting idea."
Pia Coronel and G. Romero are emerging artists coming from two different perspectives, and have been building cohesive worlds that fuse their transformative visions together for the past six years. They have worked on several projects together, including "Magic Squares for Figment" and "First Exposures for Art Bridge." They both create, exhibit, and curate art. They're on a path that isn't always easy for emerging artists, but for them it's what counts and like most creative souls they can't help it!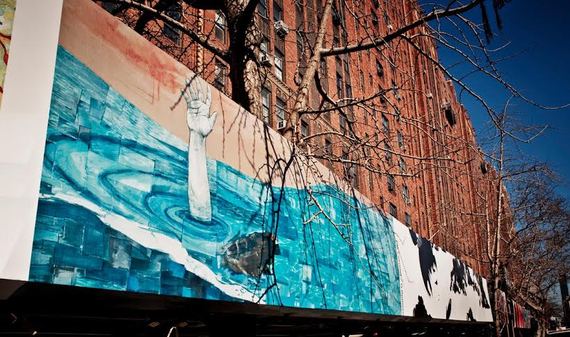 Pia Coronel and G. Romero for Art Bridge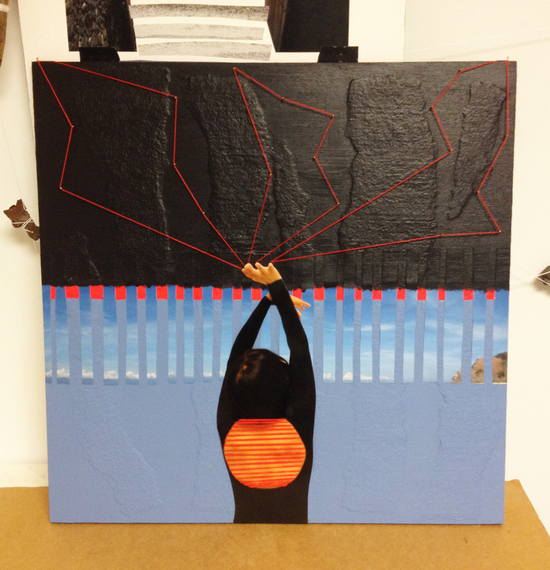 To see more work by Pia Coronel and G.Romero go to:
www.mentirass.com www.piacoronel.com
To contact Isa Freeling:
ifhpblog@gmail.com
Related
Popular in the Community