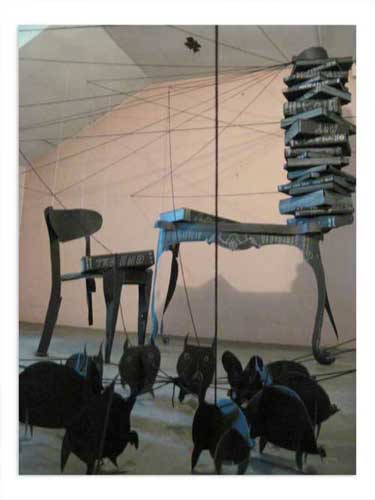 Attic Installation by Stephen Woods
Before the hectic fall season officially even begins to stir the pot of the New York Art Scene, the first major large-scale September event opened Labor Day Weekend. While the list of about 120 presenters at the 3rd Annual Governor's Island Art Fair is not filled, or even peppered, with the names we all know, the juried, artist-run exhibition is solid enough to give us pause about the tremendous depth of talent and commitment among the visual artists practicing today.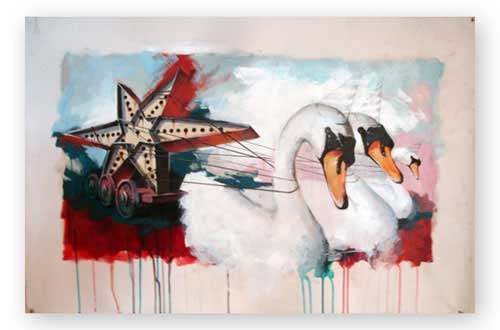 Painting by Jake Messing
The venue, vacant post-war apartments left, after use as a base by both the US Army and Coast Guard, in a circa 1980's state of renovation/disintegration, shares the green island with a historic fortification one-half mile off lower Manhattan. Space is utilized at the artist's discretion, and those working in installation and performance in particular took full advantage of the opportunity to reconstruct and re-imagine living space. Urban artist Andrew Poneros is easy to find, the head of his signature sea-serpent bobs out of a first-floor window.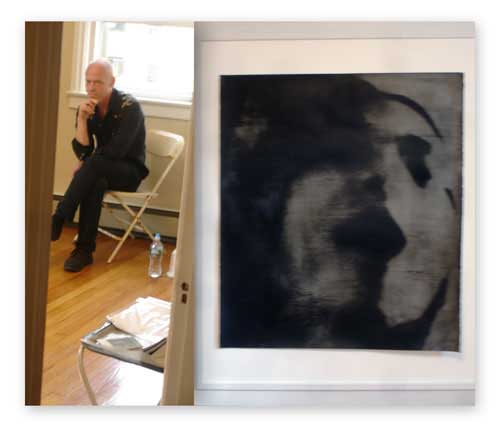 Jon Lewis with one of his gum bichromate prints
Each entry way and stairwell houses sculpture -- beware of Wendy Klemperer's steel dog straining at his chain as you enter one building, and let George Kroenert's florescent starbursts light your way up another. Stored in an attic find a series of small project rooms, each with it's own treasure of paper, wood or moving image.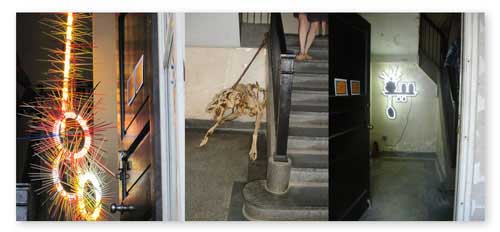 Stairwell art by George Kroenert, Wendy Klemperer, Daniel Bruce
Whip up something special in the kitchen? Thea Lanzisero does just that, walk through her flowing veils and fluttering mobiles in the galley and find her in the dining room knitting super-thick yarn with giant needles - everything in white.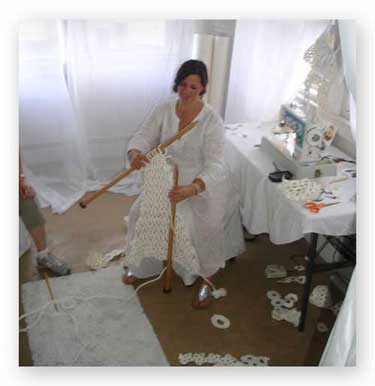 Thea Lanzisero
Tea party anyone? Fine china and glassware on the kitchen counters lead to another sunny dining room's flowered wallpaper and upholstery. Four women in bright vintage frocks talk seriously over tea and dainty cupcakes in this incarnation of Caitlin Rueter and Suzanne Stroebe's touring collaboration, The Tea Party Project (A Feminist Tea Party).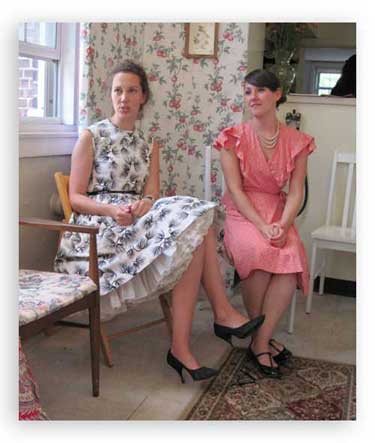 Caitlin Rueter and Suzanne Stroebe
We left wondering how many times over the decades scenes like this played out in these very kitchens among the women of the Island's bases.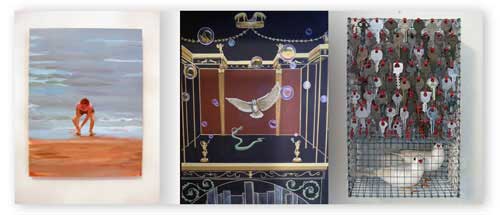 Works by Nikki Lindt, Anna Ortiz, Ward Yoshimoto
Of course, art is still found on walls and pedestals, and many noteworthy artists had more traditional offerings in the fair. Ward Yoshimoto's range of everyday and unusual objects in wire cages pique interest and provoke thought. Among the paintings Nikki Lindt's landscapes are small gems, while those of Jake Messing invite you into to a colorful, summery fantasy and Alexandra Pacula's canvases share her visions of the vibrant velocity of NYC at night.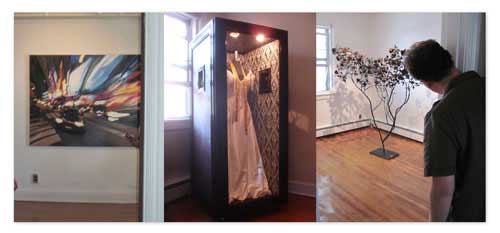 Art by Alexandra Pacula, Kieran Maiorana, Sam Tufnell
Marcus Poston presents focused, wood-based assemblage work that places him firmly in the footsteps Joseph Cornell and May Wilson, at the same time showcasing his fresh, unique voice.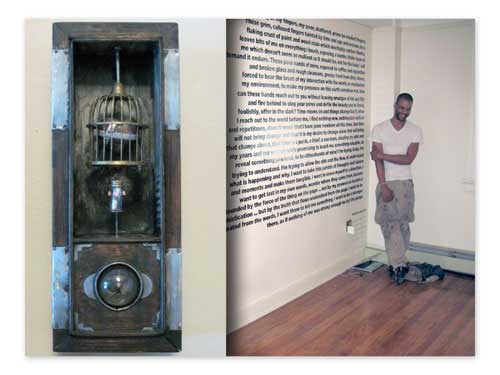 Marcus Poston and his works
An enigma in the harbor ("Look at those all the nice buildings with no people!") since the Coast Guard stopped using it in 1996, Governor's Island has been recently reborn as a place for arts and recreation set apart from the traffic and turmoil of the rest of Manhattan.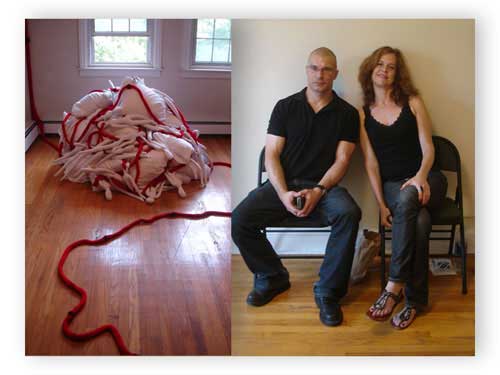 Cynthia Ruse & J. Marlowe with their installation
Similarly, while perhaps not in the same league as many shows opening in the coming weeks, this gracious little art fair may be the perfect antidote for gallery crawlers weary of the hype and commercialism that must surround the high-stakes ventures across the water. As redevelopment of the island continues -- construction of a park is set to begin in 2012 -- we wonder if it will also remain friendly to projects like this one, or if the voracious high-end market will not rear up, like Poneros' serpent, and bite this beautiful real estate ... perhaps something to talk about in the kitchen over tea.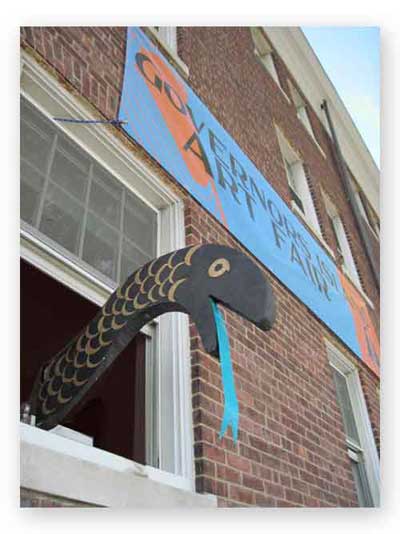 Art by Andrew Poneros
The 2010 Governors Island Art Fair will be open to the public every Saturday and Sunday through September 26th. Artist information, catalog and more at http://www.4heads.org
Photos courtesy of Resolve40, all rights reserved.
Related
Popular in the Community