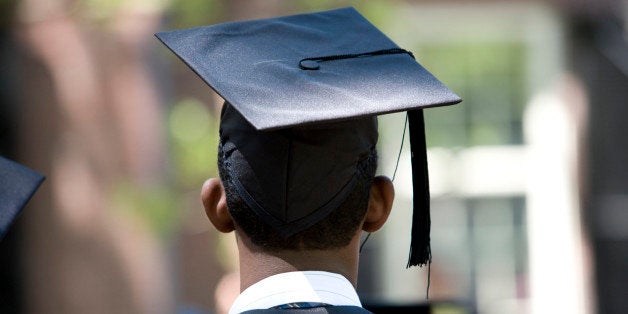 Congrats grads! Graduation is an exciting time for any young person, but there is an overwhelming sense of unease among today's young people regarding life outside of their predictable school walls.
My non-profit teamed up with Toluna Quicksurveys.com to get a better sense of what students are facing at graduation, as part of our ongoing State of the Girl series. Our survey revealed that, no surprise, finding that first job is still the biggest challenge facing these soon-to-be graduates. What is surprising, however, is that over 80 percent of female college graduates say they are finding it difficult to land a job within their chosen field of study.
This is an alarming statistic. It means only about 17 percent of graduates are finding jobs related to what they actually studied in school. Couple that with the fact that graduates are raking up over $37,000 in student loan debt (from a new study by Scholarships.com), students who find themselves in a bad-fit job after graduation have a difficult getting on the right path.
But good news for graduates: you have the power to change this outcome. From my experience in working with students and graduates over the years, there are several strategies you can utilize during the job recruitment process to improve your chances of getting noticed (and hired!) for the job of your dreams after graduation.
First, be smart about where you apply. Instead of sending the same, generic letter to dozens of similar companies, graduates need to select five to ten companies that look like a good fit. Next, customize your cover letters and resumes based on the employer and the specific position you are seeking. Let's get real. Hiring managers can see right through a "canned" application. Now here's where an applicant really shines--do a little research and include in the cover letter a comment related to an exciting new project or update from the company. Check recent company press releases (available on their website) or Google the company to get some ideas. From experience, this can go a long way in helping an applicant stand out. If a graduate you know needs some help perfecting their cover letter, these writing tips from The Muse can help.
Stand out in the interview by expanding on ideas
Success! You sent the potential new employer a standout cover letter and resume that secured an interview. During the interview, your #1 task is to get them to see you as a part of the team. How do you do that? Introduce and expand on some new, creative ideas for projects during the course of the conversation. But this can only happen if you have a firm grasp of some of the company's recent news and updates (see the tip above!). The preparation and research shows the employer that you already are interested in adding great value to the company and that you are someone who is proactive in your work. Applicants who bring ideas to the table and put themselves in the position's shoes are more likely to get hired for the job.
Edge out the competition by highlighting key experiences
Now we all have to start somewhere. If you lack the specific work experience required for the position, don't stress. The better applicant will explain how they're prepared for the job in other ways. Highlight strong examples of other experiences that show you can do the job. Indeed, a previous experience in another area can show how you have core skills for the position you want. Finding similarities in those responsibilities and describing examples of how the situations were adeptly managed can show a potential employer your capabilities. By providing a reasoned case for your candidacy, you will impress any future employer, giving you an edge against the competition.
Sure, that dream job may seem like a pie-in-the-sky achievement, but it is attainable with just a little extra work. Do the extra research, show off your proactive nature, and highlight your unique attributes through the job recruitment process. Before you know it, you'll be saying "yes!" to that job offer after all that hard work you put in during school.
Related
Popular in the Community