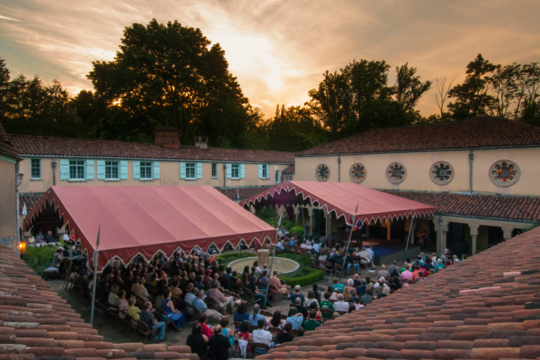 The Spanish Courtyard at Caramoor, Katonah, New York (credit: Gabe Palacio)
I'd rather hear music than the person in front of me whispering. This is what I was thinking at my last concert when, plain and simply, they wouldn't shut up.
Has etiquette gone out the window completely?
Stop kicking the seat in front of you, put down your cellphone and listen up. Let's talk.
Rudeness at live performances is disruptive not only to the performers but to the audience. A philharmonic musician I know mentioned that at one concert a colleague stopped cold in the middle of a complicated composition when a cellphone fired off in the audience. (Hello?! Don't we know by now to turn off our electronic devices before a performance? It seems obvious, but clearly some patrons of the arts have still not read the memo.)
I recently attended a senior-thesis violin recital at Juilliard, the prestigious arts conservatory in New York City. The talent before us was brilliant. The audience behavior around me was appalling.
Everything below happened during this virtuoso performance. Most of the points seem obvious, and one would think that grownups would know better, but the fact that they have good taste in music doesn't mean they have the manners to match.
So take a moment to bone up on concert etiquette. (Feel free to share this list with others.)
Get to the venue on time. Nothing is more annoying than someone climbing over you to get to his or her seat.
This bears repetition: Don't be the only one in the audience who disregarded the announcement requesting that you "please turn off all electronic devices for the duration of the concert."
Take off the damn hat.
Enjoy the music, but don't bob your head so much that it's a distraction to the person behind you.
Do not bring children under 8 years old to concerts after 8 p.m. (Do the math.)
If you've got to cough or sneeze, do not grasp water bottles so hard that the plastic crinkles. Experienced concertgoers try to suppress their cough or sneeze until a loud passage or quietly do it into a handkerchief.
Please wait until a break in the performance to unwrap a throat lozenge. (At a recent performance of the Tony Award-winning show All the Way with Bryan Cranston from Breaking Bad, we had orchestra seats, and someone to my left started to unwrap a throat lozenge. They thought that by unwrapping it slowly, no one would hear it. It was like water torture.) Unwrap lozenges before the performance (perhaps right after you turn off your cellphone).
Do not talk or whisper to your neighbor. It's distracting to the performer and to people seated near you. (Again, at the Juilliard recital, a parent in front of me was bent over and whispering to her kid during the entire concert.)
Hold your applause. Look at the program! If you see that there are numerous movements in a musical piece, don't clap until the very end. Your best bet: Just clap when the rest of the audience starts clapping.
Take advantage of intermission. Unwrap another lozenge, take a swig of water, or go out and people-watch in the lobby.
Holding up a lighter (or the image of a flickering candle on your iPhone) after a classical performance is just plain wrong. Save this for rock concerts.
Speaking of which, unless you are at a rock concert and no one notices (or cares), wait until the end before getting up to leave.
At a Patti LuPone concert at the Caramoor Center for Music and the Arts, two audience members got up toward the end of her finale. Patti abruptly stopped singing and said, "I hope you get to your car in time." The audience laughed. A spotlight shined on the couple as they slithered out of the concert tent. Brava, Patti! Love your moxie!
Yes, audiences in the 19th century may have been equally rude by throwing tomatoes, but it's 2014, people. Surely we have learned some manners in the past century.
Ladies and gentlemen (which I believe you are), behave. Sit back and enjoy the show so that others can do the same. After all, as an audience, you are collectively sharing a magical moment that will be gone forever once the last note or word is played, sung or spoken. This is the beauty of live performances. Don't wreck it with slack etiquette.
CORRECTION: An earlier version of this post misidentified the Spanish Courtyard at Caramoor as the Venetian Theatre at Caramoor. The post has been updated accordingly.
Related
Popular in the Community