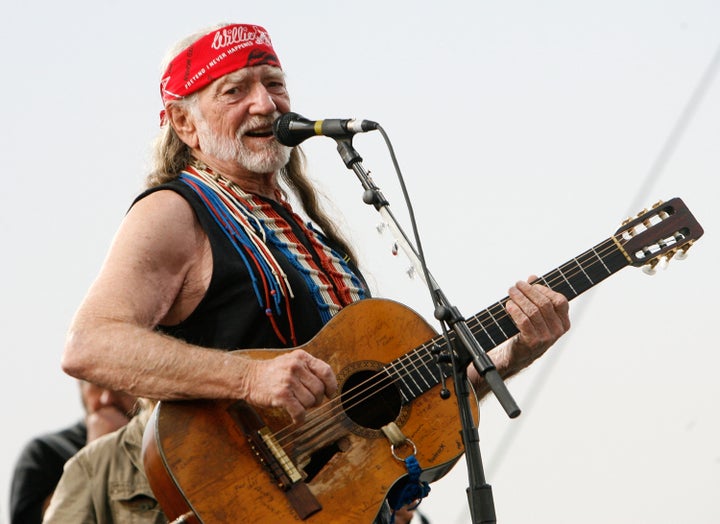 It turns out that Adele doesn't come to D.C. every year to help celebrate the week of my birthday. Rude as that may be, we are left still with an embarrassment of riches. It's a time of bands rising to deservedly bigger stages and an abundance of game-time decisions. The achievements are all theirs, and unfortunately the decisions must be mine. There are worse choices to make than being live music or playoff hockey. With any luck, however, set times and game lengths will align. Or in this case, they won't. Because I want it all.
Monday, May 7 -- Willie Nelson: 9:30 Club
If you had an infinite number of opportunities to see a legend perform live, you would like still take advantage of this privilege from time to time. Given the all too frequent reminders that these chances are all too limited, see Willie Nelson now. From his gnarled hands to his badly beaten guitar, everything about Willie tells a story. Each word he sings shouldn't just be listened to, it should be cherished.
Tuesday, May 8 -- Mike Doughty: Birchmere
I could likely count on one hand the number of songwriters whose music has impacted me the way Mike Doughty's has. Always an honest stage banter participant, on this tour, Doughty will read from his recent memoir The Book of Drugs, as well as perform songs, and take Q&A from the audience. Even if you've lived your life entirely on the straight and narrow, if you've had a day that's been anything less than perfect Doughty's words, both spoken and sung, will strike a chord.
Not Attending -- Andrew Bird: 9:30 Club
Andrew Bird has had the opportunity to show just how talented he is. Among his contemporaries, Bird's abilities as singer and musician approach uniqueness. His strength, however, may be when he puts aside the desire to be different, and settles in as a singer-songwriter. He'll do much of that on Tuesday night. Get in on time to see like-minded Patrick Watson start the night.
Wednesday, May 9 -- Feist: Strathmore
Leslie Feist has one of the most flawlessly wonderful voices in North America. Despite her approach towards perfection, she never loses sight of the light side of popular music. Ms. Feist does not require any assistance enrapturing an audience, but there's no harm in giving the Strathmore an assist on this one.
Not Attending -- Opeth/Mastodon: Fillmore Silver Spring
It's a progressive metal super bill at the venue in Silver Spring. Both bands have diverged from that which has been expected. Traditionalists may decry the relatively softer sides each band has explored. While those clad in all black might turn their back, it's an opportunity for the less monochromatic attired to enjoy music with a range of influences.
Not Attending -- Active Child: Black Cat
It have have been an EP that catapulted Pat Grossi to relative indie stardom, but it's a full length album of ambient goodness that will keep Active Child a mainstay in those circles. The lineup on Wednesday night is incredibly stacked, with Balam Acab and Superhumanoids sharing the stage as well. Get more than your money's worth and see all three.
Not Attending -- Mike Doughty: Rams Head Onstage
If not for the other choices this evening, I'd be there. Annapolis can be a lot to ask for, even from one of my all time favorites.
Thursday, May 10 -- Spiritualized: 9:30 Club
The live Spiritualized performance is mystifyingly captivating. As a bandleader, Jason Pierce may be second to none in being able to do more with less. He always has plenty of company on stage, and from each musician he demands the symphony in psychedelia and vice versa.
Friday, May 11 -- Horse Feathers: Black Cat
Horse Feathers haven't changed all too much since graduating from an opening slot downstairs at the Black Cat to headlining the mainstage. There have been personnel shifts, as expected, but Justin Ringle and co. have stayed the indie folk course. Each album only seems to get more disarmingly beautiful.
Mark Lanegan Band: 9:30 Club
Through his work with Isobel Campbell and the Gutter Twins, Mark Lanegan has proven that he's much more than the guy from Screaming Trees. His more recent record Blues Funeral isn't just a road map of where Lanegan has been, but the ways in which his blues, rock, and even pop resume have come together to create the singer we know today.
Saturday, May 12 -- Gentleman Jesse and His Men
Gentleman Jesse harkens back to a time when bands were formed in garages and the best musicians were human jukeboxes in your local bar. He and his men play unapologetic rock and roll. You'll be too busy singing along to even consider apologizing either.
Hurry Up, We're Dreaming may not be Anthony Gonzalez's strongest effort, but M83 is where they belong in D.C. -- at the 9:30 Club. Their electronic pop music is made for the biggest stages, and while two sold out shows in one night may prove that M83 is destined for even larger venues, there will be a guaranteed dance party on Saturday. In fact, there will be two of them.
Sunday, May13 -- M. Ward: 9:30 Club
While I have always enjoyed Ward's studio efforts, my main interest with this show lies with its opening slot. Amidst the potential end of his band, Lee Ranaldo released Between The Times And Tides. The album is so good it actually could actually be confused for Sonic Youth. It's not that Ranaldo refuses to find a new sound without his bandmates, he's just given the opportunity to show what a central role he has played in one of the most important bands of the last 30 years.