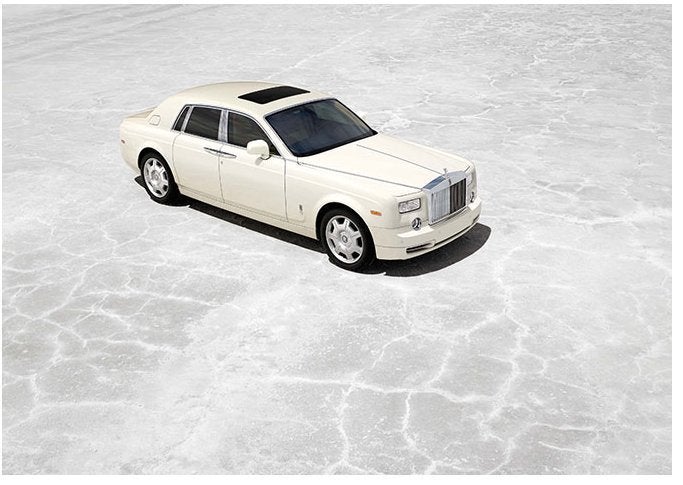 Souvenir Program Cover Photo by Pawel Litwinski.

Jay Leno at the auto show. He is an avid car collector.
I love exotic cars. Always have. When I was a kid I had a picture of a classic long-wheelbase Rolls Royce pinned above my bed in the Brooklyn building where I lived. Many years later I actually got the real version of it, a six-cylinder single-headlight 1956 Rolls Royce Silver Cloud I, which I drove for a while before trading up to an eight-cylinder double-headlight 1963 Silver Cloud III, which I drove for a dozen years before it was totaled in a rear-end collision. (Then went to a Cadillac and a Lincoln Town Car before the terrific Korean Daewoo Legonda which I drive today).
Which explains why on early Sunday morning my friend David Rapoport and I were among the first visitors to the 3rd Annual Concours d'Elegance, which the City of Beverly Hills held at its beautiful Greystone Mansion. We checked in at the desk in front of one of the sponsors of the event, the Bouchon Bakery on Canon (where I later bought one of their luscious 'Queen Anne' Brittany pastries to consume at dinner -- a hundred layers of flaky pastry covered in sugary custard), beside the Montage Beverly Hills, another sponsor, and were shuttled to the mansion.
Greystone (905 Loma Vista Drive, Bev. Hills (310) 285-6830) is an elegant structure which was competed in 1928, featuring a 55-room Tudor-style mansion and exquisitely manicured formal English gardens across 16 acres of land. This stunning estate was the ideal setting for the more than 150 vintage, classic and rare automobiles and motorcycles there, more than $100 million worth of cars on view. Wow!
I visited the motorcycle exhibit first, to view the latest Ducatis, my current speed passion, and was bowled over when I encountered a replica of my college 'cycle, a beat-up BMW which occasioned a bad crash into a wall in the NYU parking lot, ending my racing career. A 1970 Husqvarna motorcycle owned by my early publicity client, Steve McQueen, was on exhibit... and I recalled to my friend the many occasions when the daredevil star roared up to my office at 50 Century Park West in New York on a bike and scared the bejeezes out of my two pet monkeys (and me). I then stood in mute admiration on front of a massive Spanish-built Hispano-Suiza 1925 H6B and told David of my early tutelage in Europe by a legendary French motoring executive, Maurice Dolfuss, who had been president of H-S years before. (When he died, he left me a bag of rare old French gold coins.) I then paid homage to a 1955 Chevrolet Bel Air, the vehicle with the big fins, similar to my first car, which I purchased used for $270 and drove into the ground.
As I was hungry under the hot sun by then, we went down one floor to a dining pavilion where Lawry's The Prime Rib's Catering Division was serving up savory roast beef sandwiches (with either bleu cheese or horseradish on the bun), hot and oozing mac n' cheese, quinoa salad, chicken, fruit and cookies. Stella Artois beer was being poured and wine was offered, while Helms Bakery provided coffee from its truck. All the food was included in the admission price to the event, which was $108 in advance and $133 at the door.
The Lawry's people told me of their new catering offer, Tailgates: 2012 USC Home Games Program, where they provide a full food service at the Coliseum before each USC home game, serving hand-carved prime rib and roasted turkey sandwiches. These people are terrific, charitable and smart food-service professionals whose establishment on La Cienega is still my home of choice for rib-in roast beef.) Ran into Jay Leno, a noted car collector, and chatted about some of the rare vehicles we were seeing. He said that he currently had 88 cars in his garage!
While the Petersen Museum was one of the fine sponsors of the event, I went in search of the 1934 Voisin C27 Aerosport from Peter and Merle Mullin's Mullin Automotive Museum, which had won the Pebble Beach Concours this year... but we did not see it. A friend of mine has just bought a new Porsche so I photographed several vintage versions for his edification. I love seeing great Ferraris, so enjoyed a visit with the 1972 Ferrari 365 GTB/4 'Daytona' originally owned by legendary American gun-maker Bill Ruger.
All of the proceeds from the event go toward the further restoration of Greystone, which is now working to have the seven-car garage restored to its original, elegant splendor. I ended my morning by going to see this structure, where we had filmed a scene from my 1979 movie, W.C. Fields & Me. It still looked the same. The city makes additional money by leasing out the site for movie and TV location shooting, and this pastoral park is a splendid sight to behold at any time. It's open to the public most days of the year, and is worthy of a visit or two even without the cars. Contributions can be made to Friends of Greystone, www.greystonemansion.org to help restore this amazing edifice.
To subscribe to Jay Weston' Restaurant Newsletter ($70 for 12 monthly issues), email him at jayweston@sbcglobal.net
Calling all HuffPost superfans!
Sign up for membership to become a founding member and help shape HuffPost's next chapter