I was helping my six-year-old try on different bike helmets at the store when I was reminded again just how vulnerable young athletes are.
As an emergency physician, I've treated my fair share of kids with sports-related concussions. Thankfully, most children and teens with a concussion feel better within a couple of weeks. But, for some, symptoms may last for months or longer and can lead to long-term problems affecting how a young person thinks, acts, learns, and feels. Playing any sport with a concussion puts people at greater risk for long-term consequences.
Yet, research shows that as many as 69 percent of young athletes with a possible concussion continued playing with concussion symptoms. Why is the number so high? In the realm of sports, there are many different voices that influence young people--parents, coaches, health care providers, school professionals, teammates, and even spectators. Each of these groups plays a critical role in empowering young athletes to report their symptoms and take the steps necessary to give their brain time to heal after a concussion. CDC has been developing tools and working with community partners to raise awareness among each of these groups. We all need to work together to change the culture around youth sports concussions.
Let's start reshaping the culture around concussions in our communities.
Outreach events can be an opportunity for a greater level of interaction and engagement between coaches, schools, parents, and young athletes. Consider featuring:
The revamped CDC HEADS UP app, which provides instant access to concussion safety information and a new 3D helmet fit feature that teaches about proper helmet fit, safety, and care. This app is specifically designed for parents and coaches and is available for free download.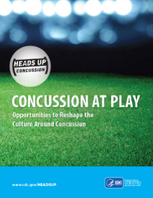 Let's change the way we talk about and respond to concussions. Whether it's through sharing a personal experience, or that of a loved one, an app, a website, or a simple statistic, we can all start to raise awareness. Together, we can create a culture of safety for our young athletes. Check out CDC's latest report with action steps you can take to support young athletes as they pursue the sports they love. Find additional resources at CDC HEADS UP to help make a difference for your family and community.
I used that shopping trip with my daughter to have a teaching moment with her about the importance of safety and injury prevention. And, I have to tell you, I'm so proud of her: as someone who isn't particularly shy about telling her friends what to do, she is now making sure they are wearing their helmets, too! Let's all join in changing the culture around concussions--don't be shy about preventing head injuries among family and friends in your life!
Calling all HuffPost superfans!
Sign up for membership to become a founding member and help shape HuffPost's next chapter