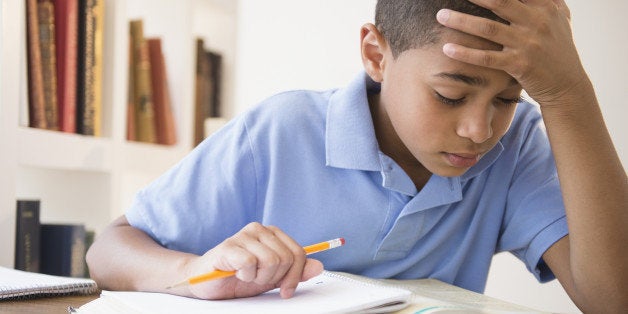 Hey kids, there may be one circumstance where doing your homework could actually be bad for your health.
A new study from Boston Children's Hospital shows that cognitive rest after a concussion can speed recovery time. In other words, not going full throttle into activities like reading, homework, texting and video games after a concussion could help kids get back to normal faster.
"We believe this is the first study showing the independent, beneficial effect of limiting cognitive activity on recovery from concussion," study researcher Dr. William Meehan, M.D., from Boston Children's Division of Sports Medicine, said in a statement. "Previously, the lack of such data has led to varied practice with regards to implementing cognitive rest, making it even controversial."
The study, published in the journal Pediatrics, included 335 people with an average age of 15, who had visited the Boston Children's Hospital Sports Concussion Clinic within three weeks of having a concussion, between October 2009 and July 2011. Researchers kept track of their concussion symptoms and their cognitive activity levels during each visit to the clinic; the cognitive activity levels were divided into quartiles.
They found that kids who were in the three lowest quartiles of cognitive activity -- meaning no to moderate cognitive activity -- took about the same length of time to recover from concussion. No cognitive activity involved not doing any reading or homework, spending fewer than 20 minutes online or playing video games a day, and sending fewer than five text messages each day. Moderate cognitive activity involved reading fewer than 10 pages a day, spending less than an hour doing homework and being online or playing video games each day, and sending fewer than 20 text messages each day.
Meanwhile, the kids with the highest level of cognitive activity took the longest amount of time to recover.
Specifically, NBC News pointed out that nearly half of the kids in the study who didn't reduce cognitive activity took 100 days or more to recover from their concussion, while nearly all the kids who rested the most recovered within 100 days.
While the findings do suggest it's beneficial for kids to take a mental break after a concussion, they may not need to completely abstain from cognitive activity after a concussion so long as they take it easy, researchers said.
"Our findings suggest that while vigorous cognitive exertion is detrimental to recovery, more moderate levels of cognitive exertion do not seem to prolong recovery substantially," Meehan said in the statement. "Thus, we recommend a period of near full cognitive rest acutely after injury, approximately 3-5 days, followed by a gradual return to sub-symptom levels of cognitive activity."
According to the American Academy of Pediatrics, it can take as long as three weeks for a child or teen to recover from a concussion; depending on the severity of the concussion and the symptoms, the child may need to stay home from school, or go to school with some adjustments. Therefore, a team including the doctor, family members and school officials should help determine when the best time is for a child to fully return to academics after a concussion; a symptom checklist could help determine this.
Popular in the Community