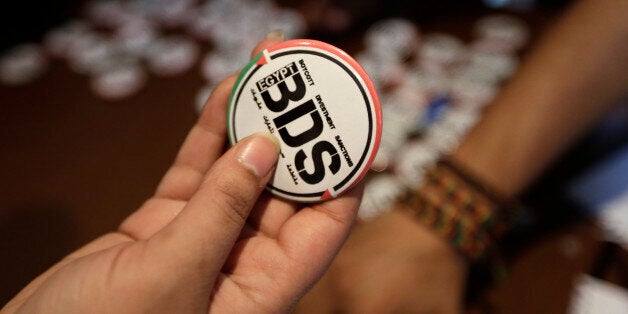 There is no doubt that the Boycott, Divestment, and Sanctions movement has done more to bring the cause of Palestinian rights into the view of the world community than any other movement or political action. From Bill Gates to the Presbyterian church, from Junot Diaz to labor unions, from Archbishop Desmond Tutu to college campuses around the world, from #BlackLivesMatter activists to organizations such as Jewish Voice for Peace, individuals and organizations are in different but emphatic ways curtailing and in many cases ending their association with a human rights-denying regime bent on the continued subjugation of a people solely based on their ethnicity. A recent Pew study even showed that within one of the major US political parties there is a perceptible gravitation toward recognizing the rights of the Palestinians. The Jewish Telegraphic Agency reports:
Democrats are more than four times as likely as Republicans to say they sympathize more with the Palestinians than with Israel, according to a survey published Thursday, and sympathy for the Palestinians among Americans overall is growing.

Sympathy for the Palestinians is up most sharply among the youngest American adults, growing threefold over the last decade, the new survey by the Pew Research Center shows.
As BDS racks up victory after victory, gaining new members daily, especially among young people and people of color, the forces of reaction are gathering together to try to stem the tide. But they are facing an uphill battle, and they know it. So they are resorting to censorship, intimidation, blacklisting--all tactics guaranteed to backfire. All such tactics do is to confirm and amplify the message that the moral and ethical choice is to support the oppressed. When more and more people in favor of BDS are targeted in this way, their sympathies for the Palestinians only grow--they have now experienced just one tiny iota of what Palestinians face every single day.
The Jewish News Service recently ran a report on how different state legislatures are now hearing, and in some cases passing, anti-BDS bills and resolutions. Many of these have features that are blatantly unconstitutional, and will likely be shot down in court. Nevertheless, these efforts are just part of a larger program of "lawfare" being employed against BDS. Even if these bills fail, the idea behind them is to try to intimidate proponents of BDS.
Unfortunately for the anti-BDS side, such efforts only serve to gather more converts to the cause. What becomes more and more evident is that this is a struggle between those with power and authority set against a growing coalition of people acting in solidarity, people convinced of the moral justness of the Palestinian cause.
The report from California displays all these things.
Reading through this article one is struck by the tone of condescension, such this quote from Noah Pollak, executive director of the Emergency Committee for Israel, who addresses a hypothetical BDS supporter: "While you were doing your campus antics, the grown-ups were in the state legislatures passing laws that make your cause improbable."
"Improbable"? Not only do we get a sense of cognitive dissonance hearing Pollack say this, and then recalling the tremendous groundswell of support for BDS noted at the start of the present article, one also feels Pollack's remove from reality even reading what others of his own persuasion are saying.
Consider these statements:
'We're always on the defensive; we're always responding to pro-BDS activists,' said Jacob Millner, a senior analyst at The Israel Project, a non-partisan policy and education group. 'We're now at the point where, sad to say, the BDS movement has saturated the country to the extent that it is no longer so predictable--you can no longer focus on a discrete number of campuses,' said Louis D. Brandeis Center for Human Rights Under Law President Kenneth L. Marcus said.

Roz Rothstein, the CEO of StandWithUs, admitted that when it comes to building diverse coalitions, 'we're very bad at that. "The other side is doing it to a fault--that's all they do,' she said.
Pollack's statement smacks of sour grapes--he actually is ceding lost territory. But he will not find many long-term victories in state houses.
The problem is not lack of organization -- it is the lack of a viable message. The anti-BDS side is invested in only a negative message -- stop BDS. It has absolutely no positive message on this issue. There is a logical reason for that -- how can one sell a message for continued repression, censorship, subjugation, and violence founded on racism? Previously the Israeli regime has been able to dominate the narrative by means of half-truths, lies and diversions. It is clear that this is no longer the case.
Estee Chandler, the founder of the Los Angeles chapter of Jewish Voice for Peace, rightfully calls the bills a "misleading attempt to squelch the BDS movement, which has only grown exponentially in spite of years of efforts to oppose it both on and off of college and university campuses." These younger activists are the future, those playing chummy power politics in Sacramento are the past.
Calling all HuffPost superfans!
Sign up for membership to become a founding member and help shape HuffPost's next chapter