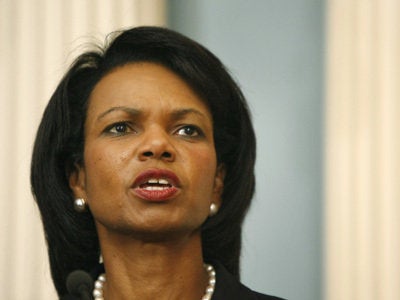 Those in Congress who would like to see the U.S. begin to pull out of Afghanistan don't have a supporter in former Secretary of State Condoleezza Rice.
In a new interview with Fortune Magazine, Rice offered extremely sharp criticism of the idea of withdrawal and painted the consequences of this course of action with an almost Cheneyesque bluntness.
"The last time we left Afghanistan, and we abandoned Pakistan," she said, "that territory became the very territory on which Al Qaeda trained and attacked us on September 11th. So our national security interests are very much tied up in not letting Afghanistan fail again and become a safe haven for terrorists.

"It's that simple," she declared, "if you want another terrorist attack in the U.S., abandon Afghanistan."
As the Washington Post reported Monday, Obama is rethinking all aspects of the U.S. strategy in the Afghanistan in light of the disputed presidential election, an increase in U.S. casualties and waning public support here in America.
In the interview, Rice did acknowledge the recent election as a setback. But she argued that our own experience with democracy proved that it takes time to get things right: "Our democracy wasn't so perfect at the beginning either," she said, citing her own family's experience in the pre-Civil Rights era.
Rice's comments come at a time when the talk of the threat of a possible terrorist attack in the U.S. has re-emerged following a series of arrests in Denver and New York related to an alleged bomb plot. "Counterterrorism officials have issued security bulletins to police around the nation about terrorists' desire to attack stadiums, entertainment complexes and hotels," the AP reported today.
Read more of the Fortune story here.
Popular in the Community