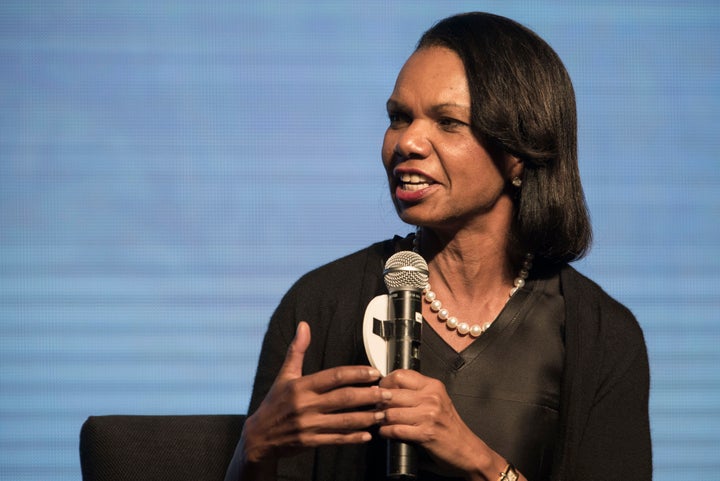 Former Secretary of State Condoleezza Rice says she's likely done with her political career.
Speaking in Hong Kong Thursday, Rice said she's happy working as a professor at Stanford University, where she's taught since leaving the State Department in 2009. 
"I'm quite content to spend my life helping young people find themselves, I've had my fill of politics," she said, according to AFP. "I'm a very happy university professor… the best thing about being a university professor is that you see young people as they're being shaped and molded toward their own future and you have a chance to be a part of that." 
Rice served as U.S national security adviser from 2001 to 2005 under George W. Bush before assuming leadership of the State Department following Colin Powell's departure. Prior to her time in the Bush administration, she served as Stanford's provost.
"One thing that education can do is it can provide us with an opportunity to understand one another better, and so while I've spent a lot of my time in the world of politics, I've always felt that it is really not politics that will solve this for us," she said Thursday. "It's really our betterment of individuals and then the commitment of those individuals to a collective better life for humankind."
Some conservatives have expressed their desire for Rice to jump in the race for retiring Sen. Barbara Boxer's (D-Calif.) seat. The former secretary of state even topped a poll of potential candidates in February, edging out California Attorney General Kamala Harris (D), who announced her Senate candidacy in January. 
However, Rice insists she's not interested in returning to Washington.
"The poll doesn't change her position about running for Senate," Rice chief of staff Georgia Godfrey told Talking Points Memo in February. "She plans to stay at Stanford."
PHOTO GALLERY
Secretaries Of State
REAL LIFE. REAL NEWS. REAL VOICES.
Help us tell more of the stories that matter from voices that too often remain unheard.