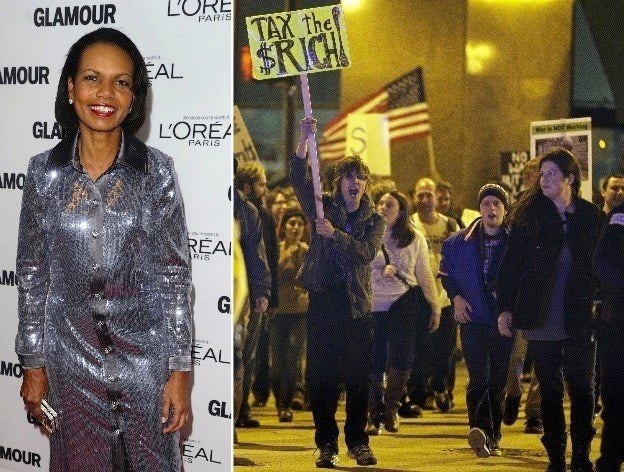 The University of Chicago announced Monday that an appearance by former U.S. Secretary of State Condoleezza Rice and former U.S. Treasury Secretary Henry M. Paulson Jr. originally planned to take place later that same day will be postponed.
But Occupy Chicago organizers, who had been planning to "un-welcome" Rice and Paulson saw the move as indicative that their campaign had been successful. They are now planning to hold their Monday general assembly as "a celebration of the power of community action" at 1414 E. 59th St., across the street from the venue where the event was to take place.
"War criminals like Rice, and those who pushed our economy to the brink of collapse, like Paulson, should face opposition wherever they go, and be held accountable for their crimes against the people of this country," occupier and University of Chicago student Colette Robicheaux said in a statement. "They should be in jail, not on the lecture circuit."
"We let them know their anti-democratic propaganda isn't welcome here, and they heard us loud and clear," another U of C student and Occupy Chicago participant, Peter Fugiel, said in a statement. "We're bringing the Chicago General Assembly down to Hyde Park so that people whose voices can't be heard in the exclusive halls of the University can raise them in an open, democratic forum."
Rosenbaum stated that they would "continue to respect the rights of protesters to express their views in a peaceful manner that does not prevent invited guests from speaking." The e-mail continues:
However, should individuals violate these expectations and attempt to shut down the speech of others, we must take action to protect our fundamental values. This means escorting disruptive individuals out of events and pursuing appropriate disciplinary action in accordance with longstanding policies noted in the University's Statutes and in the Student Manual.
Popular in the Community