"I'm probably known as being a collaborator," said Edwin Outwater, "and up for anything of quality, as it were. I enjoy a variety of music during the Holidays and the many artists I encounter who are outside the classic music world."
Since 2007, Edwin has been the Music Director of Kitchener-Waterloo Symphony (KWS) and was recently named Artistic Director of the Eastern Sierra Symphony. He is also Director of Summer Concerts at San Francisco Symphony. This December, his performance calendar at Davies Symphony Hall looks like a Holiday Wish List come true.
Holiday Brass : Sunday, 12/3 at 8:00pm. Featuring members of the SF Symphony brass section, timpani and percussion section. Click here to order tickets on-line.
"This is about showcasing a section of the orchestra in a beautiful and wonderful way. San Francisco Symphony has an amazing brass section. The first Holiday Brass concert was an immediate success and now it's an annual event. There is an enormous amount of virtuosity here. It's fun for the brass players – and a challenge as well. As a conductor, always seeing the brass section in the back row, it's spectacular to encounter them close-up. Many of the pieces we're going to be playing were originally written for full orchestra and for singers."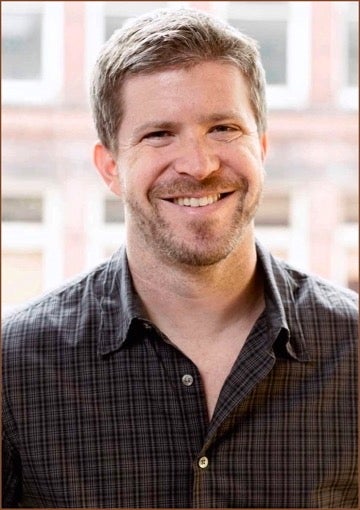 "One of them, Prokofiev's 'Lieutenant Kijé Suite' is a 1934 film score composed for orchestra. The arrangement we are doing was written by our principal trombone, Tim Higgins. It is spectacular. Prokofiev's most famous film score is 'Alexander Nevsky', directed by Sergei Eisenstein. What is amazing about Lieutenant Kijé [aka, The Czar Wants to Sleep] is that the music has become better known as a concert piece than it is as a film. There are a lot of revivals of silent film scores. A screening of Alexander Nevsky will often be accompanied by the Prokofiev score, but I've never seen the film of Lieutenant Kijé."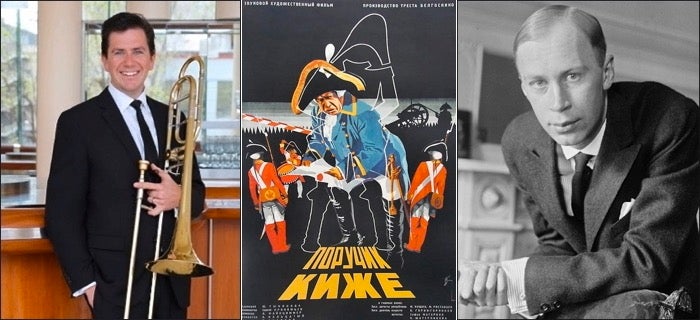 The Program includes other arrangements by Tim Higgins: Allegro from Brandenburg Concerto No. 3 (Bach); Concerto in D Major (Vivaldi); Sacre Symphoniae (Gabrieli); and selections from The Nutcracker (Tchaikovsky). Also featured are Ave Maria (Franz Biebl, arr. Yager); Skater's Waltz (Waldteufel, arr. Armstrong); Sleigh Ride and Christmas Festival (Anderson, arr. Wasson); Selections from Charlie Brown (Guaraldi, arr. Ridenour); and Jingle Bells Forever (Pierpont, arr. Smith & Ward).
"In San Francisco, I've been tasked with doing some of the more unusual things, such as the Soundbox Series. The projects I'm working on are bringing orchestras into different worlds – combining performers you might not expect to see together – and bringing in audiences who may be experiencing a symphony orchestra for the first time."
Cirque de la Symphonie : Wednesday and Thursday, 12–6/7 at 7:30pm. Click here to order tickets on-line. The photo says it all, yes?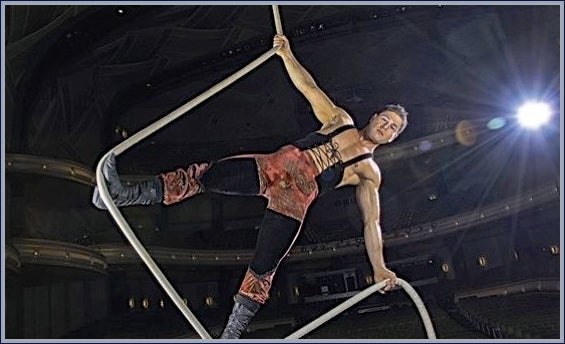 Holiday Gaiety with Armistead Maupin and the SF Symphony : Friday, 12/8 at 7:30pm. Click here to order tickets on-line. Includes a special appearance by award-winning novelist Armistead Maupin (Tales of the City) who will share excerpts from his coming of age memoirs.
"This is one concert that will be totally new territory for me. Holiday Gaiety is basically a 'Christmas Special' – like a TV broadcast with Judy Garland or Bing Crosby. There will be a living room set and I will be the host along with San Francisco drag star Peaches Christ. A lot of people will 'stop by' – including Cheyenne Jackson, Bob the Drag Queen [a RuPaul winner], top chef Melissa King, and more. All LGBT people. It's my creation – an 'only in San Francisco' event. I guess there is a huge conceptual side to what I do. But behind it is just trying to reach people."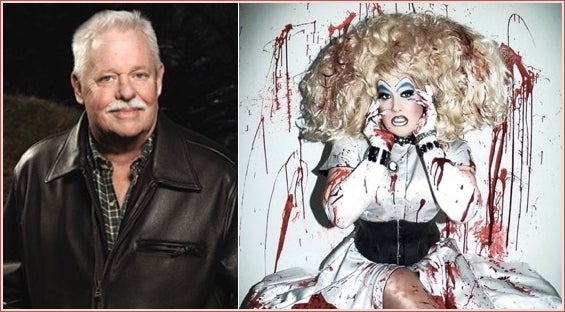 Seth MacFarlane in Concert : New Year's Eve, Sunday, 12/31 at 8:00pm. Click here to order tickets on-line.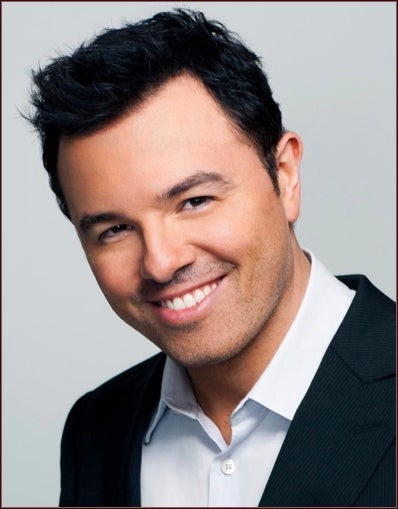 "What I love about Seth is that he is so serious about the music and the tradition of the American Song Book. The charts he uses are often versions of the original charts. Some of the arrangements are from great people like Nelson Riddle. The musicians he brings with him in his rhythm section are themselves legendary. It's not a side-project for him, but something he deeply cares about. Seth is a comedy writer, an actor, a singer. He's behind science – he supported the new version of Cosmos with Neil deGrasse Tyson [Standing Up in the Milky Way ] – so many talents, so many interests. This is my favorite kind of New Year's experience – a great throwback to the kind of show featuring an incredible singer/entertainer, in black tie, who's telling jokes and singing great songs. I know how much Seth brings to everything – how he prepares musically and comedically to put on a great show."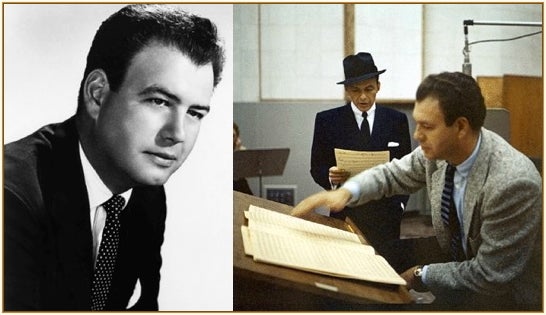 "Seth is incredibly inspiring. There is a place for this music. It's all very similar to what we're doing now as classical musicians – reinventing with great respect what has been around for a long time, but with a new twist. Great music does not end with its creator. Even with a strong proponent of Sinatra, there is a strong sense that this music has a role and will transform. Seth really respects the past and has his own stand. He is a kind-of curator of this music – just by singing it as well as he does and introducing it to a new generation."
I am a very enthusiastic fan of opera presented in semi-staged concert format – particularly with once-popular classics now branded and stigmatized as "rarely performed". I've been around long enough to watch it happen to such one-time blockbusters as Massenet's Manon – resurrected this season at San Francisco Opera. The convenient arguments about these disappearances – whether from the Top 50 or the Top 100 in current repertoire – center around production costs or something about "lack of interest". It's never about the availability of qualified singers who can handle the musical style. So, while preparing to speak with Edwin Outwater, I learned that he and Kitchener-Waterloo Symphony had presented two concert performances of Johann Strauss Jr's Die Fledermaus in January 2016.
"The trick with opera in concert – no sets or costumes – is how to make it interesting and how to move it around. In this case, the solution was to limit the dialogue and find someone who could up-date the script in-between numbers. We hired Daniel Isengart – an incredible cabaret singer, kind-of German/French, and a very interesting collaborator. Daniel does everything from cabaret singing to cooking. His husband, Filip Noterdaeme, wrote The Autobiography of Daniel J. Isengart which was patterned after The Autobiography of Alice B. Toklas. Basically, the focus was about the spoken links between the musical numbers. For example, those who really know the opera will find new perspective on an 'inside joke' – while, at the same time, the newcomers get something that is completely inviting and fun. A first time encounter with a particular opera or symphony can be a lot of information to take-in, so program notes are always a help. But, the way I interact with my audiences is about opening the door and not being didactic. I assume people are coming to a concert primarily to be entertained. Maybe they'll be inspired."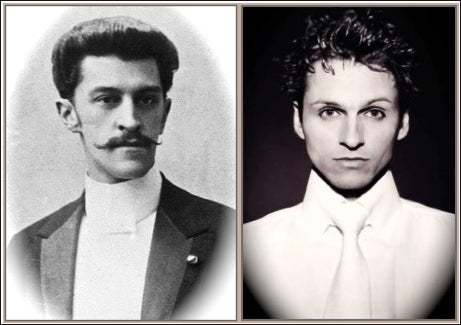 "Opera had actually faded away from this part of Canada – the opera company went out of business. I know there are a lot of opera fans here. So, this production of Die Fledermaus was a win/win situation. It was about reviving the tradition of opera – in an area that wants it – as well as adding variety to what I was offering to my orchestra."
In January 2019, Daniel Isengart returns to Kitchener Waterloo Symphony for a concert go-round with Carmen. What a smart idea.
Click here to stay in touch with Edwin Outwater on Twitter.
Calling all HuffPost superfans!
Sign up for membership to become a founding member and help shape HuffPost's next chapter
This post was published on the now-closed HuffPost Contributor platform. Contributors control their own work and posted freely to our site. If you need to flag this entry as abusive,
send us an email
.