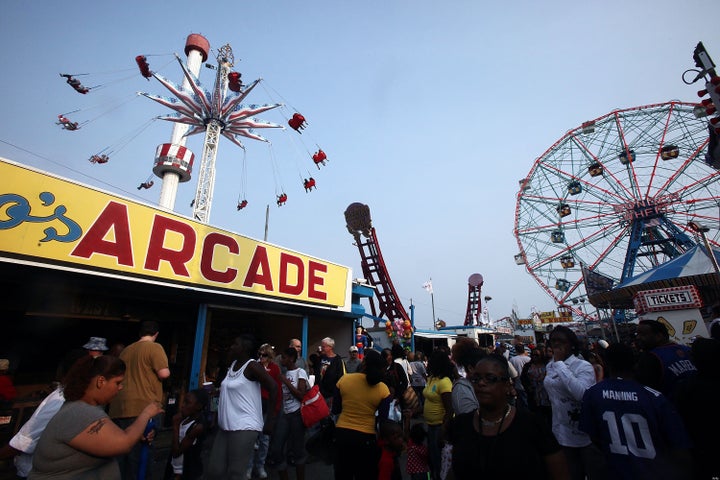 Brooklyn Borough President Marty Markowitz is pushing the idea of opening casinos in Coney Island, a vision that aligns with Governor Cuomo's plans to legalize casino gambling in New York state.
In a press release, Markowitz praised Cuomo for his "outstanding first year" and said, "Casino gambling...would bring jobs and revenue to potential locations in New York City, especially Coney Island, which is a natural."
While Markowitz may contend Coney Island is a "natural" choice, some Brooklyn residents are disagreeing. One man told CBS that casinos in Coney Island would lead to "too many problems...[because] they're going to have too many degenerates, alcoholics, and crack users."
An editorial in The New York Times questioned Cuomo's overall gambling proposal and said:
We are concerned about his plan to bolster state finances and create jobs with a lot more gambling. He said on Wednesday that he will pursue a constitutional amendment that would allow gambling throughout the state and not just in the five casinos run by American Indians and the locations with "electronic gaming machines." There's little evidence that casinos, which carry high social costs, will create good, high-wage jobs.
Despite criticism, revenue statistics report that the racino has already generated $90 million in just two months.
Cuomo's plans seem to be gaining traction, as it was reported on Monday that the Genting Group had signed a letter of intent to build the nation's largest convention center at the Aqueduct racetrack in Queens. The development follows Cuomo's State of the State Address last Wednesday, where the governor rallied behind expanding the Aqueduct as a part of his economic development agenda to produce badly needed revenue for the state.
Mayor Bloomberg, who has had a rocky relationship with Cuomo, supported the governor's initiative to expand the Aqueduct, citing Cuomo's attempts to solve problems, despite the fact that Bloomberg personally believes that gambling has "regressive" effects on society.
REAL LIFE. REAL NEWS. REAL VOICES.
Help us tell more of the stories that matter from voices that too often remain unheard.