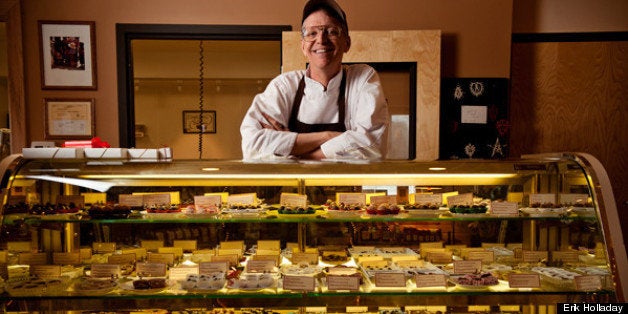 This article first appeared in the April 11, 2013 edition of Southwest Michigan's Second Wave.
Two women in uniform enter the store on 116 West Crosstown Parkway in Kalamazoo, badges glinting on their lapels, and they ask for an employee of Confections with Convictions by name. Dale Anderson, store owner, comes to attention, brushing his hands quickly on his white apron and motions to the young man behind the glass wall of the kitchen where chocolate is made. "He's not in trouble!" says one of the detectives reassuringly. "We just need to talk to him a moment." And still, as the young employee emerges from the kitchen to speak to the two detectives, his expression is wary. It's not the first time he has faced police officers. He, like all four of the employees at Confections with Convictions, has felonies on his record. But the detectives just have a few questions about someone he may know, and in a moment he is back to work in the kitchen -- and the two detectives are leaning in to take a closer look at the glass shelves filled with handmade chocolates. They are looking for truffle, not trouble. And Anderson obliges with a grin. "First piece of chocolate is free for first-time customers," he encourages. One detective chooses a truffle made with honey and garnished with bee pollen; the other chooses Ecuadorian dark chocolate sprinkled with toasted cocoa nibs. Both lick their lips with chocolate-inspired pleasure and promise to be back, sans badges, for more. Anderson never blinks. He is accustomed to rubbing elbows with young people weighed down by criminal records; thus the name of the store, at least in part. The "convictions" in the store name refer to his commitment to offer employment to those who may not be able to find work elsewhere due to their criminal records. "Convictions" also refers to creating the best artisanal chocolates possible, using organic and fair trade means, and buying local fruits whenever possible. He has been successful at both. "I've been a licensed professional counselor and a mediator in the court system since 1996," he says. "And I've been working at CEDRS at Western Michigan University since 2006." CEDRS -- that's Campus Employee Dispute Resolution Services, and Anderson is good at that sort of thing. Making peace, building bridges … in fact, building literally is his third job. He is a licensed builder, and his first thought had been to provide work to young people looking for a second, or even a fifth chance, at getting life right by working in construction. "But I bumped into child labor laws that don't allow these kids to use power tools or climb ladders," Anderson says. "I've worked 10 years with the county, offering counseling services in the juvenile drug treatment court, and that was useful … but not nearly as useful as I wanted to be.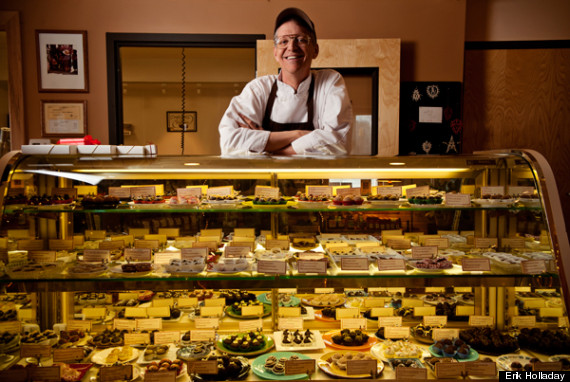 "Many of the juveniles I counsel are kinetic learners. They sit there taking apart the stapler on my desk while we are in a counseling session. They need to be moving, doing things while learning. And counseling," Anderson shrugs. "When it's forced by the court, it doesn't work well. Court-ordered counseling ends up feeling like just another form of punishment. The juvenile court is a pretty blunt instrument. No matter how well-meaning, it's a system that is deficit-based, not strength-based." Buying a box of gourmet chocolates, Anderson suddenly had a sweet idea. These artisanal chocolates tasted far superior to ordinary supermarket boxed chocolates. "Chocolates with Convictions!" he joked to the recipient of the gift, and at first, it really was just a joke. He enjoys puns, alliterations; it was all play on words. The idea had to simmer for a while. After all, how many builders know how to make chocolates? Loose ends have a way of coming together for Anderson. With a master's in counseling and multicultural conflict resolution, he has worked at help lines in Kalamazoo (Gryphon Place) and Battle Creek (Hope Line). He is a task force member of an organization called Great Lakes PeaceJam -- Seeding Change, creating leaders from youth by connecting them with established leaders. Stir this humanitarian work and heart together with classes on becoming a chocolatier, and you get artisan chocolate with a cause. "We use organic and fair trade chocolate because if we are trying to help youth here, we don't want to abuse youth elsewhere," Anderson says. "About 70 percent of chocolate comes from Ghana, where they use child labor. Ours comes mostly from Peru and Ecuador, where they respect fair labor conditions." Confections with Convictions opened its doors to the public in December 2010, in a building that had stood empty for nearly a decade. Anderson found the place hadn't sold because, he jokes again, "It had a river running through it." A leaky basement allowed nearby river water to flood in, but with his construction skills, Anderson rerouted the leak and added sump pumps, then renovated the building. "I leased the other half to Victorian Bakery, and we moved in this half soon after," he says. Anderson is at his store 60 plus hours a week, he says, and manages to maintain his other jobs during all those other hours left over. Confections with Convictions is open Tuesday to Saturday, 10 a.m. to 6 p.m., so Anderson is on the road all Monday, driving as many as 100 miles to visit homes and schools in the area, checking on the youth under his counseling care. Even Anderson can use someone watching over him, too. Amy Anderson, his 83-year-old mother, mirrors the same warm smile as her son, and she is only too happy to work alongside him in the shop. "I love working here, it's like a new lease on life," she says with enthusiasm. Mom watches the front while son checks on the kitchen space in back. One half of the kitchen is the cold kitchen, he says, and the other, hot, where the chocolate is seeded, warmed, hand-rolled, scooped, weighed, dipped twice, dusted with magic. Every truffle is made by hand, one at a time. An employee, his work done for the day, takes off his apron and grins at his boss. Anderson teases him about coming in a few minutes late due to daylight savings time. The employee promises to be on time in the morning, and hugs Anderson on his way out. "Fabulous crew," Anderson says. He says it with conviction. Read more impactful stories and innovative news from West Michigan at Southwest Michigan's Second Wave. Zinta Aistars is creative director for Z Word, LLC, and editor of the literary magazine, The Smoking Poet. She lives on a farm in Hopkins.
Calling all HuffPost superfans!
Sign up for membership to become a founding member and help shape HuffPost's next chapter
BEFORE YOU GO
PHOTO GALLERY
Metro Detroit Cheesecake Tour