A Louisiana man was arrested after a dispute over the sale of Confederate flags and white supremacist paraphernalia erupted on his property.
Virgil Rayford, 52, of Washington Parish, was charged Friday with a felony charge of aggravated assault with a firearm, his attorney, Buddy Spell, said.
According to Spell, Rayford was notified Friday afternoon that someone was trespassing on a vacant two-acre plot of land he owns. The individual was, according to Spell, not only trespassing on land owned by his client, who is African-American, but was also selling Confederate flags.
Rayford immediately drove to his property, which is located not far from where O'Neal Moore, one of the first African-American deputies to be hired by the Washington Parish Sheriff's Office, was killed in a drive-by shooting in June 1965. The crime, which some speculated was committed by members of the Ku Klux Klan, remains unsolved.
Upon arrival at his property, Rayford discovered the vendor, a white male identified by New Orleans' WWL‑TV as 37-year-old Matthew Barrentine, had erected a tent on his property and was, according to Spell, not only selling Confederate flags, but also other white supremacist themed merchandise.
Spell said Rayford approached Barrentine and demanded that he "get the hell off my property." Barrentine allegedly challenged Rayford's claim of ownership and refused to leave the property.
"This white man seemed to have the attitude that someone like me, a black man in this part of Louisiana, wouldn't own property," Rayford said in a statement to The Huffington Post.
Rayford said he was angered by Barrentine's refusal to leave and flipped over a table, spilling Confederate themed headbands and related merchandise. A pushing match ensued, after which Rayford claims Barrentine stormed off toward his vehicle.
According to Spell, his client feared Barrentine was going to arm him, so Rayford went to his vehicle and retrieved a .45 caliber handgun.
"Once he saw the gun, he started getting more respectful," Rayford said.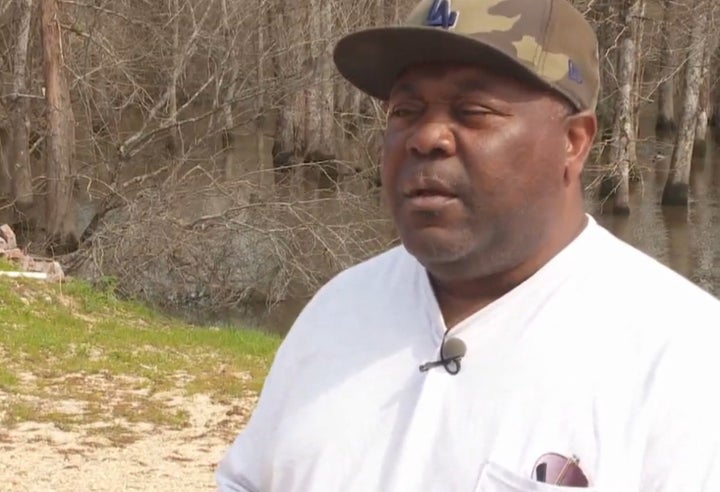 At that time Barrentine, according to Rayford, packed up his merchandise.
Barrentine later contacted authorities and gave them a different story.
"To the best of our understanding, Mr. Rayford struck him on the side of the head with a pistol, which is a felony, and therefore, we wound up arresting Mr. Rayford with aggravated assault with a firearm," Washington Parish Sheriff's Office Chief Deputy Mike Haley told New Orleans' WDSU-TV.
Rayford, who was booked into the Washington Parish Jail and later released pursuant to a signature bond, denies assaulting Barrentine with a firearm. While he does acknowledge holding his gun in his hand, he said he did not point it at Barrentine or directly threaten him with it, his attorney said.
Spell said he plans to ask the district attorney to drop the charges.
"This is a matter deserving of the utmost scrutiny by the district attorney's office," Spell said. "Surely, under a 'reasonable man standard,' Virgil Rayford's actions are entirely justified."
The district attorney's office has yet to comment on the case. Barrentine received a misdemeanor summons for criminal trespassing.