WASHINGTON -- House Speaker John Boehner's day went from bad to worse Thursday as his efforts to quietly ease a fight over the Confederate flag blew up. Democrats seized the opportunity to denounce Republicans as defenders of a painful symbol of racism.
Democrats have been fuming since Wednesday night, when Rep. Ken Calvert (R-Calif.) put forward a vaguely worded amendment to attach to an annual spending bill that would allow the Confederate flag to be displayed in national cemeteries. Rep. Betty McCollum (D-Minn.) noticed the meaning of it. As Democratic furor grew, Boehner ultimately pulled the entire bill off the floor and temporarily from the House schedule on Thursday, saying he wanted both sides to talk it out and would bring it back up later.
Boehner was hoping that would be the end of it, at least for now. The Ohio Republican certainly wanted to avoid drawing attention to members of his caucus who were defending the Confederate flag -- particularly on a day when South Carolina Gov. Nikki Haley (R) is in the spotlight for signing a law removing the Confederate flag from the grounds of her state's Capitol. Her action comes in response to last month's racially motivated murders at Emanuel African Methodist Episcopal Church in Charleston.
But Boehner ended up getting exactly what he didn't want: Democrats doing everything they could think of to publicize the fact that Republicans are still wed to a symbol that is offensive to so many.
Rep. Jim Clyburn (D-S.C.) forced the House to vote on adjourning in protest. House Minority Leader Nancy Pelosi (D-Calif.) forced a voice vote on a privileged resolution to remove all images of the Confederate flag from the Capitol, namely the Mississippi flag. After that, she organized a massive press conference where, one by one, leaders of the Congressional Black Caucus and the Congressional Hispanic Caucus gave remarks about how offended they were by GOP efforts to protect the flag.
Pelosi's resolution sent the House into a frenzy. It includes a series of damning clauses about hatred and oppression, and concludes that "the Speaker of the House of Representatives shall remove any State flag containing any portion of the Confederate battle flag, other than a flag displayed by the office of a Member of the House, from any area within the House wing of the Capitol or any House office building, and shall donate any such flag to the Library of Congress."
Republicans voted 238-176 to send it to the House Administration Committee for review, all but killing it since the Republican chair is unlikely to bring it up for a vote.
During the vote, Democrats roared over Republicans to stop the resolution from being sent to committee, yelling a drawn out "Nooooo!" and chanting "Vote!" Standing with her colleagues afterward, Pelosi accused Republicans of being "afraid" and later scoffed at the idea that a resolution about removing the Confederate flag needed more review.
"What is it that we have to study?" she asked. "Hatred in its manifestation of a flag?"
Pelosi recited a comment she heard from Rep. Hal Rogers (R-Ky.), in which he admitted that Republicans feared losing the votes of 100 of their members if amendments aimed at prohibiting display of the flag remained attached to the Interior and Environment spending bill.
"Isn't that remarkable? A hundred of their members would vote against the bill. As Congresswoman McCollum said, the bill wasn't bad enough for them… They needed hatred in the bill as well," she said.
Kevin Smith, Boehner's spokesman, countered that Democrats' tactics did nothing to further the debate surrounding the Confederate flag. Boehner himself said he doesn't support the flag being displayed on National Park Service grounds. But he still plans to gather an informal group of Republicans and Democrats to see if they can come together on the issue.
"The speaker offered a thoughtful and responsible way to address this issue, and Pelosi responded with a cheap political stunt," Smith told reporters.
After Republicans pulled the Interior bill, Calvert tried to explain that leadership came to him looking to add the amendment "at the request of some Southern members" within the Republican conference.
Calvert said Republicans wanted keep the status quo policy implemented by the Obama administration in place by allowing Confederate flags to be displayed on graves at federal cemeteries on Confederate Memorial Day. The National Park Service currently allows such placement, and then quickly removes the flags after.
But Democrats see no room for discussion.
"Robert E. Lee said… put it in your attics. He didn't want this flag flown at his funeral. He didn't want to be buried in his Confederate uniform," said Clyburn. "Why is it we are having such a hard time today, on the day that South Carolina becomes the last state to take it off of its grounds, we have decided that we are going to make it mandatory that our national parks sell this flag, and display it on their grounds?"
"Apparently the ghosts of the Confederacy invaded the Republican conference," said Rep. Hakeem Jeffries (D-N.Y.).
Rep. Cedric Richmond (D-La.) echoed the sentiment. "The notion of the South will rise again is not something we look forward to," he said.
At their press event, Democrats hailed McCollum for catching the attempt to insert the Confederate flag provision in the Interior bill. Many thought it was just an obscure technical amendment being dropped into the bill at a late hour. It didn't even have the phrase "Confederate flag" in it.
It was a "deceitful" move by Republicans, said McCollum.
Before You Go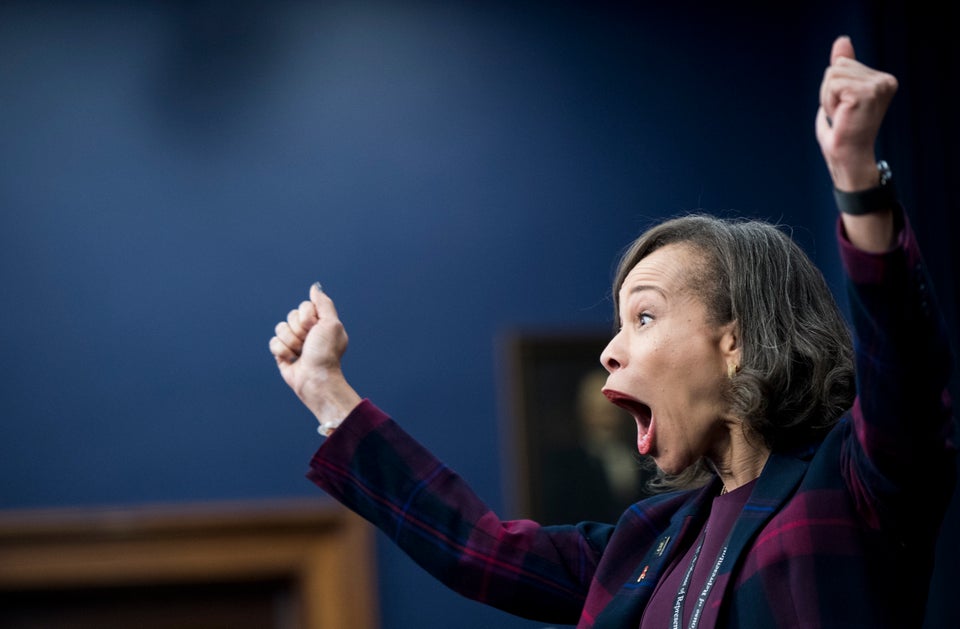 Scenes From 114th Congress And Capitol Hill
Popular in the Community