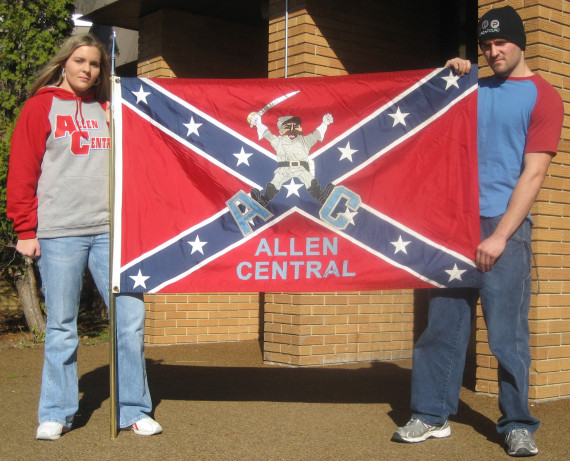 Students at Kentucky's Allen Central High School display a Confederate flag featuring the school's logo in 2006. (AP)
In the three weeks since nine black churchgoers were massacred in Charleston, South Carolina, a national debate has erupted over the place of the Confederate flag in public spaces.
But the argument isn't confined to the South Carolina statehouse or the halls of Congress. Far from the spotlight, discussions about the appropriateness of Confederate symbolism are happening in another arena: High school athletics.
School districts and administrators have been dealing with the use of Confederate symbols in sports for years, and not just in the South. From New York and Massachusetts, to Texas and Florida, schools have disassociated themselves with nicknames like Rebels and logos that feature gray-clad Confederate soldiers and the battle flag itself.
Since the Charleston massacre, the debates have resumed in several school districts. A school board committee in Arkansas voted last month to phase out Southside High's Rebels nickname and immediately end its use of "Dixie," the Confederate anthem, as its fight song. In Alabama, complaints from some residents prompted a community meeting about Vestavia Hills High School's Rebels moniker. Local media have raised questions about symbols and mascots in Iowa and California, and the superintendent at Kentucky's Allen Central High School, which also uses the Rebels name, last month removed old logos and photos that featured the Confederate flag from websites for the school and state athletic association.
But in other places, there has been no discussion of Confederate symbols since the Charleston shootings. And there are no plans for change.
In Hurley, Virginia, a small town tucked into the state's southwestern corner, Hurley High School uses Confederate symbolism more directly than schools where debates are taking place. Hurley's teams, known as the Rebels, don a logo that features the Confederate flag waving from a sword. The school's Facebook page shows football players running onto the field beneath the Confederate flag after bursting through a homecoming banner on which a hand-drawn version of the battle flag is the most prominent feature.
"Since all of this has come about, our community has stood behind the logo and the flag," Hurley High principal Pamela Dotson told The Huffington Post this week, echoing comments she made first to the Bristol Herald Courier.
"If you did a survey," Dotson added, "I doubt you'd find a single person who'd want to change it."
It may be clear in some places that the flag's roots are in a pro-slavery secession movement and that its resurgence came at the outset of the Civil Rights Movement. But in Hurley, residents see the current debate as "just about politics and ignorance about the true meaning of the flag," according to Dotson, who described the school's use of the flag as an honor to area soldiers who fought and died in the Civil War and a reminder of the area's history.
"The folks that chose our mascot were not pro-slavery. They were not racist," Dotson said. "Nothing malicious or ill-minded was intended."
Buchanan County, home to Hurley, is 96.1 percent white, according to the Census Bureau. Just 2.9 percent of its 23,000 residents are African-American.
Hurley High, Dotson said, has just one black student this year, an athlete who she said wears the Rebel uniform and the Confederate flag that adorns it with pride. She hasn't heard any complaints from a black student in her three years as principal.
"Never," Dotson said. "They've been accepted with open arms as part of the family."
While Hurley isn't considering changes, plenty of other schools are resisting them. Newspaper editorials have decried calls for new names at Texas high schools that use "Rebels," and there is hesitance to address nicknames and mascots based on Confederate soldiers in other districts. None of the seven Kentucky schools that use "Rebels" plan to find new names, according to the Lexington Herald-Leader, even after Akilah Hughes, an African-American journalist at Fusion, wrote of her distaste for her former school's Confederate mascot.
"But most striking to me now? All of the pep rallies and football games attended, at which black students and athletes had to cheer for Mr. Rebel while wearing shirts that read 'Rebel Pride,'" Hughes wrote after attending her 10-year reunion at Kentucky's Boone County High last weekend. "I wonder about the students of color attending the school now, who have to isolate themselves from their peers to find peace and acceptance. Like I did."
Before You Go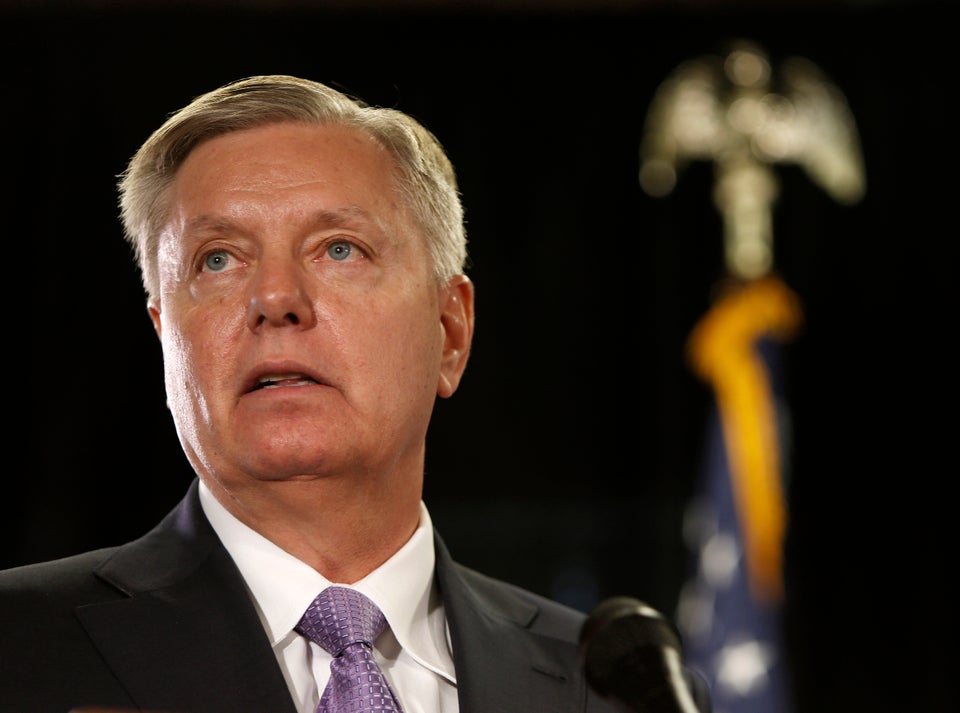 Politicians On Charleston Shooting
Popular in the Community