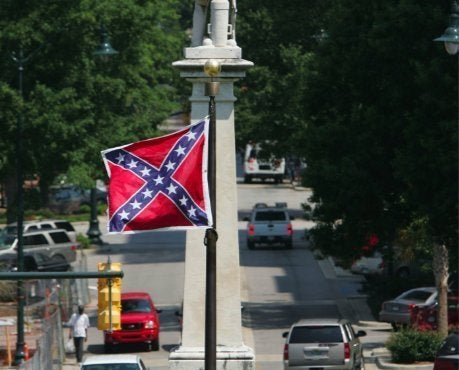 (AP) - Only two of the six Democrat and Republican governor hopefuls say they would consider moving the Confederate flag that flies in front of the South Carolina Statehouse.
The flag has been in place since 2000 after a deal was brokered to move it from the Statehouse dome and the House and Senate chambers. Now the banner flutters beside a monument to Confederate soldiers, in view of a busy intersection in the capital city.
The candidates vying to replace term-limited Republican Gov. Mark Sanford shared their views on the perennial issue in recent interviews with The Associated Press. For his part, Sanford made it clear early on that he wouldn't spend political capital on an issue he believes was resolved before he took office.
Still, it raises ire. There's an ongoing boycott of the state by the NAACP because of the flag and the NCAA refuses to bring tournaments here because of it. Football coach Steve Spurrier has said he doesn't understand why it flies where it is.
Democratic state Sen. Robert Ford, a black Charleston lawmaker running for governor, played a key role in the flag compromise and said the monument deserves to have the flag where it is. "I like the way it is," Ford said.
The other two Democrats - Education Superintendent Jim Rex and Democratic state Sen. Vincent Sheheen - are open to talking about moving it. The four Republicans - U.S. Rep. Gresham Barrett, Lt. Gov. Andre Bauer, state Rep. Nikki Haley and state Attorney General Henry McMaster - said they doubt there's support to move the flag again.
"I think it's an issue that Republicans and Democrats, blacks, whites across this state had a compromise on and it's such a deep and divisive issue, I think there's other things we can do to move our state forward," Barrett said.
Moving the flag would take a minimum two-thirds vote in the House and Senate.
"It's a discussion that we shouldn't have because the votes aren't there to have it," Bauer said. "And so all we're doing is putting ourselves in a national spotlight again for a battle that the outcome's not going to be different."
Haley said there is not enough support for moving it to bring a healthy debate on the issue.
"The practical side of me says it takes two-thirds of the House and two-thirds of the Senate," said Haley who, as an Indian-American, noted she could try to make sure the state doesn't lose business to the ongoing NAACP boycott.
McMaster said he considers the issue resolved. "I don't know that if we reopened it, I don't know we could ever get as much agreement as we had when we resolved the issue and put it on the Soldier's Monument," he said.
Sheheen and Rex said more discussion is possible, however.
"I think it would be in the state's best interest to try to work together to resolve that issue in a way that helps us move past this fight that has continued forever," Sheheen said. "I would want to be a facilitator in that." However, he has no suggestion on where the flag might go.
Rex said it's time to look for another solution because he hears the flag may be costing the state economic development opportunities. The compromise "was acceptable when it was reached. I think there's some evidence that we need to revisit that compromise and see if there's another one now that is more acceptable," Rex said.
If there is evidence the state is losing jobs, that makes the need to act clearer, Rex said.
"If the flag ends up being a part of that reason, I think it's my responsibility to tell the citizens of South Carolina that this flag is not just an image problem, it's actually affecting negatively our ability to compete and our ability to have the kind of economic development that we say we want," Rex said.
Popular in the Community