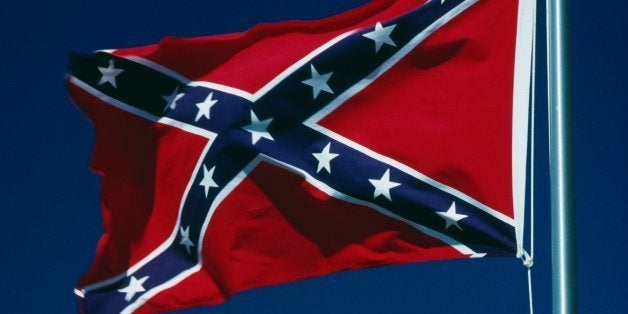 Against expectations, in a move that would have seemed impossible a few weeks ago, the South Carolina legislature is doing the right thing: they are getting rid of the Confederate battle flag flying on the Statehouse grounds.
They got it. They heard and they responded to the outrage and the divisiveness that the flag embodied. Its troubled place in "Southern heritage" had finally become untenable and indefensible. Its history, its symbolism and its semiotic resonances were too much for even a conservative white power structure to sustain. By large margins the South Carolina Senate and House have accepted this.
Good for them -- finally. That was the easy part.
The moment we all as a nation realized what the flag meant -- a single, unified, undeniable shared understanding -- was, of course, when we saw the photograph: a young, racist, soon-to-be alleged murderer with the flag in one hand and the gun in the other.
The flag meant hate. The gun meant action.
Hate, however awful, is merely an emotion -- an idea. Murder is, in the worst-case scenario, the consequence of that idea.
South Carolina's legislators and others -- Walmart, Nascar and Sears to name a few -- have taken a brave and honorable stand (though it should have come decades earlier). But again, I remind them all: this is the easy part. This is the first step.
Next comes guns. Before any politicians, corporations or citizens get too excited and feel any urge to celebrate a positive social response to last month's Charleston massacre, we must remember that a range of organizations have addressed only the first part of the problem of this specific tragedy.
We've responded to that, with widespread and reasonable agreement by jettisoning the flag, the symbol.
Now it is time to follow through with an agenda that takes on the actual instruments of violence, the ubiquitous, easily-attainable guns.
The flag that we see in the murderer's left hand from that photograph illuminated his prejudice -- his mindset. The gun that he was holding in his right hand killed Myra Thompson, Sharonda Coleman-Singleton, Daniel Simmons Sr., Tywanza Sanders, Clementa Pinckney, Ethel Lance, Susie Jackson, Cynthia Hurd and Depayne Middleton Doctor.
Dealing with the Confederate-era flag as part of a dialogue about our history, our values and our contemporary commitment to atone for past inequities, shows promise. And this promise should be nurtured as part of a strong foundation for a long series of conversations that we need to keep having.
But conversations are only words and ideas are only thoughts.
State legislatures, Walmart, civil rights supporters and Americans at large cannot be satisfied with this victory in the area of symbols, however important it is. The removal of flags is too little, too late.
It is the first step in a longer struggle, which the aftermath of Charleston has perhaps, finally, allowed us to confront as a society. We are doing what needed to be done about the flag that was in the murderer's left hand. Now we need to starting working on the problem signified by the other thing he held.
Popular in the Community