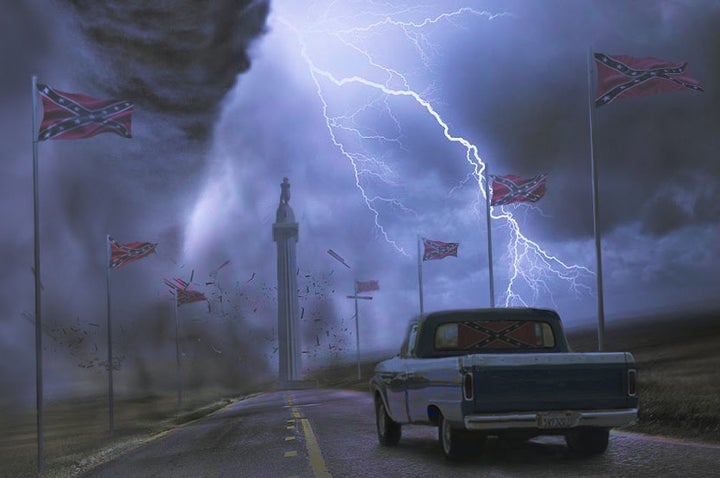 Moving into the summer, the birds are chirping, the sun is coming out and the air is heating up. But the air is the not the only thing rising in temperature. My forecast for the American social climate going past Memorial Day and beyond the 4th of July is not very good. We will have multiple thunderstorms, tornadoes and high-speed winds, resulting from deep depressions from the White House East, heavy Confederate precipitation from the South and hard-hitting hail from men in blue. So, keep your cameras ready, your social media accounts on standby, your water bottles full and plenty of bail money handy because it might get Kosovo crazy. For added precaution, it is advised that you stock up on comfort food and anti-anxiety remedies. A Sesame Street platitude might do. Because this is what happens when you combine solar heat with major intersecting social, cultural and political problems. In other words, our melting pot idea might become more like making popcorn than fondue.
This is the same bad weather I sensed after the protests in Baltimore in 2015 when citizens took to the streets after the arrest and subsequent death of Freddie Gray. I was there, opening a group art show at the Creative Alliance shortly after that CVS burned and when the city was on lockdown. That weather inspired me to organize for the following Memorial Day(a few weeks later) multi-state funerals/burnings/burials for the Confederate flag in recognition of the 150th year anniversary of the end of the Civil War. I had been working with the Confederate flag in a political art context for over 16 years and now it was time to bury the damned thing. Well, three weeks later, Dylann Roof killed nine African-Americans in a church, doing what large demonstrations, weekly peaceful protests, art and dialogue could not do; bring the Confederate flag down in South Carolina. That energy created a strong anti-Confederate flag and monument storm pattern across the country in a way never seen before, but 150 years late.
Now that Trump is President, the Alt-Reich is practicing straight-arm outreach, and the Neo-Confederates are on the ropes, the pushback is imminent. The successes in New Orleans with the removal of Confederate monuments and the sparking of debates to do the same in places like Tennessee, Virginia and South Carolina are mind-blowing events for some and pathologically emotional for others. This results in a pushback as seen with the governor of Alabama recently signing a bill to protect Confederate monuments. When the evidence, symbols and rituals of white supremacy, especially the ones rooted in American slavery, begin to get sidelined, those who have relied on them for a sense of pride and well-being will undoubtedly resist and fight back; their sense of privilege depends on it.
In any case, I forecast as before, that as we approach the summer holidays, like July 4th, we will be confronted with a superstorm of Make America Great Again, Confederate nostalgia and general xenophobia. We must resist and push back on the ugly reality of visual terrorism as a start. We must stand firm and say that America must stand for justice and respect for all. We must stand with Mayor Mitch Landrieu of New Orleans, and all of the activists, artists and citizens of conscience there in New Orleans and elsewhere, who have forged the conversation for change.
As we brace for this Hella Storm that was sparked in Baltimore, Ferguson and elsewhere, and is now moving in all directions and in formation around the cracks of American white supremacy, exceptionalism and super capitalism, we must prepare. As with such dynamic systems, small perturbations can result in unpredictable outcomes and the categorical destruction of mind, body and community. And so, by the anchoring of the values that we collectively believe to be stormproof, we, the artists, writers and other agents of activism must prepare to express and protect what is really important: Life, Liberty and Justice.
John Sims, a Detroit native, is a multi-media artist, writer and producer, creating projects spanning the areas of installation, text, music, film, performance and large scale activism. His main projects are informed by mathematics, the politics of sacred symbols/anniversaries and the agency of poetry.
He has lectured and exhibited both nationally and internationally and his work has been covered in Art in America, Sculpture, Transition, FiberArts, Science News, CNN, NBC News, New York Times, USA Today, The Guardian, Wall Street Journal, Washington Post, The Root, The Rumpus, The Huffington Post, The Grio, Al Jazeera, and the science journal Nature.
Related
Popular in the Community