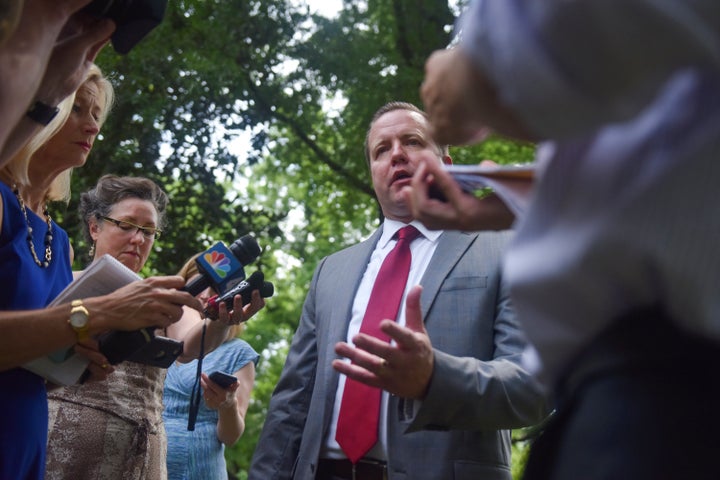 Virginia Republicans have selected Corey Stewart, best known for his love of Donald Trump, his defenses of Confederate monuments and his attacks on undocumented immigrants, as their nominee this November against Democratic Sen. Tim Kaine.
Kaine will be a heavy favorite in his re-election bid. Virginia is an increasingly blue state, with Gov. Ralph Northam winning there by 9 percentage points in 2017 after Hillary Clinton won the state in 2016. And Kaine's time as a vice presidential candidate increased his national profile, helping him accumulate a campaign war chest of more than $10.5 million, according to Federal Election Commission records.
Still, the selection of Stewart shows how Trump-inspired candidates can thrive in today's Republican Party. Stewart, who began cracking down on undocumented immigrants as the chair of the Prince William County Board of Supervisors long before Trump started his 2016 presidential bid, served as Trump's state chairman before he was fired for protesting the Republican National Committee.
Stewart defeated pastor E.W. Jackson and Iraq War veteran and state Del. Nick Freitas, who had the backing of Kentucky Sen. Rand Paul and Americans for Prosperity. Republicans had tried to rally around Freitas, fearful Stewart would hurt the party's chances of holding four U.S. House seats in the state targeted by Democrats. But their efforts fell short.
Stewart made an unsuccessful run for Virginia governor in 2017, when he nearly upset former Republican National Committee Chairman Ed Gillespie in the GOP primary. In that race, Stewart emphasized his defense of statues of Confederate generals, comparing politicians who sought to take them down to ISIS extremists. He has claimed he's merely defending history from liberals who would seek to destroy it, but has also associated with members of the alt-right, including Wisconsin congressional candidate Paul Nehlen and conspiracy theorist Mike Cernovich.
"Nothing is worse than a Yankee telling a Southerner that his monuments don't matter," the Duluth, Minnesota-born Stewart wrote on Twitter last year, drawing widespread mockery.
He also made appearances with Jason Kessler, the organizer of the Unite The Right rally that led to violence and the death of a counterprotester in Charlottesville, Virginia, last year.
Stewart has focused more on immigration and his support of Trump in this year's run, but has still brought up statues on occasion.
Stewart's advertising directly referenced his notoriety and Gillespie's 2017 loss to Northam.
"The left hates him, and so does the anti-Trump GOP establishment," the narrator declared in a radio ad calling Stewart "the man we should have run last year."
Popular in the Community