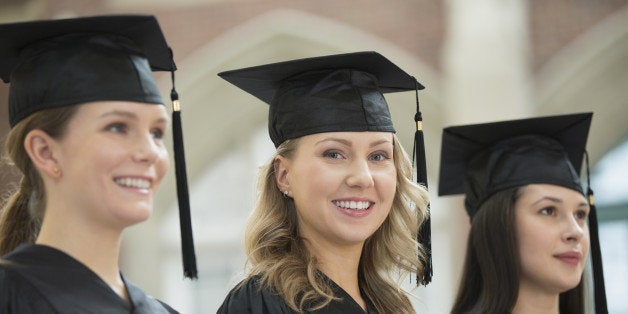 How come no one tells us that life after college is not like Carrie Bradshaw's life? From dating to friends to family, this period of life can be overwhelming. It is almost as if you have to reinvent yourself as a "young professional" figuring out how everyone and everything fits into your new puzzle. I used to joke with my parents about how much I took for granted in college, one of which was wearing sweatpants every day. So, what can you expect your first year out of college? Is it really so bad? The short answer is no, no it is not, but there were a few adjustments I had to make in order to make my transition a bit smoother.
The days of "scrubbing it" Monday through Sunday are over. This one seems kind of silly, but in reality, I wore sweatpants every day of college, so when it came time to sprucing myself back up to business casual I had a hard time. Not to mention, it costs a lot of money to look good, so I had to get thrifty when it came to looking professional. Hit up your local department stores -- they have the best deals -- and you can find cute, affordable clothing while still on a budget. While I would love to dress myself in J. Crew and Banana Republic every day, paying $80 for one shirt is not realistic on an entry-level salary, not to mention a good use of your money.
Finding a good meal is hard to come by, especially if you are living by yourself. Similar to following a work clothes budget, food is also expensive, especially if you want to eat healthy. A quick money-saving tip would be to buy in bulk (which you can find at Costco or Sam's Club). Another quick tip would be to download the app for your local grocery store (it seems most have them now!). Most times these apps are filled with digital coupons you can put towards your total bill. It is a quick, free, and easy way to save a few dollars without having to physically clip coupons.
Your days of getting black-out drunk are over. Unfortunately, it is not as "cool" (if it ever was) to get black-out drunk as a twenty-something. Teaching yourself to drink socially is your best bet because becoming "that" girl in your twenties is not a road you want to go down, especially if you are at a work function. Also, do not feel like you are a social outcast if you prefer to stay home and watch Netflix while drinking wine -- I promise you everyone has done it at some point.
Just because you did not meet your soul mate in college does not mean you missed an opportunity. Take advantage of the fact that online dating is trendy nowadays, put yourself out there, and make the most out of your twenties. If you are too nervous to go at it alone, recruit a friend to navigate through the dating scene with. Enjoy the fact that you have nothing tying you down and embrace independence for a while; it will help you in the long term.
Do not be blinded by what looks like a wave of "perfect lives" on Instagram and other social media outlets. The reality is that everyone in their twenties is in some sort of limbo; we are too young to have our life set. Do not be afraid to be different, set goals, and have fun in this awkward stage of life. Slow down to smell the coffee (and roses if you are lucky), and know that if you constantly strive to have everything "put together" you may never feel truly satisfied.
Calling all HuffPost superfans!
Sign up for membership to become a founding member and help shape HuffPost's next chapter