From the outside, the fashion industry and its grand production, Fashion Week, looks like one big party, an endless parade of beautiful clothes on beautiful people. But behind all those A-list parties lies the truth—long stressful days leading up to the main event: A runway show that lasts all of 10 minutes. To get the dirt on what really goes on behind the scenes, we talked to two designers and a fashion PR maven who know exactly what goes into making a collection and all the drama that happens behind the scenes. In the words of one designer, "Fashion Week is way less sexy than one would think." You won't believe what we found out ...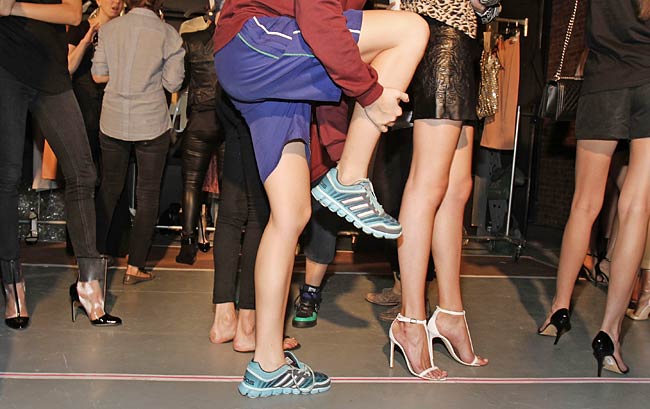 Backstage at the Wes Gordon presentation during Mercedes-Benz Fashion Week Spring 2014 (Photo: Mireya Acierto/Getty Images)
... four months of work for 10 minutes of glitz.
Twice a year, designers gather to present their collection for the next season to editors, buyers ... and the world at Fashion Week. Needless to say this takes a lot of preparations, with work starting three or four months before the next show. But even with that lead time, there is always a mad dash as show date approaches. And things get tense. "We start work at 9am and don't leave until 9pm, and we do not have weekends for one month before the show," says one designer. "Who wouldn't be sensitive in this situation?" And forget holidays. "Designers, patternmakers and sewers all worked this past Labor Day," she dishes.
... and backstage on the day of looks exactly like it does on Project Runway.
The day of the show is when the intensity reaches its height—not helped by last-minute changes. "We cannot finish it if the design director changes his mind a day before the show," one designer says. As the clock ticks down to show time, the madness continues. "Sewers are sewing right before the show opens," she says. "We prepare for the show for four months, but it happens all the time. I do not know why." Our PR insider concurs. "Backstage is insanity at a fashion show," she says. "You'd be surprised how many outfits you see on the runway that are safety pinned on the inside or taped to the model -- anything to just get it down the runway in one piece."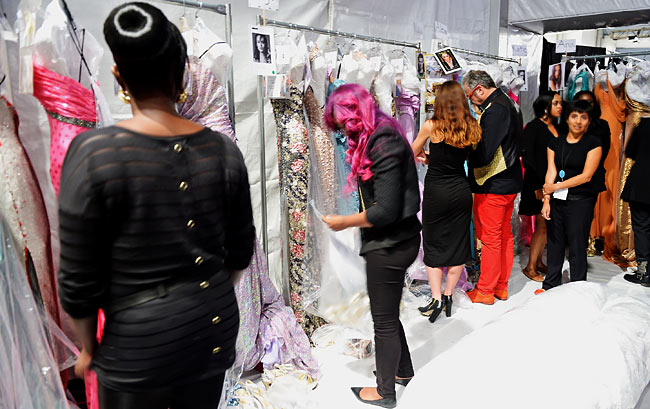 Dressers prep garments backstage at the Venexiana fashion show during Mercedes-Benz Fashion Week Spring 2014 (Photo: Michael Loccisano/Getty Images)
... the models are just as bitchy and underfed as you've heard.
Designers are pulled in a million different directions in the days leading up to Fashion Week, but that's nothing compared to the models who, if they are lucky, walk in multiple shows. But that overscheduling leads to problems. "We know it is the busiest time for models, but models do not come on time," says one designer. "Sometimes they do not even show up for fittings." This is a democratic perspective compared to how our PR contact feels. "It's a constant negotiation," she says. "Like dealing with a three-year-old who won't wear matching shoes. And drinks too much Champagne." And yes, the stereotype that models leave the craft services tables untouched is true. "We prepare food when we need to fit and photo-shoots all day," our designer says. "They just do not eat."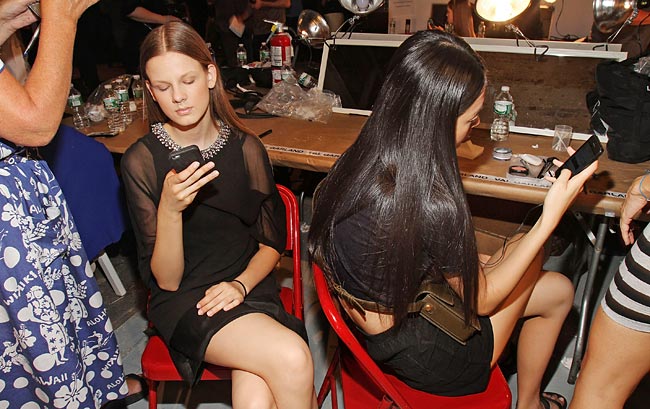 Models backstage at the Dion Lee fashion show during Mercedes-Benz Fashion Week Spring 2014 at Eyebeam on September 11, 2013 in New York City. (Photo: Mireya Acierto/Getty Images" width="650" height="409" /> Models backstage at the Dion Lee fashion show during Mercedes-Benz Fashion Week Spring 2014 (Photo: Mireya Acierto/Getty Images)
... but the models also deal with some really uncomfortable (and dangerous) footwear.
But, of course, while everyone is huddled backstage, hoping the safety pins hold, the models are the ones taking center stage and tottering on high heels on slippery runways. "We sent a girl out, and about 10 seconds later we heard a giant 'thud,' followed by an audible collective gasp from the audience, and then total silence," a backstage regular says. "Even the live band that was playing had stopped. Two beats passed, and the girl picked herself up, strutted back into line, and the band picked up again. The audience actually cheered for her."
... you will feel fat, even if you're not.
Being around glamazons can take its toll. "I am just a normal person, but I am just a small, big-headed and fat one in front of models," says one designer. "It definitely effects me. I always think that I need to lose weight to fit into smaller dresses." Staying on the cutting-edge is important and reflects on your success. "If you try to eschew fashion during this time you will regret it," she says. "Trust me." Another designer takes the exact opposite approach. "I personally care less about the way I look, the longer I work in fashion," she says. "I take it way less seriously than I used to."
And while the celebs in the front row are dressed to the nines, when you are working the shows, you have to remember that you are not the main attraction. "I've learned to wear super-functional outfits. Flat shoes only!" says one designer. "I also learned to wear outfits with giant pockets, so I could stuff them with safety pins, lint rollers and double-stick tape as I rushed to make last-minute fixes."
SEE MORE FROM NEWYORK.COM: