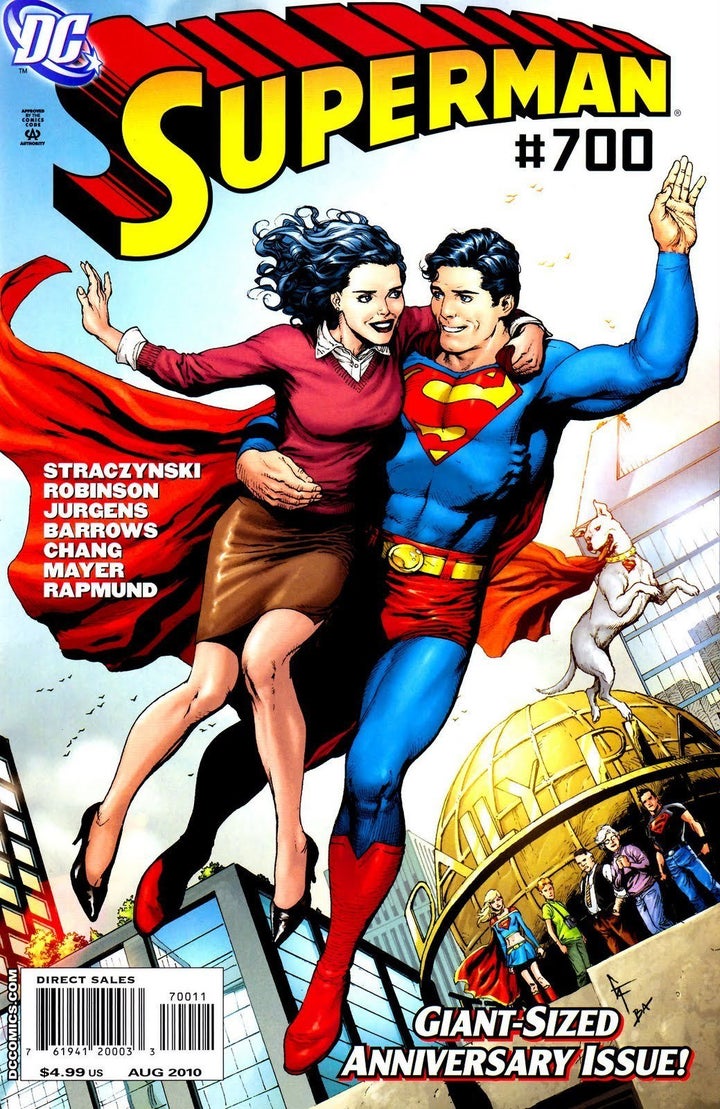 In my (self-appointed) role as Pop Culture Ambassador, I have made it a very large part of my life to stay up to date with all things pop culture-y by constantly devouring movies, television series, new music, books, and even video games. It's a wonder I get any work done at all.
However in all my years of trivia gathering, I had never read a comic book. I think there was too much of a stigma attached. Having been a "drama nerd" in high school, I didn't seek to add on to my nerddom by picking up a comic book, for fear that I might become someone akin to Comic Book Guy on The Simpsons, or a costume-wearing, detail-obsessed fanboy as seen on news coverage from Comic-Con.
Last year, two things happened that would change my fate entirely: 1) I got an iPad and 2) DC Comics launched "The New 52," rebooting every one of their 52 titles to issue number 1. I had read a story in the New York Times detailing this risky move on the part of DC. Was it worth possibly alienating longtime readers of their comic books to entice potential new readers who had been afraid to jump in at issue 354?
It turned out to be a big success for DC and in fact Marvel will be following suit this fall with their Marvel NOW reboot of many of their popular titles over the course of the next year.
I started slowly. I downloaded the ComiXology app onto my iPad and decided to download the first issue of Justice League. I had fond memories of the cartoon from when I was a child, and I figured it would be a good beginners title since it included all the DC heavyweights: Superman, Batman, Wonder Woman, Aquaman, The Flash and The Green Lantern. From there I was on to a couple other titles, plus I ventured into Marvel territory when I decided to read Joss (Geek Genius creator of "Buffy the Vampire Slayer" and writer/director of The Avengers) Whedon's arc on the Astonishing X-Men, which ran from 2004-2008 (and is thoroughly satisfying).
I found myself reading comic blogs like Bleeding Cool and IGN, and discovering other titles, like Brian K. Vaughn and Fiona Staples' gorgeous new book Saga, and Robert Kirkman's newest creation Thief of Thieves (incidentally, both of these titles just completed their first arc in the last couple of weeks, so now would be a great time to read the first six and seven issues respectively). The artwork and storytelling skill in these books made me seek out some of their older work. I read the entire series of Vaughn's Y, The Last Man in a matter of weeks, laughing out loud and openly sobbing on the subway as it reached its emotional conclusion.
I am currently about two-thirds through with Kirkman's phenomenal The Walking Dead (I moderately enjoy the AMC Series) which just celebrated its 100th Issue last month. "Celebrated" is probably not the right term for the book, as it is one of the darkest things I've ever read, and I hear there's a death of a major character involved (NO SPOILERS PLEASE).
I find myself lost in the stories in ways I only thought were possible by reading a novel or becoming engrossed in a television series. I have long been a fan of movies and television shows based on comic books or comic book characters, but I've always been reluctant to explore the source material. Even now, I feel slightly embarrassed admitting my new hobby to you.
Like all new hobbies, this has become a fairly time (and money)-consuming venture. But it's also been more satisfying than I ever expected. As I find myself gravitating to the darker, more mature stories being published by the likes of Image and Vertigo, while still celebrating news-making cultural moments like the X-Men's first same-sex wedding, I realize that I've been denying myself great joy through my failure to embrace my inner-geek all these years.
But I also realize as I wait IMPATIENTLY for the next issue of Saga to come out -- in two months! - that it's also never to late.
Have you read anything good lately?
REAL LIFE. REAL NEWS. REAL VOICES.
Help us tell more of the stories that matter from voices that too often remain unheard.